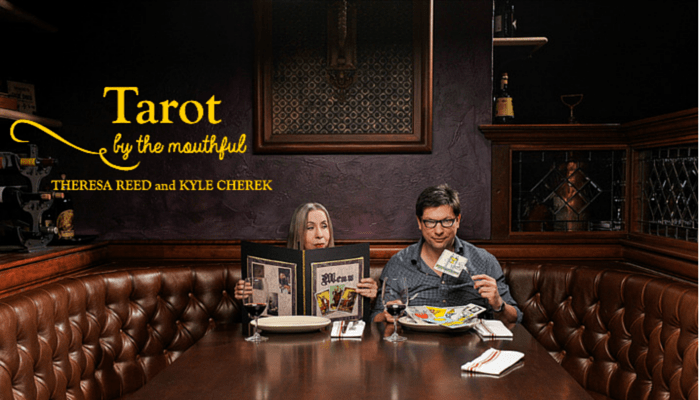 Kyle is a foodie who loves Tarot. Theresa is a Tarot reader who loves food. 
Together, we host Tarot by the Mouthful: a mouthwatering, multi-media culinary tour through the world of Tarot. 
Sublime recipes. Soulful stories. Essays, videos, interviews and delicious surprises. 
Join us every Sunday for a new installment — and get ready to sip, slurp, crunch and savor your way through the entire Tarot deck! 
This week: Four of Wands
Four of Wands: Celebration time! This merry card symbolizes gatherings, parties, and celebrations.  This is the hearth and the harvest.  A homecoming or welcoming committee. Family harmony.  The victory dance at the finish line.  Stability in the household. When this card arrives in a reading, it's always a good omen.  Things are looking good and now we feast.
Kyle – The ornament
It can be a bittersweet time for some, the holidays. The week on the Christian calendar that observes Christmas and then stretches out to ring in the New Year. Linked through history to the Roman celebration of the sun returning on the 22nd, Christians hitch it up to the birth of a baby, and shift the days over a bit from the equinox to the 25th, and trade in sun for son. Either way, the whole business is a celebration of light, which I like. A staving off of the darkness that so surrounds us this time of year. The bittersweet aspect has crept in from time to time through the years for a myriad of reasons. When I was younger it was by way of a sense of belonging, as I have aged it has seeped in via a sense of disappointment with my accomplishments as the year comes to an end.
Over time I have found my own ways of fighting back the darkness, and celebrating, as the Four of Wands would have me do. Choosing the light. I am descended from refugees on my mother's side. Not the Syrian sort which have been in the news in 2015, but Hungarians, their plight, the result of WWII. She came over to America at age 12, along with her parents and two sisters, after five years of living in barns, being taken in by strangers, traveling from someplace, to another, without knowledge of what awaited them there.
Each Christmas as we decorate the tree, I hang an ornament that has endured since their arrival to America. A blue globe shape, with a sleigh scene on it, the sort one might have bought at Woolworths or Gimbels in that era. On it is attached a small piece of paper, which reads: "Our first Christmas in America. 1950".
There is no replacement for it, metaphorically or figuratively. It is the light of this season for me. A small blue glass globe, ordinary as compared to other ornaments, but singular in what it asks. Celebrate. You are the light those people imagined it says. Your life, your very existence, your plight to an fro this earth and the things you do while here. This, what you are living, is the happy times. We crossed an ocean and more to bring them forth. Be merry. It is your birthright and our wish.
Theresa – Home for the Holidays
When I saw that the Four of Wands would be landing right around the Christmas holiday, I had to smile.  How appropriate for this is the season of celebration.
At this time of year, many families come together to exchange gifts and feast.  Our family is no different. Although we've become a smaller group (just my family and my younger bro's), we still throw down every year, starting with Thanksgiving.
There is always the tradition of the turkey and stuffing on Thanksgiving and liver paté, ribs, and brownie trifle on Christmas but this year things were a wee bit different.  We broke up with a few traditions and the results were fabulous and delicious.
For one, we held Thanksgiving at my daughter's swank new pad and she got her first lesson in how to host a proper holiday.  It was time for her to learn this because well…one day this holiday may well be in her capable hands.  She worked hard to create a welcoming vibe with candles strewn about her home and a little fake fire "burning" in her fireplace.  The food was divine and she was the perfect hostess.
For Christmas, my family has had a tradition for years of appetizers and dessert on Christmas eve.  After too many years of big meals that left everyone feeling to full to move, this was the perfect solution.  My specialty was my famous top-secret recipe liver paté (no, that recipe never gets shared) and my brownie trifle, a confection with chocolate pudding, whipped cream, toffee bits, and brownies.
But this year, I couldn't find chicken livers to save my soul so the paté was nada, much to my brother's chagrin.
But luckily, dessert more than made up for it.  I announced a few weeks before that I would not be making the brownie trifle.  My sister in law and niece were not happy with this news but I was sick of the brownie trifle and wanted to make something else.  I told them to trust my judgement because when it comes to desserts, I never disappoint.
This year would be Peppermint Bark Cheesecake Dessert Bars (recipe below). I grabbed the recipe from an old Land O' Lakes magazine and doctored it up a bit (I always change desserts to suit my tastes).  I reduced the peppermint extract to make the flavor more subtle. And I added a drizzle of chocolate on top to take it from good to wow.
As I served the dessert, not one person complained.  In fact, sighs of happiness were heard all around. Even my carnivore brother, who has no interest in sweets, liked it.
And this holiday?  It was the best. The merriest.  Maybe even the warmest one of all (and I'm not talking the temperature – which was one of the warmest ones I can remember).
Because ultimately that's what the Four of Wands is all about: the joy of welcoming people in and celebrating. And you don't need a holiday (or liver paté) to do that.
The Peppermint Bark Cheesecake Dessert Bars
Crust:
2 cups finely crushed chocolate wafers
1/2 c melted butter
3 T. sugar
Chocolate layer:
1 c semi-sweet chocolate chips
2/3 c. whipping cream
Filling:
1 c. powdered sugar
2 (8 oz) packages of cream cheese, softened
1 1/2 tsp peppermint extract
1 1/2 c. heavy whipping cream, whipped
2/3 c. coarsely crushed peppermint sticks
Drizzle:
4 oz. semisweet chocolate melted with a little warm cream added to thin it out if necessary
Combine the crust ingredients in a small bowl. Press into the bottom of a 13×9 inch baking pan. Set aside.
Melt chocolate chips and 2/3 c. whipping cream in a double boiler over low heat, stirring occasionally until smooth. Pour over crust. Place crust in freezer while making the filling.
Combine powdered sugar, cream cheese and peppermint extract in a large bowl. Beat at low speed, scraping bowl often, until smooth and creamy. Gently stir in whipped cream and crushed candy. Spread evenly over chocolate layer. Sprinkle with additional crushed candy, if desired.
Drizzle melted chocolate over the top. Stick in a freezer for 4 hours or overnight. Serve frozen or refrigerated.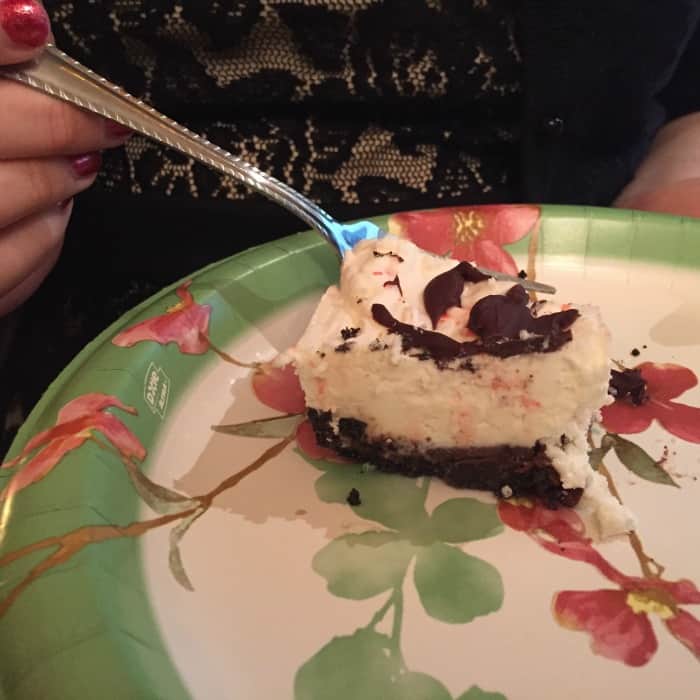 Bon Appetit!
Theresa and Kyle
© Theresa Reed | The Tarot Lady 2015
photos from personal collection and Jessica Kaminski
Hungry for more? Click here to explore the entire Tarot by the Mouthful series, from the very first card… right up to our latest installment. Bon appetit!