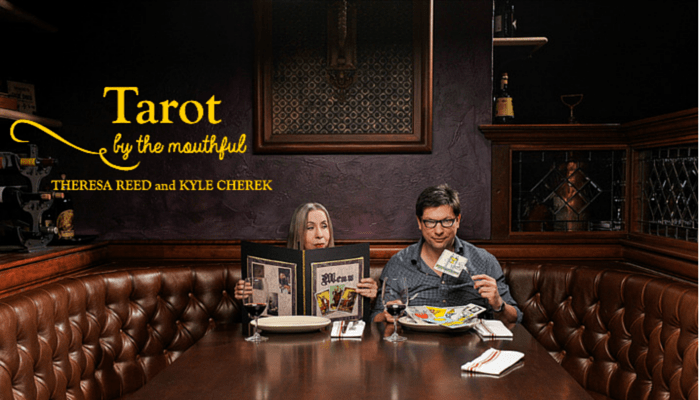 Kyle is a foodie who loves Tarot. Theresa is a Tarot reader who loves food. 
Together, we host Tarot by the Mouthful: a mouthwatering, multi-media culinary tour through the world of Tarot. 
Sublime recipes. Soulful stories. Essays, videos, interviews and delicious surprises. 
Join us every Sunday for a new installment — and get ready to sip, slurp, crunch and savor your way through the entire Tarot deck! 
This week: Justice
Justice – Justice is concerned with balance and fairness. This card represents the balancing of the karmic scales.  No matter what is happening, you can be sure that it's fair.  Like the Wheel of Fortune, some karma is at play here.  The consequences of past actions come to roost.  What choices you make today will determine your tomorrow. Weigh your options carefully.  This card also symbolizes legal issues. Obey the laws, whether man made or karmic.
This week, Kyle is handling some biz so it's just me – and I'm talking about food laws.
Theresa – Safe and Sound 
Years ago, my husband I were visiting a favorite Vietnamese haunt in San Francisco.  We both ordered the pho, a traditional noodle soup with raw beef and herbs.
The bowls arrived, steaming hot and fragrant, and I dug in with gusto.  Vietnamese is my favorite cuisine and there is nothing that makes me feel better than a big crock o' pho on a cool autumn day. I was ecstatic and greedy.  My husband was being more ritualistic in his approach. Rather than dive right in, he carefully stirred his pho with his chopsticks, mixing in the basil and bean sprouts with great reverence.  Suddenly, he put his chopsticks down and announced "I'm done" without taking a bite.
"What's wrong with you?" I asked, annoyed.  I assumed he was just being finicky (he can be like that) until I saw the giant, bloated dead cockroach floating belly up in his soup.  I gagged because I knew that I was eating just that same roach stew without a care in the world.
Needless to say, we called waitress over and she apologized, took the food away and didn't charge us (She did ask if we wanted something else.  Uh…I don't think so, Roach Lady.).  The rest of my vacation, I could barely eat a thing. I was queasy and ready to vomit at the thought of that filthy soup.
I should have known better.  That restaurant was always dirty.  The bathroom was so grimy it looked like it hadn't been cleaned in thirty years.  It was obvious these people didn't give a damn about hygiene..or their clients.  Not surprisingly, they went out of business shortly after this incident.
While I like to think of myself as an adventurous eater, I also enjoy being a safe eater.  Getting sick from a restaurant or contaminated produce purchased at the grocery store is not my idea of a risk worth taking.
Food laws are in place to protect the consumer. In the U.S., the Food and Drug Administration works to protect and promote public health through inspections, public health campaigns and rigorous testing.  The Wiley Act, or the 1906 Pure Food and Drug Act, was the first in a series of consumer protection laws enacted by the Federal government.  Until this law was on the books, inspection of foods was left to the consumers (and sometimes corrupt grocers, meatpackers or butchers).  Upton Sinclair's classic "The Jungle" (he's the perfect guy to represent Justice!), put the spotlight on food safety and spurred president Theodore Roosevelt into taking action.
While there are some who still skirt the laws such as the roach restaurant in my story above, food is a lot safer thanks to these laws.
Home cooks can (and should) also learn basic food safety to protect their families from food borne illnesses in their kitchens.
I'll admit that when I began cooking, I never once thought about things such as cross-contamination.  I would use the same knife to cut veggies as I would to cut a steak.  As I began to learn more about preparing food, I also educated myself on food safety.
Here are some good rules to follow in your kitchen so you can cook happily and safely:
Keep your tools and cutting surfaces clean.  Wash your instruments in warm, soapy water after each use.
Wash your hands – often.  I prefer an anti-bacterial soap for good measure but it's not necessary.  Just a minute under warm water with any soap will do. Be sure to wash your entire hands – including under your fingernails, tops of the hands and between the fingers.
Always wash your fruits and vegetables thoroughly.  (I learned this the hard way on a raw cauliflower disaster.)
Separate your raw foods and use separate cutting boards and utensils to avoid cross-contamination.  Keep meats separate from all other foods in your refrigerator.
Cook your food to the right temperature.  Meat thermometers are a must in the home kitchen.  Likewise, make sure your refrigerator is set at the right temperature and that you refrigerate your food promptly, especially if it is the kind that will spoil easily.
Thaw out frozen foods in the refrigerator (my mother never did this – she used the sink!).
If something looks funky, throw it out.  Do not keep or eat food past the expiration date.
Always clean up thoroughly after cooking.  Never leave food out.  (This will keep your food safe but also keep bugs and vermin out of your home.)
While there may be no "official" laws in your own home kitchen, these simple rules will help keep you and your kitchen safe.  It may seem like a lot of extra details but like the Justice card, it's all about doing the right thing by doing things right.
My favorite products for a clean, healthy kitchen:
Keep your kitchen safe from cross-contamination with these smart color-coded antibacterial cutting boards: Antibacterial Cutting Board Set. Kitopia's Large Chopping Board Mat 100% Sterilization From Bacteria
Digital food thermometers for safe cooking: Digital Food/Meat Thermometer – Grilling Meat, Weber or in Oven, Testing the Temp of Hot and Cold Food and Liquids. Essential for Food Safety. Large LCD Screen with 1.5v Battery. For Indoor/outdoor purposes.
Clumsy with a knife? Get these: NoCry Cut Resistant Gloves – High Performance Level 5 Protection, Food Grade. Sizes Small, Medium, and Large. Free Ebook Included!
Wash your hands without touching the dispenser with this genius touchless soap dispenser: iCooker Soap Dispenser – Automatic Kitchen Hand Touchless Sensor Pump – Stainless Steel Sanitizer – Compact & Handheld -Best For Shower Kids – Wall Mounted – Chrome 250ml (8oz)
My favorite product for keeping my kitchen clean 'n safe: Lysol Professional Antibacterial Kitchen Cleaner, 32 Ounce
FDA History:  http://www.fda.gov/AboutFDA/WhatWeDo/History/default.htm
Significant Dates in U.S. Food and Drug Law History:  http://www.fda.gov/AboutFDA/WhatWeDo/History/Milestones/ucm128305.htm
Bon appetit!
Theresa and Kyle
© Theresa Reed | The Tarot Lady 2015
photos from personal collection, Flickr commons, and Jessica Kaminski
Hungry for more? Click here to explore the entire Tarot by the Mouthful series, from the very first card… right up to our latest installment. Bon appetit!