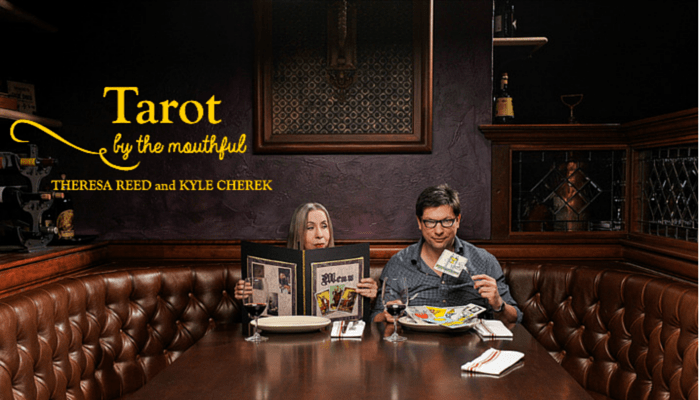 Kyle is a foodie who loves Tarot. Theresa is a Tarot reader who loves food. 
Together, we host Tarot by the Mouthful: a mouthwatering, multi-media culinary tour through the world of Tarot. 
Sublime recipes. Soulful stories. Essays, videos, interviews and delicious surprises. 
Join us every Sunday for a new installment — and get ready to sip, slurp, crunch and savor your way through the entire Tarot deck! 
This week: King of Pentacles
King of Pentacles – The King of Pentacles is the master of the earth element.  This is the secure, confident authority figure who is able to provide well. He's salt-of-the-earth, grounded, methodical and caring. If you need someone to depend on, he's your man.  The King of Pentacles can also symbolize a time when you need to consider the welfare of others.  What can you do to make sure everyone is fed and cared for?
Kyle – It's good to be King
"Food, like a loving touch or a glimpse of divine power, has the ability to comfort." ~ Norman Kolpas
This, the King of Pentacles, is my last card on this journey with Tarot By The Mouthful. An idea, upon which Theresa pitching it to me more than two years ago. I was immediately excited by it.
Cuisine & Tarot, both work in such practical and metaphysical ways when brought forth with good intentions and by skilled practitioners. The possibilities seemed both daunting and engaging.
At first the series seemed easy to me, the Major Arcana presented so many ripe analogies to food, it's major personalities, the archetypal struggles of chefs, restaurateurs, food advocates. As the series moved onward the real work began. Digging deeper into the cards to find the gold that was there, resplendent but hidden in the stories the cards teach, and the life directives they can give.
With this final submission I feel to a certain extent I have come into my own with the cards. A King of Pentacles of sorts. I see patterns in my own life, which I had heretofore been unaware of, in the story of others live, relative to how the tarot deck gives us signposts along the way on our own journeys. For years I have believed in the power of food. How it shapes our cultures and our bodies, how it can harm or heal. How it brings us together, or can shift our souls and sense of self away from who we are and our identities. (Just ask any Arab and Jew if hummus is originally their dish, and you will see what I mean.)
Food, like tarot, can give us that gut feeling (literally and figuratively) of something familiar. Something we already know. A good reading tells us what we know to be true for our soul's evolution. A good meal does the same thing. It enlivens something in us which just feels right. We stand up from the table, be it tarot reading or dinner, and, if we have been present with the energy of the card or meal, head out in a more correct direction to live our lives.
Theresa – Three Kings
When it comes to learning Court Cards, one of my favorite exercises is to have my students connect the card to someone they know.
Applying the King of Pentacles along with a food slant for this series was easy for me.  In fact…too easy.  Turns out I have LOTS of guys around me who are perfect representations of this earthy king.
My father, a classic workaholic Virgo was the ultimate King of Pentacles.  He was a good ole farm boy and nothing made him happier than getting on his tractor and digging around in the garden.  He had a mighty green thumb and we were lucky to have those freshly grown vegetables year after year.
They always say that you marry your father in some way.  My husband shares two characteristics with Dad: he's also a Virgo and blessed with the magic touch when it comes to all things green.  Our yard is richly landscaped – a small green haven in an urban setting.  We even have grapes!  How King of Pentacles is that, am I right?!
While everything I touch seems to die, in his hands, plants thrive.  He's also the most grounded human being I know and for a flaky ultra-sensitive Gemini with a mad case of wanderlust, he's my rock.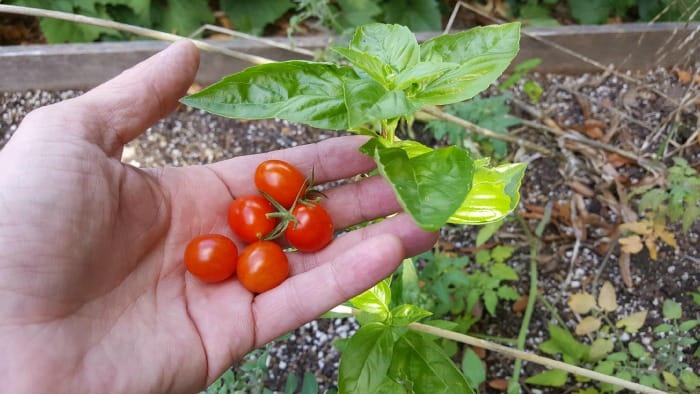 Lastly, the other King of Pentacles in my world is my partner in this series, Kyle Cherek.  Kyle is an earth sign too – Capricorn in fact.  While I'm not sure about his gardening skills, when it comes to food and cooking, he's the absolute master of knowledge.  Which is why it's been such a pleasure and honor to work with him through this 78 card-a-week series.  This is our last post and I couldn't think of a better way to sign off than to express my gratitude to Kyle for his input, wisdom, and friendship.  Thank you, Kyle.  You are a true king! Cheers!
And that is officially a wrap for this series!
Bon Appetit!
Theresa and Kyle
© Theresa Reed | The Tarot Lady 2016
photos from personal collection and Jessica Kaminski
Hungry for more? Click here to explore the entire Tarot by the Mouthful series, from the very first card… right up to our latest installment. Bon appetit!