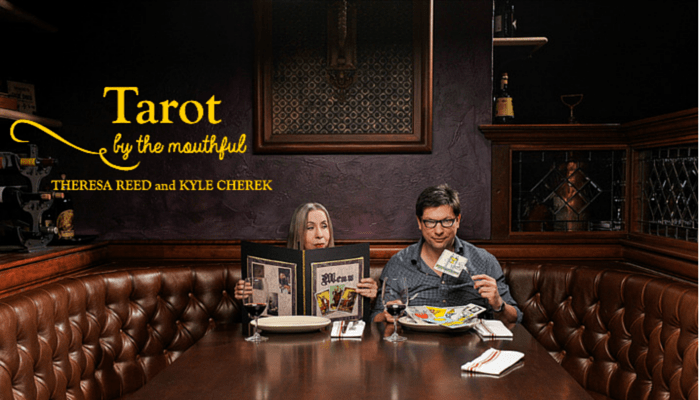 Kyle is a foodie who loves Tarot. Theresa is a Tarot reader who loves food. 
Together, we host Tarot by the Mouthful: a mouthwatering, multi-media culinary tour through the world of Tarot. 
Sublime recipes. Soulful stories. Essays, videos, interviews and delicious surprises. 
Join us every Sunday for a new installment — and get ready to sip, slurp, crunch and savor your way through the entire Tarot deck! 
This week: Queen of Pentacles
Queen of Pentacles – The Queen of Pentacles is the "earth mother" of the Courts. She's reliable, nurturing, and sensitive. She takes care of the ones she loves and is always practical in any matters around finances.  This Queen has a knack for business and loads of common sense.  No surprise, she's often successful.  This is the Queen to go to when you need a hug, a cookie, or to borrow a coupla bucks.
Kyle is out with his lovely Queen of Pentacles, Nada, and the kids.  Just me this week!
Theresa – The Queen of Comfort
This was easy…almost too easy for me.  Right from the get-go, I had one chef in mind for the Queen of Pentacles – celebrity chef Alex Guarnaschelli, of the Food Network's Chopped.  This woman just oozes calm.
Her silky voice and composed personality create a "everything's going to work out" vibe, even when she's delivering a critique.  She brings the comfort – and for a show that is often stressful to watch, that's a good thing.
Alex is the executive chef of New York's Butter and the only woman to hold the title of Iron Chef America.  In addition to being an accomplished chef and television star, she's a mom and passionate home cook. (Can you imagine being her kid?  OMG! Next lifetime – that's my goal!)  She also has an amazing cookbook titled Old-School Comfort Food.  Of course it's called that!
Because that's what this earthy woman brings to the table (and the television): comfort.
Bon Appetit!
Theresa and Kyle
© Theresa Reed | The Tarot Lady 2016
photos from personal collection, gettyimages and Jessica Kaminski
Hungry for more? Click here to explore the entire Tarot by the Mouthful series, from the very first card… right up to our latest installment. Bon appetit!