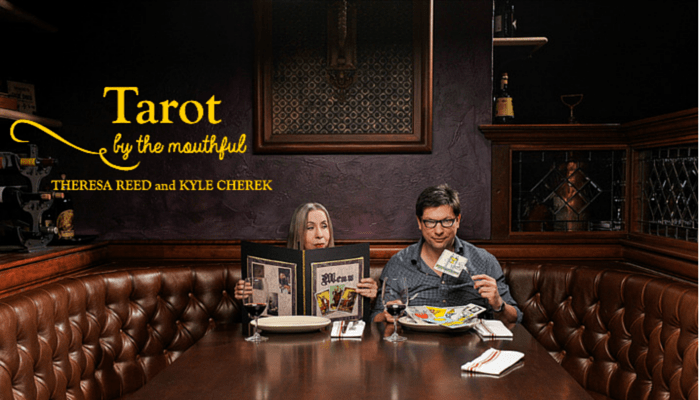 Kyle is a foodie who loves Tarot. Theresa is a Tarot reader who loves food. 
Together, we host Tarot by the Mouthful: a mouthwatering, multi-media culinary tour through the world of Tarot. 
Sublime recipes. Soulful stories. Essays, videos, interviews and delicious surprises. 
Join us every Sunday for a new installment — and get ready to sip, slurp, crunch and savor your way through the entire Tarot deck! 
This week: Queen of Wands
Queen of Wands: The Queen of Wands nurtures her creative fire.  She's passionate, intense, bold, warm, and courageous.  Keep in mind that she's strong-willed. This is not someone you can push around.  She's quite capable of defending her "kingdom" if push comes to shove. That's because she's a strong female leader.  When this card comes  up in your reading, it's a call to share your creative vision. Nurture your goals and live passionately.
Got fire: Chef Katie Romenesko
A few months ago, I took a few cooking classes at Sur La Table with pastry wizard Katie Romenesko.  I knew right away that she was going to be my perfect Queen of Wands.  Why?  Easy: her passion for baking is contagious.  That enthusiasm was evident from the moment I walked in the door and strapped on that apron.  If anyone is going to be burning a bright creative fire, this is the smart cookie that's doing just that.
I'm happy as a hot glazed cinnamon roll that Katie took some time to talk about cooking with us for the Tarot By The Mouthful – Queen of Wands edition.  Check out her answers and you'll see why I'm her biggest fan – and why she's THE most righteous Queen of Wands:
Q: The Queen of Wands is the Queen of Fire and a symbol of passion.  How did you discover your passion for baking?
Katie: When I first moved to Milwaukee, I got involved with a local completion called Iron Cupcake (sadly now defunct). While I knew I enjoyed baking, I hadn't really thought of it as a career. But after a few competitions, I realized my happiest days were the ones spent in my kitchen baking dozens upon dozens of cupcakes. It was the kick I needed to pursue a career in pastry.
Q: How do you keep your creative fires burning bright?
Katie: As much as I loved working in the restaurants and as much as I miss that environment, I found myself getting bogged down and exhausted by all the details of running of a business, which was never something I was interested in. It was in my best interest to pursue a slightly different route, even if just for a short while, before I lost that love entirely. I moved to teaching because it allows me to share my passion in an entirely different way – I'm helping other people discover their passions by sharing my own. I stay creative by doing consultation work for some area restaurants, helping them redo their dessert menus. I also have more time to bake at home, and am currently doing a bake-through of one of my favorite cookbooks – you can follow that project on my Instagram.
Q: What has been your greatest challenge as a chef?
Katie: Balancing my life and my career. It's very easy to make the industry your life, and I think the most successful chefs have done that and are happy. For me, I need to be able to have time for other interests, for family and for adventures. I know this will more than likely hold me back in my career in some regards, but living my life to what I feel is it's fullest potential is what's most important to me, and what will keep me from burning out and losing the fire entirely.
Q: What would be your advice for anyone who wants to become a chef – or who wants to turn a passion into a career?
Katie: Be realistic in your expectations. There's a very big difference between loving to cook dinner for yourself and your friends, and prepping for dinner service and working the line for 150 people. In my time at the commissary bakery, I interviewed several recent culinary school graduates who wanted to be top chef right away, but didn't want to put the time in. Practice practice practice – learn new skills, read about trends and techniques, get familiar with science behind what's happening. Talk to people in the industry, listen to their stories – everyone has something to teach you. Do what you need to do to keep your passion alive – it's very easy to lose the love when you turn a hobby into a career, so take care of yourself and take the steps you personally need to in order to preserve that love.
Q: The Queen of Wands has an enthusiasm for life and she's innovative + utterly creative. If you weren't a chef, what would you be doing?  Dish on your other obsessions!  
Katie: If I wasn't chef, I'd probably be doing something entirely different. I love vintage and antiques, and would most likely be a vintage clothing dealer or be somewhat involved in that industry. Or I'd like to get my degree in psychology and be a sex and relationship therapist – I'm incredibly intrigued by people's relationships and how we interact with each other has evolved as the world changes.
Katie's bio: I'm originally from the Appleton area, but moved to Milwaukee in 2008. I went to MATC and have my associates degree in baking and pastry arts. Since then, I've worked for Alterra bakery (before they became Collectivo and Troubadour), Milwaukee Country Club, and most recently was the executive pastry chef for Hospitality Democracy where I was head of a commissary bakery that produced desserts, bread, pasta and doughnuts for Smoke Shack, AJ Bombers, Water Buffalo, Swig, Onesto and Holey Moley Doughnuts. This past summer I took the position of pastry chef instructor and culinary lead at Sur La Table in Bayshore Town Center.
Find her on Instagram if you like pics of food 'n vintage clothing: giant_hair.
Big thanks to Katie for taking time to chat with us!  (PS see you at another cooking class soon, Katie.)
Bon Appetit!
Theresa and Kyle
© Theresa Reed | The Tarot Lady 2016
photos from personal collection and Jessica Kaminski
Hungry for more? Click here to explore the entire Tarot by the Mouthful series, from the very first card… right up to our latest installment. Bon appetit!