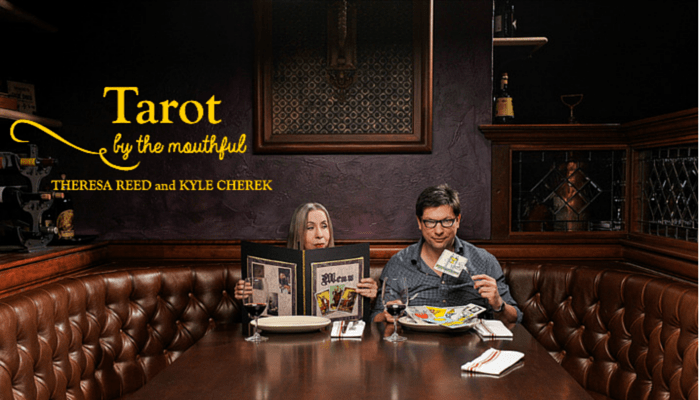 Kyle is a foodie who loves Tarot. Theresa is a Tarot reader who loves food. 
Together, we host Tarot by the Mouthful: a mouthwatering, multi-media culinary tour through the world of Tarot. 
Sublime recipes. Soulful stories. Essays, videos, interviews and delicious surprises. 
Join us every Sunday for a new installment — and get ready to sip, slurp, crunch and savor your way through the entire Tarot deck! 
This week: Seven of Cups
Seven of Cups: The figure stands before an array of cups – each filled with a different object. This card symbolizes choices.  Many options before you.  It may be difficult to make a decision.  Take your time to explore each choice carefully.  This card is also associated with imagination or wishful thinking.  Delusions.  Confusion.  Too many options waters down the potential. Scattering your energy. Head in the clouds.
Kyle – Kill all your darlings.
"Kill all your darlings." That was the famous writer William Faulkner's advice to other writers.  In essence, when you love your work too much, when you are getting yourself off with what is flowing forth on the keyboard (in his day, a typewriter), then later, when you edit, take it all out.
A chef described this sort of instinctual amnesia to me once when he and I were discussing another chef, who kept opening more and more restaurants, concept after concept, each of them, less singular, more average, and less memorable than his first, exceptional, breakout place.
"I've seen it before" the chef said, "when the talented just keep trying time after time, to reclaim that energy of the first success. Reclaim that time and place when they've  found their voice in the kitchen, and customers found them and loved them. The trouble is you can never get back that moment."
Cooking, like so many other creative endeavors is a balance between the present, the past, and some other source in the universe. A well we can always dip into for rich inspiration. What the Seven of Cups cautions us to realize, is that we can never draw the same waters of creativity, up to drink from a second time.  "Kill all your darlings."  Lovely as they they may be, the delusions of your own makings, are twice as hard to see as someone else's.
Theresa – Frozen at the fridge.
At one time or another most of us have found ourselves standing in front of an open fridge wondering what to make for dinner.  That's what that guy in the Seven of Cups seems to be doing too.  There are lots of options but what to do, what to do?
I find myself doing this very thing when I'm exhausted after a long day of tarot.  Suddenly, I'm standing in my kitchen like a deer in the headlights with not a clue in the world on what I'm going to cook.
Breakfast is always easy because I usually eat the same thing: a toasted bagel with a mug of hot green tea.  Not having to think about breakfast keeps my mind free for tarot stuff.  I'm not much of a lunch person either. I'd rather grab a handful of nuts or dried fruit so I can stay focused on my work.
But dinner. Ah, dinner! Dinner is the meal where I get to create – and that can be damn hard to do when you don't have a notion of what to make.
Over the years, I've developed a few strategies so that I can keep that "oh crap what's for dinner" conundrum down to the rare occasion.
Strategy number one: simple meal planning.  That means setting aside some time every week or night to thumb through my cookbooks and find something that I like or want to try.  I have a pretty amazing library of cookbooks, which means I have endless inspiration at my fingertips.  (I own more books on food than I do on tarot.  It's dizzy Seven of Cups energy standing in front of my collection!)  Taking the time to research and plan my meals makes my world easy.
When I'm putting my dinner plan together, I'll consider how much time I have for fiddling around in the kitchen as well as making sure that I have variety on the dinner table.  Not only do I wish to avoid boring my palate but I also want to include a wide mixture of vegetables and meats so I cover the nutrition angle (I need to make this happen at dinner because my other meals are pretty scant or nonexistent).  Once the plan is made, I create my list, hit the market and then cook like a fiend.
Strategy number two: a few basic recipes that I can rely on but also change up on a dime.  A simple roast chicken, a few pasta dishes, omelettes or crepes, salads and soups. This simple fare can work when I don't want to think about cooking or just don't have a spare minute to plan.  I can "go through the motions" but still end up with a good meal.
Strategy number three: a well stocked pantry with staples saves the day.  A few things that I always have on hand: pasta (shells, linguini, spaghetti), rice (Jasmine, Basmati, Arborio, long grain, brown, sushi), capers, olives, tuna, eggs, vinegar (rice wine, champagne, red, white, apple cider), wine (red, white, sherry), grains (couscous, cornmeal), beans (black, pinto, red, garbanzo), cheese (parmesan, cheddar), bacon, butter, oil (olive, vegetable), frozen peas + corn, chicken stock, anchovies, tomato paste + sauce, canned tomatoes, lemons, celery, carrots, potatoes, onions, shallots, parsley, mayonnaise, peanut butter, Dijon mustard, Worcestershire sauce, bread crumbs, and a variety of different spices and herbs.
With a well stocked pantry, you can quickly whip up a pasta with egg and parsley, a tuna salad with mayo, a hearty bean soup with a rice garnish, and so on and so on.
Strategy number four: a few go-to reliable cookbooks. Although I have an amazing collection to choose from, there are a few that I gravitate towards when I'm famished but low on time: Jamie's Food Revolution: Rediscover How to Cook Simple, Delicious, Affordable Meals
, Martha Stewart's Dinner at Home: 52 Quick Meals to Cook for Family and Friends,
 How to Cook Everything (Completely Revised 10th Anniversary Edition): 2,000 Simple Recipes for Great Food or
 The Epicurious Cookbook: More Than 250 of Our Best-Loved Four-Fork Recipes for Weeknights, Weekends & Special Occasions.  
Have your favorite cookbooks in a handy place so that you can access them with ease…often.
Strategy number five: in desperately busy times, we rely on "snacky" dinners: smoked salmon or sausage, a good cheese or two, olives (Moroccan oil cured are our favorite), berries, a raw vegetable, a great baguette or crackers, and a bottle of wine.  I can assemble this in minutes and no one ever complains.  It's also a smart strategy when unexpected company drops by and you don't have time to make a meal.
A few easy strategies like these and you'll spend less time standing frozen at the fridge wondering what should I cook?
Other great cookbooks for every day meals that you can cook in a snap:
Robin Rescues Dinner: 52 Weeks of Quick-Fix Meals, 350 Recipes, and a Realistic Plan to Get Weeknight Dinners on the Table
by Robin Miller
Fast Food My Way
by Jacque Pepin
The Tao of Cooking
by Sally Pasley
One Pot: 120+ Easy Meals from Your Skillet, Slow Cooker, Stockpot, and More
by Martha Stewart
Everyday Food: Great Food Fast
The Improvisational Cook
by Sally Schneider.
Bon Appetit!
Theresa and Kyle
© Theresa Reed | The Tarot Lady 2015
photos from personal collection and Jessica Kaminski
Hungry for more? Click here to explore the entire Tarot by the Mouthful series, from the very first card… right up to our latest installment. Bon appetit!