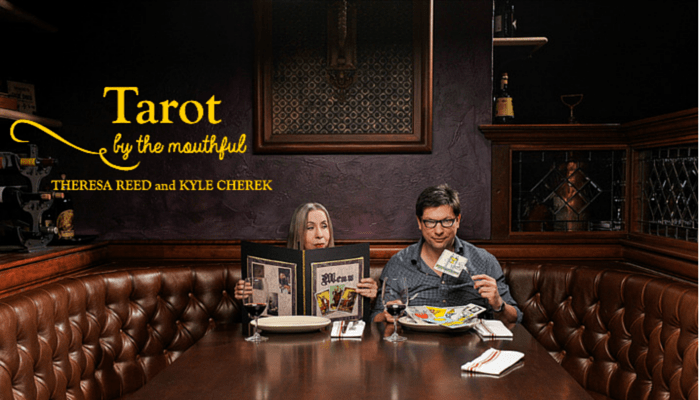 Kyle is a foodie who loves Tarot. Theresa is a Tarot reader who loves food. 
Together, we host Tarot by the Mouthful: a mouthwatering, multi-media culinary tour through the world of Tarot. 
Sublime recipes. Soulful stories. Essays, videos, interviews and delicious surprises. 
Join us every Sunday for a new installment — and get ready to sip, slurp, crunch and savor your way through the entire Tarot deck! 
This week: Six of Wands
Six of Wands: The figure sits high on the horse with a wreath on his head and one on his wand as supporters cheer him on – this is a sign of victory. A goal has been successful completed, a battle has been won, and now it's time for a victory dance as we step into the winner's circle.  This card symbolizes a big win.  Reaching the finish line and getting ready for the celebration ahead.
Kyle – The reward is in the work
Paul Arden,  the late Saatchi and Saatchi creative director and author of some of my favorite books, has a terrific page with solid advice regarding awards in It's Not How Good You Are, It's How Good You Want to Be: The world's best selling book.  Never one to shy away from a clever, arresting graphic, the right-hand page of the book has picure of a dildo; the left-hand page states:
"Don't overvalue awards; they are steeped in mediocrity.  They are emblems of the folks in any given field, or those in power, agreeing that your efforts are good enough.  Truly original ideas and solutions don't win awards, because as ideas, they are hot potatoes most of us can't recognize as familiar, sensible or even great."
I'm not sure that Arden truly believed it (he accepted many awards and there is now one named in his honor), but I get his point.  I have always loved Hemingway's response to his Nobel Prize in literature.  After six paragraphs of modest acknowledgement, he concluded with:  "I have spoken too long for a writer. A writer should write what he has to say and not speak it. Again I thank you."  I have always taken that to mean, I do what I do; thank you for the acknowledgement. If I had sought this award, I would have been less than what I am in the capacity for which you award me.
For American chefs, the James Beard Awards came along in 1990 as a way to honor the ascension of American cuisine and celebrate chefs cooking at the highest level of their craft. Poorly funded and unheard of by the majority of America when it began, the awards have grown to be called the Oscars of food–a fair comparison to be sure.
The Six of Wands is the card of achievement and public acknowledgement. The card depicts a man on horseback with his wreathed and ribboned staff held high.  The crowd surrounding him cheers.  It is a card of levity and recognition of one's efforts on this earthly plain, which feels great for our egos, but is not always the best motivator to create, endeavor, and work.  I think that is what both Arden and Hemingway were getting at.
In 2012, I was at the James Beard Awards in New York filming a Wisconsin Foodie episode.    That year there were two Wisconsin chefs, both friends of mine, up for the same award. One Wisconsin chef, Tory Miller, would go on to win.   The other, Justin Aprahamian, would win a few years later in 2014.  In 2012, Tory's acceptance speech was perhaps the best one given that evening.   (At least the Chicago Tribune thought so.)  What Tory said–his candor, irreverence and awe at the honor–is, for me, the perfect example of what the Six of Wands card at its best represents and directs us towards. Yes, the cheers of the crowd are grand; awards sweeten the air and lift you onto your figurative high horse.  The work that got you there, however, was its own reward or the award isn't worth a damn.
Theresa – The Victory Garden
The Six of Wands shows a joyful celebration after a victory.  Give the nature of this card and series, it might make sense to discuss how we celebrate our victories through food.  Yet I found myself focusing on a different aspect of food/victory: the Victory Garden.
Here in Milwaukee, you can't help but think about them because we have a Victory Garden Initiative and the tell-tale little signs with a fist holding a radish and the statement "I pledge to grow more food" can be seen on many lawns.  This movement has been going strong for a while now.
The vision behind the Victory Garden Initiative is simple: "Victory Garden Initiative believes that every person, in every household, can connect to their food source through the act of growing it. This act reminds us that we are of the earth, that we cannot live without the earth; that our needs are met, not by the economy, but by the earth. Growing food will re-integrate us with deep ecology, guiding our culture towards a sustainable, abundant future, freed from financial inequalities."  This movement is catching on and more people are getting interested in gardening, not just for the pleasure and yummy food – but for sustainability and economic reasons.  Gardening is powerful stuff, people. Grow your own and you become less dependent.  That was the original intent behind Victory Gardens.
What is a "victory garden?" The original victory gardens were started during World War I and World War II as a way to supplement the public food supply and boost morale.
According to Wikipedia, the first initiative was launched in March 1917 by Charles Lathrop Pack, a wealthy timberman, who organized the US National War Garden commission due to reduced food production.  Because of the war, many of the men who were involved in agricultural labor were recruited for the military.  By encouraging people to grow their own food, this took the pressure off food suppliers.  It also resulted in over five million gardens in the USA!  Wow.  (Check out this cool old 1941 propaganda film  WW2: Victory Gardens.)
The Victory Garden campaign is back in full swing with movements such as the one here in Milwaukee popping up all over the states.  Even healthy food lovin' First Lady Michelle Obama has gotten into the gardening trend when she planted a "Kitchen Garden" on the White House Lawn.
You know veggies and gardening are in when our First Lady is out there digging in the dirt!
In my household, I'm lucky to have a gardener for a husband because plants and me do not get along.  I have the so-called "black thumb" and everything I try to grow, even a houseplant, dies.  (My houseplants also have the unfortunate position of living with a plant-chewing cat that will not be deterred, even with the repellant sprays.) So my attempt to garden isn't exactly victorious.
But every year, my husband plants a variety of tomatoes, peppers, onions and herbs, which we enjoy.  Because there is nothing like home grown. And that's a movement I can get behind and gratefully support.
"Anyone who has got a book collection and a garden wants for nothing." – Cicero
This poster above would be a perfect Six of Wands!  Ha!
More on Victory Farms:
Modern Farmer – cool vintage Victory Garden posters
Victory Gardening during World War II
Facts about 1940's Victory Gardens
Victory Garden Initiative (Yay Milwaukee!)
WW2: Victory Gardens propaganda film
Recipe for Victory: Food and Cooking in Wartime
Bon Appetit!
Theresa and Kyle
© Theresa Reed | The Tarot Lady 2016
photos from personal collection, Flickr commons and Jessica Kaminski
"Victory-garden" by Artist: MorleySize: 27″x19″Publication: [Washington, D.C.] Agriculture Department. War Food Administration.Printer: U.S. Government Printing Office – http://www.art.unt.edu/ntieva/pages/about/newsletters/vol_15/no_1/WarPosterImages.htm. Licensed under Public Domain via Commons.
Hungry for more? Click here to explore the entire Tarot by the Mouthful series, from the very first card… right up to our latest installment. Bon appetit!