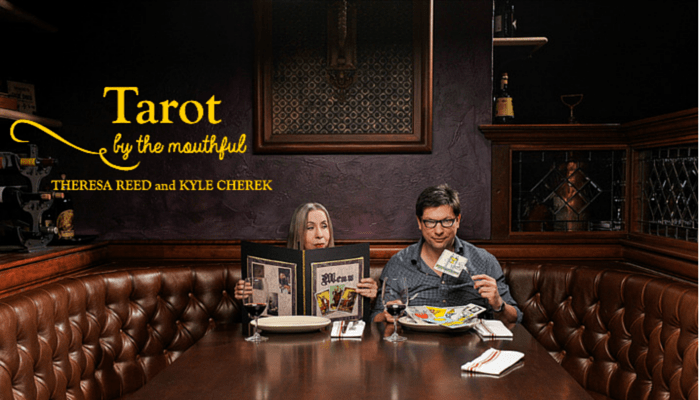 Kyle is a foodie who loves Tarot. Theresa is a Tarot reader who loves food. 
Together, we host Tarot by the Mouthful: a mouthwatering, multi-media culinary tour through the world of Tarot. 
Sublime recipes. Soulful stories. Essays, videos, interviews and delicious surprises. 
Join us every Sunday for a new installment — and get ready to sip, slurp, crunch and savor your way through the entire Tarot deck! 
This week: Temperance
Temperance:  Temperance is balance and moderation. Finding the middle ground through trial and error.  Healing.  Weighing and measuring. Testing things out, feeling our way forward.  The calm after the storm.  And it's about blending until the lead becomes gold.  Alchemy.
Theresa and Kyle: The Goodkind of Cocktail
When it came to Temperance, there was only one thing on my mind: cocktails.  The figure pouring liquid between two cups – it was so in-your-face obvious.  It's like we had no choice but to think about drinks.  So I met Kyle down at Goodkind, the hottest restaurant and bar in the hippest part of Milwaukee, with the best bartender in the city: Katie Rose, to talk booze and share some good cheer.
As always, Goodkind was packed to the brim.  Getting a seat at the bar wasn't easy but we slid into two spots and watched Katie Rose begin to work her cocktail mojo (Temperance in action in the pic below!).
Because it was so busy, Katie Rose wasn't going to have much time to chat so I asked Kyle about cocktails.
Theresa: So tell me…what is your favorite cocktail?
Kyle: My favorite cocktail is unequivocally a Sidecar.  The way that I came to know of it was staying home, being a sad soul, watching old movies and seeing a great character in black and white order a Sidecar.   Walking into the bar the next night, asking to have it made for me, having the bartender look it up in a book and before I knew it, the rest of the bar was drinking Sidecars. That's been my calling card ever since.
Theresa: What's your favorite cocktail to make at home?
Kyle: My favorite to make at home is something called "The Turnaround".  My fiancée and I had a helluva day, a long drive, came home and said "We both need drinks."  I looked at what we had in the liquor cabinet, which essentially was Campari, Vermouth, and some KK Whiskey.  I mixed them all together – the recipe will remain secret for the moment – added a peel of orange top, slid it into the cocktail, served it in a glass over ice…and that, my friends, is The Turnaround.
Theresa: And what do you think always goes well with a cocktail?
Kyle: Good conversation and the right amount of sonic background. It should be loud enough that you should speak with conviction but quiet enough that you don't have to shout.
Kyle and I watched with awe as Katie Rose continued to mix and blend and pour those drinks without missing a beat or breaking a sweat.  On a crowded night with a full restaurant, it's not an easy feat.  But, like the Temperance card, she was patient and graceful.  She made it look easy.  That's the sign of a damn good bartender.  Kyle ordered one of the specialty drinks: Light as a Feather,  a tangy sweet refresher with gin, sloe gin, Lillet blanc, spruce/mint syrup and lime Pernod.  I stuck to my wine (yeah, I'm boring).
Finally the cocktail arrived in all it's glory.  Better yet, I had a minute to ask Katie Rose the ultimate Temperance question!
Theresa:  In your opinion, what do you need to know about blending the perfect drink?
Katie Rose: It's all about balance, inspiration and your intent.  How do you want to make somebody feel?  Like, do you want to invoke a memory or a particular taste or flavor?  It's all about you have control over how you can make someone feel.  If they take that first sip and you watch somebody just kind of go inside of themselves, it's magic.
Spoken like a true alchemist.
Cheers!
White Trash Cocktails
My own stint as a bartender was short but it lead to my career as a tarot reader.  I was assigned the deadest shift so to liven things up, so I brought my deck into the bar.  It didn't take long before I was slinging more cards than drinks and here I am today.  (I was also not as adept as Katie Rose so it was only a matter of time before my bartending career would come to a dead end.)
My drinking these days mostly consists of wine but I've been known to create a drink or two in times of necessity.  My relatives before me did the same although their concoctions were straight up moonshine (I have some hillbilly in the background in case you are curious – no lie.)  I call my creations: White Trash Cocktails. Behold and drink 'em up:
The Cloudy Mango
Get to Culver's and order a mango slushie.  (We have Culver's here in Wisconsin and they have the best mango slushies!).  Add some cloudy sake (nigori, also known as unfiltered)  to your mango slushie.  Stir it up.  BAM!  Cool tropical refreshment without a fancy Japanese restaurant!
Scam-gria
Someone just bought a cheap ass bottle of wine to your housewarming party.  No need to grit your teeth and throw it out or waste it in a coq au vin. You can still get hammered! Scam-gria to the rescue!  Mix the wine with equal parts of ginger ale.  Throw in whatever fruit you have lying around.  (Raisins don't cut it.)  Smile and drink yourself silly.
Bon appetit!
Theresa and Kyle
photos from personal collection and Jessica Kaminski
Hungry for more? Click here to explore the entire Tarot by the Mouthful series, from the very first card… right up to our latest installment. Bon appetit!