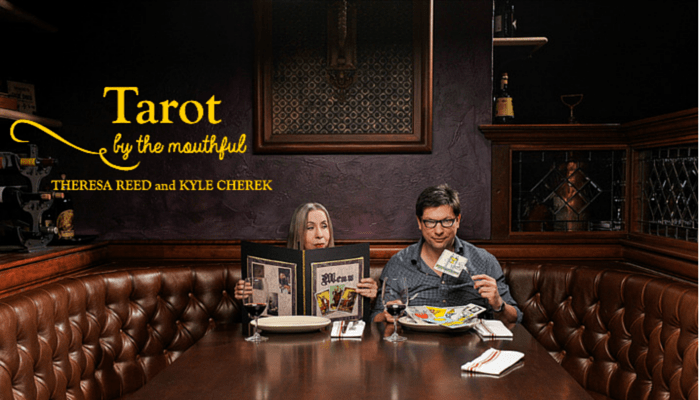 Kyle is a foodie who loves Tarot. Theresa is a Tarot reader who loves food. 
Together, we host Tarot by the Mouthful: a mouthwatering, multi-media culinary tour through the world of Tarot. 
Sublime recipes. Soulful stories. Essays, videos, interviews and delicious surprises. 
Join us every Sunday for a new installment — and get ready to sip, slurp, crunch and savor your way through the entire Tarot deck! 
This week: Ten of Pentacles
Ten of Pentacles – security, wealth, legacy. The Ten of Pentacles symbolizes everyone together and cared for.  All needs met. Living the good life. A windfall is possible. When this card comes up in a reading, it's a sign that you have all that you need, especially materially. The manifestation of goals after a long journey.
Kyle is out with his family – Ten of Pentacles style – so it's just me this week!
Theresa – Family Friendly
"We need to find a family-friendly restaurant." Janey said as she scooped up crumbs, sippy cups, and spittle-laden toys.
Family friendly?  I imagined she meant one of those dreadful orange-and-red "clown" places – which was not my thing.  She studied my face for a moment – my sneer was a dead giveaway.
"Oh, I mean a place where the kids can run around."
In other words: some place where it wasn't frowned upon if kids ran wild instead of sitting at the table.  A restaurant with zero boundaries, where the waiters just smile through clenched teeth even though you know that they hate every single moment of this as much as other patrons who want to enjoy their meal in peace do. Also known as: not my kind of place either.
Here's where I sound like an old-fashioned dud: if I want to eat with animals, I'll head to the zoo.
Although I understand how exasperating it can be to get a meal on the table while taming toddlers at the same time, family meal time should be sacred.  A place where everyone behaves with civility, breaks bread together, and converses.
Kids running around at dinner time while well-meaning adults ignore these ill manners conjures up images of the meal scene from The Miracle Worker (and I feel JUST like teacher Annie Sullivan when I watch a child act up at dinner).
Dinner time – or any meal time for that matter – should be a time for the family to come together. Families thrive (and so do children) when we take the time to sit down peacefully and enjoy what is set down before us.
No matter how simple the fare may be, food bonds us.
Like the image in the Ten of Pentacles, our wealth isn't material things – it's in the people we share our lives with.  The whole family together, feasting, basking in each other's company, grateful for all of our blessings – creates a legacy of memories…and love.
So gather your loved ones.
And sit.
Sit awhile.
That's "family friendly."
Bon Appetit!
Theresa and Kyle
© Theresa Reed | The Tarot Lady 2016
photos from personal collection and Jessica Kaminski
Hungry for more? Click here to explore the entire Tarot by the Mouthful series, from the very first card… right up to our latest installment. Bon appetit!