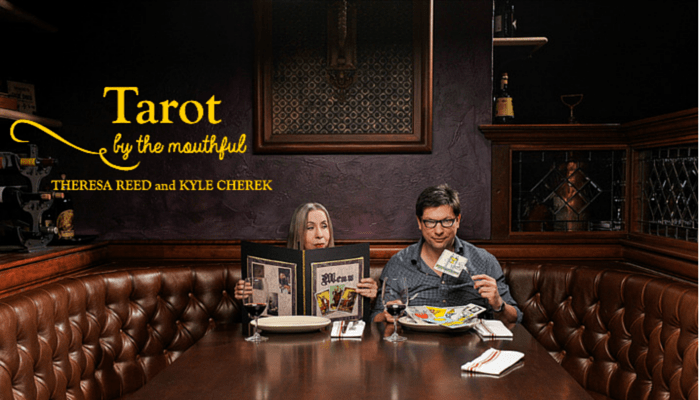 Kyle is a foodie who loves Tarot. Theresa is a Tarot reader who loves food. 
Together, we host Tarot by the Mouthful: a mouthwatering, multi-media culinary tour through the world of Tarot. 
Sublime recipes. Soulful stories. Essays, videos, interviews and delicious surprises. 
Join us every Sunday for a new installment — and get ready to sip, slurp, crunch and savor your way through the entire Tarot deck! 
This week: The Empress
The Empress – The Empress is Mother Earth personified. She's the womb that carries the seed and the caretaker of the Tarot.  Rich with abundance and luxury, she shares her harvest with those under her wing.  Her energy is fertile and rich.  Marriage and pregnancy vibrate strongly in this card.  What or whom are you nurturing? Are you giving your self and your goals as much loving attention as you are to others? Nurture your dreams and the harvest will follow.
Kyle: My Mother's Lasagna Legacy
Our home, is filled with two cats, our two children, my fiancé and myself, our things, and tons of light. Figuratively and literally, at least to me.  The light was one the first things that moved my fiancé and I.  The eastern rising sun cusps over the bluffs of the lake and the housetops in front of us and fills our home with a warm white glow deep into the afternoon. It was in the light, just as afternoon dips into its next iteration, that pregnant time just before the blue hour, that I made my way up our steps, past the piano my fiancé is apt to play capriciously, past the sofas and dining room table spotted with homework, a tea pot, and note pads, on toward the kitchen, where in the middle of the counter island, singularly, sat a white piece of paper filled with my mother's elegant handwriting, elucidating her loved, often requested, near legendary recipe for lasagna.  Without any other provocation, or the most minuscule of time's moments passing I began to weep.
The ingredients—listed in my mother's graceful cursive, shaped by a European birth, life as a WW II refugee, success on all levels in her new American home, and then a later half which was saddled with depression and its itinerant demons, finally ending abruptly age 58—carried all the weight of what "mother", comfort, nurturing, is for me, as well as its disappointments in what I would have hoped it would be.
You see, my mother's lasagna was not just any other dish.  By now most of us have seen the film Ratatouille and in it the "Ratatouille moment" where ossified critic Anton Ego, just after having tasted a dish, is swept back in time to a moment of his childhood, when a plate is lovingly placed before him by his mother, when he was surrounded by a sense nurturing and nourishment.  My mother's lasagna, for me, is that, and while she was alive, and she shared it with others, was even more.
Over plates of my mother's lasagna I saw calloused attorney's soften to shy schoolboys when asking for a second serving. I witnessed antagonist neighbors sheepishly returning scraped-clean pans to her door with humble and earnest invitations for friendship. Even my father, with whom she shared a fairly acrimonious divorce, still waxes gentle and nostalgic about my mother's lasagna.
Her lasagna was something she had poured her whole heart into, perfected herself, as only a first generation American can with snatches of what in her mind it meant to be an American, and one that was cooking  and recipe making in 1960's.  As she struggled with more tenuous aspects of the soul in her later life, the lasagna, was still there, more that just a "move" in the kitchen she could re-enact, but her own way to revisit her Empress time, when nourishment and nurturing were synonymous for her sons, when marriage and children and luxury, which the card represents, all invigorated and gave color to her life.
So in the dipping light on our kitchen, I wept, and then recovered, as we all do and must.  I told my fiancé, standing before me with look of deep understanding, that "I missed my mom", then set about the kitchen cupboards to see if we had everything we needed, to make lasagna.
What follows is my mother's recipe, exactly as she wrote it out.
Sauce
1 Onion chopped
1 clove of garlic to taste
2 teaspoons salt
½ teaspoons pepper
1 Large can of tomatoes mashed
1 Large can of tomato paste and a little water
1 Green pepper
1 Tablespoon parsley flakes
1Tablespoon sweet basil
1 Tablespoon oregano
1 Tablespoon sugar
3 Bay leaves
1 Tablespoon Italian seasoning
1 Tablespoon paprika
Simmer for ½ a day, stirring frequently.
Brown 2 lbs. of ground beef or ground chuck in about ½ cup of butter
Add to sauce when it thickened
Noodles
1 Large package of lasagna noodles- follow directions on box
Drain in cold water; lay on paper towel to dry.
Cheese mixture
Combine one large carton of cottage cheese- large curd
2 beaten eggs
2 teaspoons of salt
½ teaspoon of pepper
½ carton of Parmesan cheese
1 teaspoon of parsley flakes
Stir.
Cut 1lb of mozzarella cheese into strips, to be sprinkled between lasagna noodles
Place in a 13x9x2 inch-baking dish
Meat sauce on the bottom
Noodles
Cottage cheese
Meat
Mozzarella
Repeat with cheese ending on top
Bake @ 370 for approx. 30 minutes
Let stand for 15 min before serving.
Theresa: The Search for the Vintage Cookbook and Dumplings
When I was a child, I loved to watch my mother cook.  And boy howdy, could she cook!  Homemade bread every single week (along with a special mini-loaf just for me), juicy roasted chicken, hand battered fish fried to perfection, elaborate blitz tortes and Lady Esther cakes.  We ate well.
I remember the paging through her small collection of cookbooks and dreaming of all the possibilities.  Although mom was a pretty good cook, she stuck to mostly German-American fare and chop suey was her only "exotic" dish.  I had other fancy plans but that had to wait until I had my own kitchen.
Mom's most trusted cookbook was the ladies church book (pictured below).  Handwritten with cute little drawings, this book became dogeared from the constant use.
A few years before she passed away, I found a brand new copy of that book in an antique store.  I snatched it up for five dollars and then put it on my shelf.  This was purely for nostalgia because I had no desire to actually cook from it.
When she died, my sister claimed mom's cookbook.  And for a reason I will never understand, I gave my copy to a family member who also wanted that book.  I thought "I'll never cook this sort of food anyways."  (Remember: exotic fare over here.)
And then one day, my elderly father wanted dumplings.  Not just any dumplings.  He wanted HER potato dumplings. Which, of course…were in the book.  My sister hastily emailed me the recipe and I began to make those dumplings for Dad.  Oh, how he loved them.  It was no replacement for her but it lit him up like a little kid.  And it made me happy too because it was one of my favorite childhood meals.  How easily we forget those simple things when we are on a quest for the unusual or glamorous!
After Dad passed, I would take out my now dog-eared copy of the recipe and make those dumplings.  And miss my parents.
While the recipe was the same, not having that book made it feel less "like mom".  To say that I deeply regretted giving away that book is an understatement.
And then one day…I found it on ebay.
It arrived in decent condition and stinking of mothballs.  Like a good tarot reader and yogi, I stuck it under Nag Champa incense for months to get that foul odor out.
Once it smelled right, I cracked open the pages and pored over the recipes.  Oh the memories!  The first thing I made: those dumplings along with my version of a roast chicken (but in my totally modern + extra delicious way) and some simple roasted asparagus.  The past and the present on one plate.
It was divine.
I was instantly transported to a time in life when a simple meal meant only one thing: love. Show your family some Empress-style love with the recipes below:
My quick-roasted chicken
This allows for a quick roasted chicken with crispy skin. Have your butcher cut out the backbone so that your chicken can lay flat (see picture below of bird ready to hit that oven).  Heat the oven to 450° and move the rack to the top third in the oven.  Now, rub that chicken with olive oil.  Next, generously salt and pepper the chicken.  (For the record, the ONLY salt I like for this bird is a spice blend by Penzey's called 4/S Special Seasoned Salt Smoky.  It gives this chicken remarkable flavor.)  Put the chicken on the top of the broiler pan, skin side up.  Cook for about 40 minutes or until juices run clear.  Let sit for five minutes before cutting.
Quick roasted asparagus
Oven should be heated to about 400°.  Cut the hard ends off the asparagus.  Lay on a rimmed baking sheet.  Drizzle with a little olive oil and sprinkle with coarse salt and a bit of pepper.  Roast in oven for about fifteen – twenty minutes or until done.
Mom's potato dumplings
Making the dumplings.
Boiling the dumplings.
Now I'm home again.
Bon appetit!
Theresa and Kyle
photos from personal collection and Jessica Kaminski
Hungry for more? Click here to explore the entire Tarot by the Mouthful series, from the very first card… right up to our latest installment. Bon appetit!