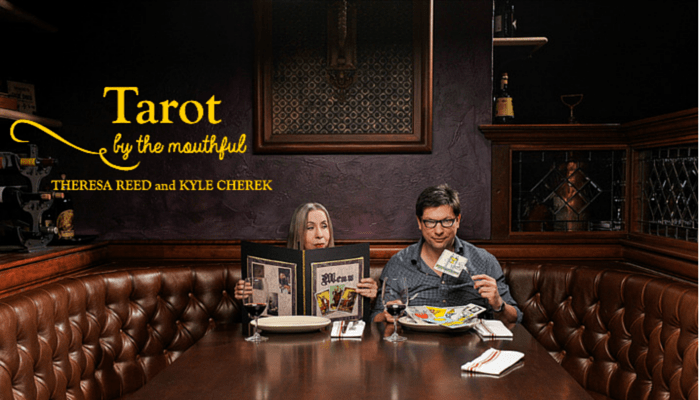 Kyle is a foodie who loves Tarot. Theresa is a Tarot reader who loves food. 
Together, we host Tarot by the Mouthful: a mouthwatering, multi-media culinary tour through the world of Tarot. 
Sublime recipes. Soulful stories. Essays, videos, interviews and delicious surprises. 
Join us every Sunday for a new installment — and get ready to sip, slurp, crunch and savor your way through the entire Tarot deck! 
This week: The Fool
The Fool – The Fool represents the new beginning, the fresh start and the beginning of a new spiritual journey.  This carefree card also indicates the need to take a risk or a leap of faith.  Where do you need to take a chance?  What baggage are you ready to put behind you?  Look forward and don't look back. The doors are wide open and you can move forward freely.
Kyle – The Fool is All
The Fool card, it seems to me, is all about  "the 'feel' of the thing, not the 'think' of the thing".
Every chef, restaurateur, home cook, butcher, charcuterie maker, vintner, distiller, baker, hell even pastry chef, whom is attempting a dish in a new way, is working with The Fool.
A restaurant can't be opened, cuisine can't be pushed forward without risk or without the energy of the fool. The live kind.  The kind that reeks of new beginnings and is full of life. It's the juice that drives us and the invigorating side of the coin who's other half is failure.
Somewhere, between ambition, commitment, enervation and simply "doing it because it must be done", chefs and cooks and those in the restaurant game work with this card each time they move the craft forward. Without the spirit of The Fool, no one, and I mean no one, takes the first step. The Fool embodies "risk" of  the ebullient kind.  His eyes are turned up, literally not seeing the downside, one step from disaster.
The verve it takes to open a restaurant is exceptional.  Starting a business is one thing, but putting forth sustenance, of either the high or low sort, corner dog stand or three-star endeavor is something entirely more.  Moreover, every time a chef or cook risks to move the tradition forward, whether with an innovation like Antonin Carem's first version of a sous vide in pig's belly, or Michael White's play on tradition like his iconic Fusilli with Red Wine Braised Octopus and Bone Marrow, there is risk and The Fool's power.   No craft can move forward without it. The Fool's upturned eyes, and step off the edge. In good cooking, this spirit is crucial.
A few years back, on the red carpet of the James Beard Awards, I asked David Chang, the bad-ass chef of the Momofuku empire, if he had any advice to young chefs, "Burn and burn again" he said, "and don't be afraid to make a fool of yourself."
Theresa – The Fool and The Risk of a Perfect Soufflé
I am but a humble home cook with very gourmet tastes.  As a child, I often pored over my mother's cookbooks, wishing she would whip up some exotic fare such as "baba au rhum" or chocolate mousse.
When I pressed for these fancy things, my mother would reply "those are too hard".
This came from the mouth of a woman who made bread from scratch, Lady Esther cakes and Blitz Tortes, not to mention cream puffs that would put the ones at the state farm to shame.  She knew what she was good at and stayed in her comfort zone.
I, on the other hand, was more adventurous in my tastes and willingly dove in as soon as I had a kitchen of my own.  But even I, as daring as a cook I might be, stayed in my own comfort zone.  I too avoided certain things out of the fear that it might be "too hard."
I especially avoided soufflés, those complicated, fussy egg creations that looked so elegant and light.  Although I would read about them, I never dared to try.
Until a few weeks ago.  It was time to put my fears to the side and dive in.
With my trusty Joy of Cooking by my side, I read through the instructions twice to make sure I was ready.  (My tattered copy has been a faithful companion for two decades.  It's the one book I trust implicitly.)  I gathered my ingredients, took a deep breath, and began.
I carefully prepared my soufflé dish with butter and a thick coat of parmesan cheese (one can never have enough parm in my opinion).
Then it was time to whip up my Béchamel sauce for the base.  I'm adept at making white sauces so this came together with no lumps.  After the sauce was completed, I added the cheese, seasonings, and egg yolks, one by one.
Next, I beat the egg whites until they formed stiff, glossy peaks.  So far, so good.
I carefully folded the beaten egg whites into my soufflé base and then poured it into my prepared pan.
With fingers crossed, I slid the dish into the oven and crossed my fingers.  Everyone in the household was forbidden to make any noises or slam any doors.  I had heard that loud noises might cause the soufflé to "fall" and I was determined that I would not allow that to happen on my watch.
It was hard to stay away from the oven door.  I peered through the glass, looking for signs of something happening.  Slowly, the soufflé began to rise!
Forty-five minutes later, I pulled a glorious, beautifully browned and mile-high soufflé out of the oven.  It was light and airy – and utterly perfect.  My husband announced that it was one of the "best things he ever ate."
While this was a proud cooking accomplishment, the results didn't matter. What mattered is that I overcame my unease and just did it.  That's the spirit of The Fool – it's that first step with complete trust despite the fear. It's the jittery unknowing but doing it anyways.  It's the chance that your soufflé (or any other event, path, etc) might well fail but still you move on and leap!
We don't always get it right on the first shot but we try and try again because the beauty of life and tarot and cooking is that: the risk + the delicious journey that follows.
So what risks would you like to take this week?  Just do it!
Bon appetit!
Theresa & Kyle
Cheese Soufflé from Joy of Cooking
Preheat the oven to 375°F. Generously butter an 8-cup soufflé dish, six 8-ounce ramekins. Dust the insides with:
1/4 to 1/2 cup dry bread crumbs or grated Parmesan
Shake out the excess.
Heat in a small skillet over medium heat:
I tablespoon of butter
Add and cook until softened, then set aside:
2 tablespoons minced shallots
Prepare the white sauce. Melt in a medium saucepan over medium-low heat:
5 tablespoons butter
Whisk in until well blended and smooth, about 1 1/2 minutes:
5 tablespoons all-purpose flour (use cornstarch to make this gluten-free)
Remove the pan from the heat and slowly whisk in:
1 1/2 cups milk
Return the pan to heat and bring to a simmer, whisking constantly to prevent lumps. Continue to cook, whisking, until the sauce is smooth and hot and has thickened, 2 to 5 minutes.
Remove from heat and add the sautéed shallots, along with:
1 1/4 cups lightly packed grates Swiss, Cheddar, or a combination of Swiss and
Parmesan cheese
1/8 teaspoon ground black pepper
1/2 teaspoon salt
Pinch of ground nutmeg
6 large egg yolks, added one by one
Beat vigorously to blend and set aside.  Beat until stiff but not dry.
Beat until stiff but not dry:
6 large egg whites
Pinch of salt
Stir one-quarter of the whites into the soufflé base to lighten it, then fold in the rest. Pour into the prepared soufflé dish, ramekins, or muffin tins. Bake until risen and golden brown on top, 40 to 45 minutes for a large soufflé, 20 to 25 minutes for individual soufflés. Serve immediately.
Joy of Cooking recipe for Ramp and Mushroom Soufflées:  http://www.thejoykitchen.com/recipe/ramp-and-mushroom-souffleés
Joy of Cooking cookbook: Joy of Cooking
photos from personal collection and Jessica Kaminski
Hungry for more? Click here to explore the entire Tarot by the Mouthful series, from the very first card… right up to our latest installment. Bon appetit!