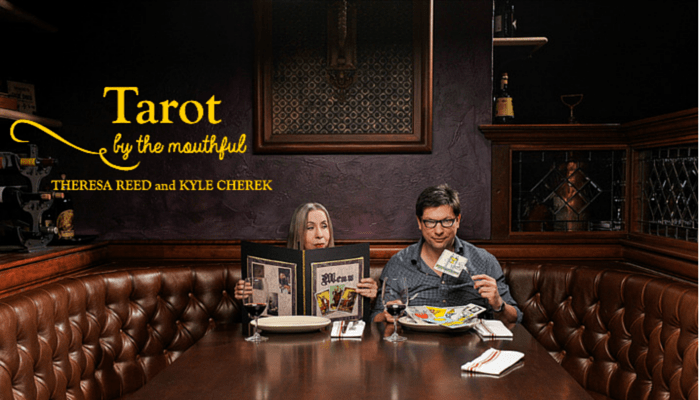 Kyle is a foodie who loves Tarot. Theresa is a Tarot reader who loves food. 
Together, we host Tarot by the Mouthful: a mouthwatering, multi-media culinary tour through the world of Tarot. 
Sublime recipes. Soulful stories. Essays, videos, interviews and delicious surprises. 
Join us every Sunday for a new installment — and get ready to sip, slurp, crunch and savor your way through the entire Tarot deck! 
This week: The Hierophant
The  Hierophant – The Hierophant symbolizes tradition, conformity, rules, and the status quo. This spiritual fellow sets the rules and expects you to toe the line.  He is also the expert, the High Pope, the teacher or mentor, who imparts knowledge to those who seek him out.  He holds the keys to the kingdom and has the power to give blessings. How do you respond to rules?  Do you conform or do you prefer to operate outside of society?  What type of mentoring or guidance are you giving or receiving?
Kyle – The King of Chefs and the Chef of Kings
The most signatory voice, the mantle to which so many other chefs look over their shoulders as they progress in their craft, the 19th and 20th century's codifier of what it means to cook in a Western tradition, the originator of over 10,000 recipes, the "King of Chefs, Chef of Kings," dubbed as such from the Kaiser Wilhelm II (the last German emperor and King of Prussia) is Auguste Escoffier.
Born in 1846 outside of Nice, France, he took to the restaurant world at age thirteen and distinguished himself so inventively that by his twenties he was charged with managing a key position in the most popular and acclaimed restaurant in Paris.  His Le Guide Culinaire, published in 1903, is still used as a cookbook and textbook in culinary schools around the world.
We owe our sense of what luxury cum food is, how professional kitchens should be organized and run, which ingredients we unconsciously cook with everyday, and even the reason some vegetable's colors or shades are now more common verses another.  We owe all of that, to Auguste Escoffier.  In terms of the The Hierophant card, and its respective representative in our culinary history, Escoffier can be the only comparable.  They both represent tradition, intellect, veracity, temerity, and leadership.  The solidity the Hierophant card represents, and Escoffier's influence on Western cuisine are comparable.  Both are icons, in the truest sense.
Escoffier cookbooks (translated into English):
Escoffier
The Escoffier Cookbook and Guide to the Fine Art of Cookery: For Connoisseurs, Chefs, Epicures Complete With 2973 Recipes
Escoffier bio:
Escoffier: The King of Chefs
Theresa – An omelet by the book
I've never had one cooking lesson except for a high school home ec class, which I barely passed.  Even though my love of cooking started young, I had zero interest in being a housewife so the home ec thing just didn't do it for me.  I had other (bad) ideas back then and couldn't be bothered with learning how to sew or clean up after myself (I got an F in the childcare portion if that tells you anything about my wifely potential).
My cooking skills were at my mother's knee.  That's it.
But as I began to get more serious about food and cooking, I longed for a mentor. I wanted my own cooking Hierophant!  But with a busy tarot career, it's impossible for me to take cooking classes so much of what I learn is through reading, trial and error, and watching cooking shows (who knew you needed to let meat rest before slicing?).
One of my favorites is The Taste, a cooking reality show competition where four famous chefs pick a team of professional and amateur chefs to mentor and then compete with each other to win the "best taste".  The catch: each dish is done as a blind test with just a spoonful to impress the judges.  (Even if you don't win, you're coming out of this gig a much better cook with all that mentoring!)
I began watching this show because I'm a huge fan of Anthony Bourdain but I was slowly won over to the side of Ludo Levebre, the passionate French chef.  He's bold, audacious and has an excitement and love for food that bleeds through every pore in his being.
If I was ever lucky enough to have a food mentor, THAT would be the person I would love to have by my side (sorry Anthony!).
Since that is probably not going to happen (next lifetime maybe), I have to get my Chef Ludo fix where I can – on television or in the April 2015 "Cook Like A Pro" edition of bon appétit, where he offered a tutorial on how to cook a proper French omelet.
My version of omelets are strictly an American thing: big and fluffy, filled to the brim with all sorts of cheese and other things (ham is my fave) and slightly browned on the outside.  Chef Ludo's version?  It looked more like a crepe in the pictures.  Smaller, more elegant.
I gathered my ingredients (eggs, butter, chives, Boursin cheese) and began.  I read the directions carefully and then started whisking the eggs.
I dropped the butter in the pan and it began to sizzle (according to Chef Ludo, this was wrong – whoops).  I poured in the eggs and began to stir them around with a rubber spatula. They cooked very quickly and began to resemble scrambled eggs. Ugh.  I could hear Chef Ludo screaming in my ear: "The pan was too hot!  It was too large!  You've ruined the omelet!"  ACK!
I seasoned them lightly, removed the now scrambly-looking eggs from the stove and added a few dollops of the Boursin cheese before folding them over and dusting them with some chives.  It was NOT pretty.  Visions of home ec failure danced in my head but  I was not going to be deterred.  I was going to make Chef Ludo proud and show that even a home cook can follow written instructions like a pro. (I wonder if Chef Ludo would have thrown out that pathetic excuse for an omelet – or thrown me out of the kitchen and taken over.  Maybe both.)
For the next one, I picked out a smaller pan and this time placed it on the stove cold, just like Ludo suggests.  The butter melted without a sizzle to be heard.  So far, so good.
Next, the eggs.  I carefully moved them in a figure-eight pattern with the spatula until they just began to coagulate.  While still soft, I removed the pan from the stove and then dropped a few tablespoons of the Boursin into the center of the eggs.  A pat of butter, a flip of the omelet and soon I was sliding this bad boy onto my plate to be sprinkled with salt and chives.  Voila!  Presque parfait! Not as beautiful as Chef Ludo's but still looking pretty good.  Good enough to eat!
This was the creamiest, most seductive omelet I have ever eaten.  My husband (who got stuck with the less pretty one) declared this the best omelet EVER.  Success!
In my head, I could hear Chef Ludo cheering me on.  Who knows?  At the end of the day, he might have been proud of this humble attempt.
(If Chef Ludo ever needs a guest judge on The Taste or any other thing he does, Kyle and I are packed and ready…tarot cards on hand!)
Bon appetit!
Theresa and Kyle
Chef Ludo Lefebvre's Omelet recipe
Video of Chef Ludo Lefebvre's Omelet on Bon Appétit
@ Theresa Reed | The Tarot Lady 2015
photos from personal collection and Jessica Kaminski
Hungry for more? Click here to explore the entire Tarot by the Mouthful series, from the very first card… right up to our latest installment. Bon appetit!