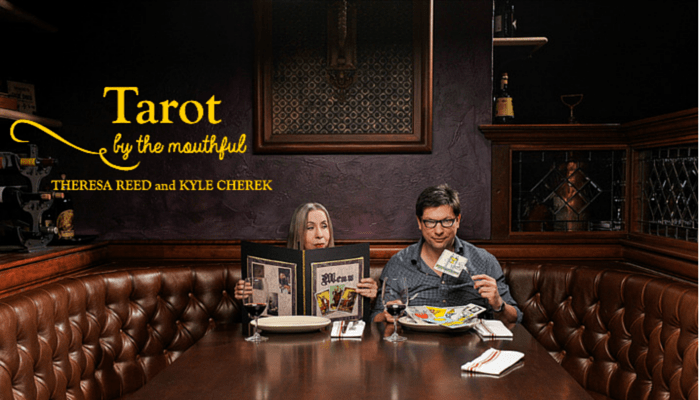 Kyle is a foodie who loves Tarot. Theresa is a Tarot reader who loves food. 
Together, we host Tarot by the Mouthful: a mouthwatering, multi-media culinary tour through the world of Tarot. 
Sublime recipes. Soulful stories. Essays, videos, interviews and delicious surprises. 
Join us every Sunday for a new installment — and get ready to sip, slurp, crunch and savor your way through the entire Tarot deck! 
This week: The High Priestess
The High Priestess – The High Priestess is the woman of mystery and feminine wisdom.  She contains the secrets of the Universe and is deeply tuned in to her intuition. This card indicates that the very best guidance comes from within.  Do you pay attention to the omens and signs around you?  Are you "in tune" or choosing to turn over your own divine intelligence to someone else. Look within.  All the answers you seek are there.
Kyle: You Cannot Escape Yourself
"You have to cook from your heart, you cannot escape yourself, so you may a well cook from what you know, who you are." Jacques Pepin.
The great chef shared that insight with me when I first met him, in 2008 at Bacchus, during a lunch event for then, his latest book.  "You cannot escape yourself", more than any other part of his advice, that phrase always stuck with me.
As I move through the cards of the tarot deck with an expect reader like Theresa, I am doing my own learning, my own self-tutelage if you will, regarding the cards.  Our promise to each other for Tarot by the Mouthful was that there would be no collusion; no agenda or insistence from each other that one card was about this or that.
Our individual sense of what the cards said to us, their metaphysical powers that have been strained through the ages and expressed with symbolism and artistry, would be laid bare for our readers, but most importantly, would be authentic and "felt" more than "thought through".
"You cannot escape yourself".  The High Priestess card, so representative of intuition, potential, the seat we all must all take and embody for ourselves to move from the place of what might be, to what is. The High Priestess card points to the potential that every woman from birth holds a bay. Possessing all of the oocytes (immature ovum) that she will make in her entire life before she is even born, The High Priestess is symbolic for all of us of the potential in ourselves we have to feel, know, trans mutate into doing a being in this world. She is the gatekeeper and passport all at once to what we alone can be.
The High Priestess card represents the place we go to when know who we truly are.  Before our names, before the labels we accepted or put upon ourselves.  Before we chose to believe the restraints of time and ego.  The High Priestess points to a place we all go when the moment feels right, when we sit deeply in the space of our own-most thing. When the happiness of our souls gifts are guided by our sixth sense, our intuition.
"You cannot escape yourself, so you may a well cook from what you know, who you are."
Oui chef.
Theresa: Follow Your Inclinations
I am an intuitive tarot reader, which means when I read, my instincts always trump the traditional meanings.  I'm the same way when I cook.
I'll begin with a recipe and then think: "this could be better if.."  It might be a dash of thyme, a different cut of the vegetable, a substitution for an ingredient.  Or it may be transforming what's on hand (you should see how I treat leftovers around here!).
I've always cooked like this but the more I am in the kitchen, the more I improvise.  Same with tarot.  A certain symbol may grab my attention.  Or the vibe of the client may send me down a completely different interpretation path.
I'm always open to what things may mean, how they look and feel –  and how it may shake out.  I'm open and curious at both the kitchen and the tarot tables.
To me, that is what intuition is: being receptive and inquisitive, rather than thinking "there is only one way".
This week, I've been intuition in action both at work and in the kitchen.  Leftover recaito from my habichuelas rosadas con jamon was impulsively added to my Cuban Black Bean soup (delicious).  A salad was transformed with the addition of chipotle to the dressing.  And brownies got a decadent makeover.
I'm known for making good brownies (my usual recipe is Susan Spungen's Saucepan Brownies from her Recipes: A Collection for the Modern Cook
).  Although regular brownies usually do the chocolate-craving trick, cheesecake brownies are the ones that make my heart sing.  The rich chocolate swirled with ribbons of cream cheese!  Even though I love these to death, I have yet to find the ideal recipe.  I've been seriously underwhelmed.
My problem: never enough cream cheese.  Every cream cheese brownie seemed to be more brownie with only teeny swirls of the part I like the most.  Meh.
What if…I doubled the cream cheese part?
I did just that this week and the results were out of this world.  Thick, fudgy, cake-like brownies with big ribbons of cream cheese decadently swirling around that fudge.  HEAVEN.
By listening to my gut (and cravings) and being curious enough to test things out, I may have just created the very best cream cheese brownie yet.
In this kitchen, I AM the High Priestess.  BAM!
When have you listened to your instincts and gotten results like that?
Bon appetit!
Theresa and Kyle
Recipe for Cream Cheese Brownies adapted from Everyday Food
12 tablespoons unsalted butter, cut into pieces, plus more for pan
1 cup plus 2 tablespoons all-purpose flour
1/4 cup unsweetened cocoa powder
1/2 teaspoon baking powder
1/2 teaspoon salt
8 ounces semisweet or bittersweet chocolate, chopped
8 ounces cream cheese, room-temperature
2 cups sugar
5 large eggs
Preheat oven to 350 degrees. Brush a 9-inch square baking pan with butter. Line bottom and two sides with a strip of parchment paper, leaving a 2-inch overhang on the two sides. Butter paper, and set pan aside (I skip the parchment paper and butter the hell out of that pan instead). In a small bowl, whisk flour, cocoa, baking powder, and salt; set aside.
Place 8 tablespoons of butter (one stick) and chocolate in a large heatproof bowl set over (not in) a saucepan of gently simmering water. Heat, stirring occasionally, until smooth, 2 to 3 minutes; remove bowl from pan. Add sugar; mix to combine. Add eggs, and mix to combine. Add flour mixture; mix just until moistened (do not overmix).
Prepare cream-cheese mixture: Whisk cream cheese with 4 tablespoons room-temperature butter. Whisk in 1/2 cup sugar, 2 eggs, and 4 tablespoons all-purpose flour. Alternately spoon chocolate batter and cream-cheese mixture into pan; with the tip of a paring knife, swirl to marble.
Bake until a toothpick inserted in center comes out with a few moist crumbs attached, 50 to 60 minutes. Cool in pan for 30 minutes. Using paper overhang, lift brownies out of pan; transfer to a rack to cool completely (still on paper if you used it). On a cutting board, using a dampened serrated knife, cut into 16 squares.
photos from personal collection and Jessica Kaminski
Hungry for more? Click here to explore the entire Tarot by the Mouthful series, from the very first card… right up to our latest installment. Bon appetit!