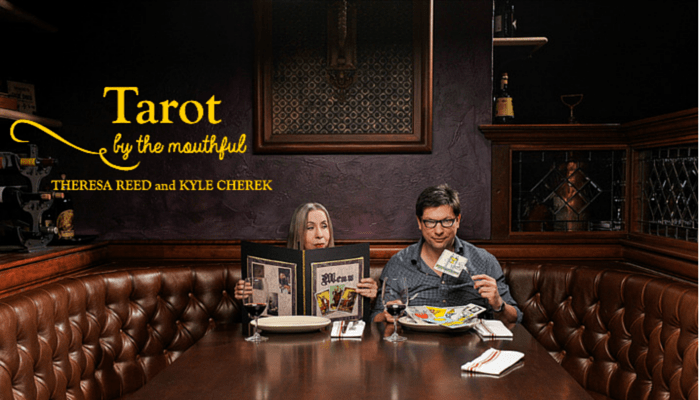 Kyle is a foodie who loves Tarot. Theresa is a Tarot reader who loves food. 
Together, we host Tarot by the Mouthful: a mouthwatering, multi-media culinary tour through the world of Tarot. 
Sublime recipes. Soulful stories. Essays, videos, interviews and delicious surprises. 
Join us every Sunday for a new installment — and get ready to sip, slurp, crunch and savor your way through the entire Tarot deck! 
This week: The Sun
The Sun: The Sun represents joy, abundance, and success.  This happy card radiates with positive energy.  Everything is bright and the future is moving in the right direction.  Things are getting better. Hope returns and we can carry on with confidence and trust.  This is the cosmic yes, the light that illuminates our path, the joie de vivre, and the enthusiastic green light that says: go!  The Sun also symbolizes children, birth, and the inner child.  The joy, wonder, and simplicity of childhood.  Unbridled joy.  Vim + vigor. Vitality and good health.  All signs point to awesomeness.
Kyle – The Sunflowers
This past week, on Wednesday afternoon, I found myself in the midst of forty-five acres of sunflowers.  An eye full in every direction, they rolled out in front of me like a wide river, 4 ½ feet deep, and teaming with wild bumblebees. The bees buzzed their own paths in the abundance, unaware of my existence amidst their gathering of what was all around them and was good. Gathering what every atom of their purpose called out to do.  I faced off to the flowers, nearly eye level, and strode into them, and down their rows. My gait grew more mild, what I now know took hold.  It is impossible, simply impossible to be among so much energetic life as a field of sunflowers, and not be overcome, with a state of happiness.
The sunflower, when fully grown, is one of nature's most ripe examples of brilliant engineering, sheer exuberance, and strength.  They sway in the wind like great earth-given sky scrappers and reach unaccountably high from their meager grasp in the ground below. Impossibly secure on stems only as thick as my thumb, the leaves grow out stacked upward like shelves, each as big as my widened palm, and a perfect consort for the rays of the sun's warmth and light.  The blossom itself defies what we know when we use the word "flower".  Muscular, utterly open and undefended, a warm dark grandeur of a disk ringed by yellow petals that nearly ripple with enthusiasm of their own sun soaked life. Dour thoughts have no place here. Potentials unrealized, the winnowing of triumphs into something less than great and mighty, these are not available to the one when standing in the midst of acres of sunflowers at full height and bloom.
On Friday, scrolling my phone for emails, I read my prompt from Theresa for this week's Tarot by the Mouthful card, The Sun. With each nudge she sends me, the first thing I do is search out an image of the card to be written about. Sans any other information, I study each card intently, often finding several versions from various decks, and absorb the imagery and iconography.  Then and only then, will I tune into any tarot voices, and the interpreted meaning of the card.  I want my grasp of each card true and unfettered. I am not tarot trained.  In this column I hold the space of the uninitiated, and come to the panoply of cards through the prism of the life force of food.
As I explored The Sun card, each image, the Rider-Waite being the first I found, was decorated with sunflowers.  A boon for my contribution to this column I thought, and synchronicity in the least.
Unlike my commentary previous cards, this entry will have no food analogies to offer, no chef stories or cultural observations regarding what cuisine says about us, or our souls.
The meaning of The Sun card is easily the most accessible to anyone, whether tarot devotee or not. Optimism. Fulfillment. Radiance. The source of all that gives life on earth is carried forth in your energy should you get this card in a spread.  To come to the moment when I found myself in the midst of the sea of sunflowers and the happiness that washed over me, I had traveled a great deal.  Literally this past week, I crisscrossed the Midwest to be among such radiant life. Striding through those flowers overcome with happiness, the moment was an apt metaphor.  The Sun card is there for each of us. It is our most natural state  and one the universe wants us to have.  Radiant and warm, enormous and supernatural in its architecture, yet tethered to the earth, balanced and grounded, the sunflower shows us the strength and beaming brilliance we all have. Should we travel well, and we bring ourselves to The Sun card, there is joy, sentient vibrations, and what can come to pass, all under the sun's perfect light.
Theresa – The kids are alright
The Sun is, hands down, my favorite card in the deck.  Whenever it comes up in a tarot reading, I instantly channel that same joy that radiates out so beautifully in this card.  The pleasure, sweetness and enthusiasm is obvious and irresistible.  How can you not feel like rejoicing when you see that little baby on the horse, arms stretched out wide, with a look of complete bliss on his face?
Cooking gives me that same feeling but even more so when I cook for my children.  I have always loved making dinner and treats for them – although there were times when, as any child would be apt to do, meal time would become a mini-battleground.  "I don't like this" they'd say even though they hadn't yet taken one bite.  And that was the rule in the house – you're not allowed to turn it down until you've taken three bites of the so-called offending food.
Which meant that sometimes they would discover that the yucky looking thing was actually good.  Or, if they were in a particularly stubborn frame of mind, they'd take the three bites and declare it the worst thing they ever ate.  This deal making at the kitchen table was necessary and important to me.  Why?  It's because I had a sophisticated palate and wanted my children to have the same.  Children are not born with one – this is something that must be learned.  Which means parents need to be diligent about introducing their children to new foods, even when the child is turning up their nose at it.
I grew up in a meat-and-potatoes household and although my mother was a fabulous cook, I'd often pore over her cookbooks and fantasize about more exotic fare like the curries or the mysterious baba rhum cakes pictured within.  I was a very adventurous eater even as a tot.  I wanted to try everything. I'd gobble every single veggie that was put before me.  I even insisted that my mother get spinach in a can during a Popeye phase when I was four.  Canned spinach was not a successful request because it was actually pretty disgusting.  But I ate it anyways…because, well Popeye was my hero then (fact: I had a sailor shirt that I wore to death).
When I became a mother, nutrition and joyful eating were important to me.  I would employ my children as "miniature assistants" in the kitchen and they'd help me with various tasks (bowl licking was the most requested "job").  They participated in every single aspect – picking menus, shopping for the ingredients, chopping, cleaning, stirring, and presentation.  These were some of my favorite times with my children.  Getting them involved in the whole process of creating a meal was another (sneaky) way to get them to eat well.
Although I do appreciate and understand the reason behind those cookbooks for moms who have extremely picky eaters, I think they do a disservice for kids.  Hiding "challenging" foods insults their intelligence and allows them to think that brownies and pizzas are the only foods they need to eat.  If you think that cleverly disguising healthy things in junk food is getting your kids to eat well, you're mistaken.  Because once they are out the door, you can be sure that they will be reaching for the junk version of the junk food. (I know parents who took that route and their grown kids eat nothing but crap now.)  If you want your children to eat well, have a highly developed palate, and to enjoy the meal time, you don't need to hide "challenging" foods in clever ways nor do you need to create special and separate dinners for your kids with "kid friendly food" such as chicken nuggets (ugh).  You need to get your kids involved, be willing to make a few deals, sit down at the table together, and create a positive meal time environment.  It's not that hard and, for foodie parents like myself, I'd like to think that it's the only way we know how.
Now that my kids are grown, I look forward to the times when we can all sit down and break bread together.  Often, they'll have special requests such as kitchari,  mac 'n cheese, paella, or a truffle cheesecake.  But the one thing that may be the most requested are my turtle bars.  This is their Sun card on a plate: abundant, rich, blissful, and totally indulgent. Here is that recipe just for you:
Turtle bars
Base:
2 c. flour
3/4 c. powdered sugar
3/4 c. butter, softened
2 T. whipping cream
1 tsp. vanilla
Filling:
28 vanilla caramels
1/4 c. whipping cream
1/4 c. butter
1 c. powdered sugar
1 c. chopped pecans
Glaze:
1/2 c. chocolate chips
2 T. whipping cream
1 T. butter
1/4 c. sifted powdered sugar
1 tsp. vanilla
Heat oven to 325.  Blend all the base ingredients until crumbly.  Press this into the bottom of an ungreased 15×10 jelly roll pan.  Bake for 15 – 20 minutes or until lightly browned.
In small saucepan, melt caramels with the cream and butter, stirring constantly until smooth.  Remove from heat and stir in 1 cup of powdered sugar and pecans.  Spread this over the base.  (If it's too thick, you can always add a bit more cream to make it easier to spread.)
In small saucepan over low heat, melt the chocolate chips with the cream and butter, stirring constantly until smooth.  Remove from heat and stir in the 1/4 cup of powdered sugar and vanilla.  Drizzle glaze over bars.
Let this sit for a bit so that the base and chocolate firm up before cutting 'em.  Enjoy!  (PS these never last long.)  Here is a batch freshly prepared before cutting:
Bon appetit!
Theresa and Kyle
Hungry for more? Click here to explore the entire Tarot by the Mouthful series, from the very first card… right up to our latest installment. Bon appetit!