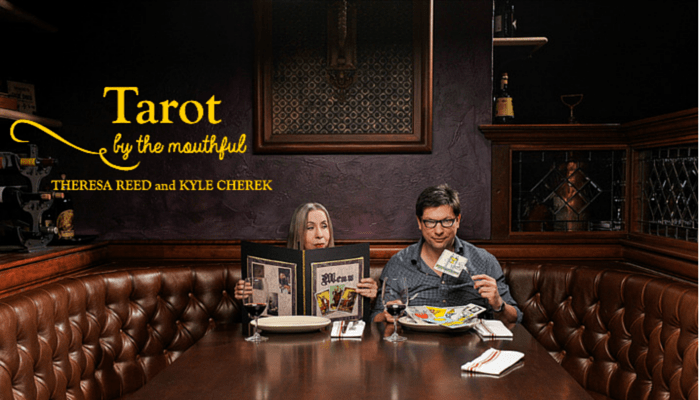 Kyle is a foodie who loves Tarot. Theresa is a Tarot reader who loves food. 
Together, we host Tarot by the Mouthful: a mouthwatering, multi-media culinary tour through the world of Tarot. 
Sublime recipes. Soulful stories. Essays, videos, interviews and delicious surprises. 
Join us every Sunday for a new installment — and get ready to sip, slurp, crunch and savor your way through the entire Tarot deck! 
This week: The Wheel of Fortune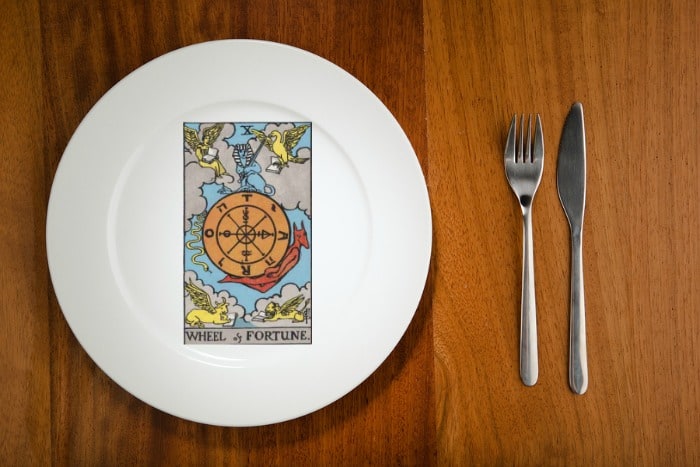 The Wheel of Fortune – The Wheel of Fortune symbolizes change and luck.  Things are rolling as they need to.  The wheel has already been set in motion and events will unfold from past actions. This is the card of cycles, of ups and downs, and the constant change that is always happening, whether we see it, start it or not.  The Wheel of Fortune also signifies a turning point.  What was a pivotal moment in your life?
Kyle – Work the Line
In researching the Wheel of Fortune, I was overwhelmed with the depth of symbolism in it, particularly in the version provided by the Rider Waite deck.  So much to delve into. The four fixed zodiac symbols, Jungian shadows ascending upward though the expansion of our intellectual minds and egos, the Egyptian symbol of the snake god Set (sometimes called Typhon), moving downward on the wheel. Joseph Campbell in all his sensitive erudition could not compress the power of this card in one short essay, let alone link it to food. Then, in an instant, what Rilke called the "experience of clarity" when he wrote " after looking at a painting for a long time which I finally understood", the Wheel of Fortune, in the context of this partnership with Theresa for Tarot by the Mouthful, became apparent.
The card, of course, at its simplest understanding is about our changing fortunes.  Life goes swimmingly, then adversity comes to break us and make us stronger should we choose that path.  Even for the dormouse personalities of the world, the Wheel turns.  Through the prism of food, the analogy that came to me in the moment of clarity, is what chefs and cooks everywhere, no mater what manner of restaurant or style they work in, was the line.
As long as I have been around chefs, from my earliest years as a busboy at age thirteen to my current position in media and food, they have talked about the line.  The space in the kitchen where the minute production of our meals happen. John Belushi worked one at the Billy Goat burger joint which inspired his famous "Cheeseburger, cheeseburger, cheeseburger" sketch, and every famous chef you can name has had to worked their way up and proved themselves on the line, long before we begin to know their names.
The thing about the line, once the prep work is done, the stations set up and the service begins,  the orders just come. There may be so many veal entrée's that you can't imagine that many carnivores in the dining room, or they may clip along, the kitchen working in sync so beautifully that the only word that could begin to describe it is balletic.
The term chefs use when things go bad, is "going up in flames", the metaphor to a kitchen melt down, burning dishes, and the Puritan version of hell, all work here and then some.  I don't know a single chef that hasn't drawn edifying lessons for the demands of the line. The more cool headed, the better prepared, skilled, or willing to work and work hard through it, the better the service feels at the end.  Not unlike life, the Wheel,  Rota Fortunane, or, in a chefs case, the line, will turn for each of us.  What we do with the demons and the blessings, the fixed things, and those we can change, is everything.
Theresa – Big Meals Keep on Rollin'
The first time I ever ate at a food truck was in Portland years ago.  I was visiting my childhood chum Sandie and she insisted we eat some Indian food at one of these mobile restaurants.
I was suspicious.
A food truck? Seriously?  This conjured up images of the nasty sandwich wagon that used to sit outside the foundry where my dad used to work. He loved getting a "hot Italian" sandwich but I thought they were dirty.  Food for guys in factories.  (Yeah, I was a food snob even as a kid.)
How wrong I was.
My chicken curry was hot, spicy, and as fresh as anything that I've ever eaten in a sit-down restaurant.  As I slammed it down, I was mighty impressed.
This was gourmet.  Delicious.  Frigging cheap 'n easy. And it came out of a food truck. Who'da thunk?
It was an epiphany.
Since that time, I have watched food trucks go from industrial "event" type things to totally and modern places-you-must-try.  There are even television shows dedicated to them such as The Great American Food Truck Race.  Mobile catering is hot stuff, yo.
The best part – these modern mini-kitchens continue to evolve.  Gone are the days of the old-time foundry wagons. These suckers are slick 'n funky and the food is inventive, high-end, and creative.  A foodie's dream.
While Milwaukee is still late on the game, other cities are bursting at the seams with options: Minneapolis, Portland, New York, California (even my hero Chef Ludo has a fried chicken food truck!)…when I am on the road it's nice to be able to walk up, grab a bite and get on my way.
A little history on food trucks: the Texas chuckwagon was the first "food truck".  A chuckwagon accompanied the cowhands as they herded cattle down long stretches of road.  These hardworking herders would be gone for weeks or months, hence the necessity to bring along food and medicines.  According to Wikipedia, the "food consisted of dried beans, coffee, cornmeal, greasy cloth-wrapped bacon, salt pork, beef, usually dried or salted or smoked, and other easy to preserve food stuffs. The wagon was also stocked with a water barrel and a sling to kindle wood to heat and cook food."
Lunch wagons were the next evolution. These were created by a food vendor named Walter Scott in 1872.  This inventive fellow cut some windows out of a small covered wagon, parked that sucker out in front of a newspaper office and sold his sandwiches and other goodies to the local press (wonder if he got good press for that?).
From there, mobile canteens and food trucks continued to develop and serve servicemen, constructions sites, or other typical blue-collar guy oriented locations such as foundries and factories. The modern meals-on-wheels are no longer your grampa's sandwich wagon.  Nowadays, you can find almost anything served up out of a food truck: from ethnic fare to burgers, lobster rolls, and even ice cream with crazy names like Salty Pimp.
I decided that I needed to do some "live research" for this feature so I grabbed my favorite eating companion, my son Nick, and hit the road in search of local food trucks. Fortunately, this was not hard to find because thank-you-internet, these mini-restaurants have websites which tell customers exactly where they are located at the moment.
I had a burger in mind so Burger Meister was my intended destination.  As we pulled up, I noticed a small fleet of food trucks neatly lined up by Red Arrow Park.  I surveyed every one and then decided to be extra greedy and get a burger from Burger Meister but also some Pork Belly Sliders from Roll MKE.  Time to blow my diet and roll the dice – Wheel of Fortune baby!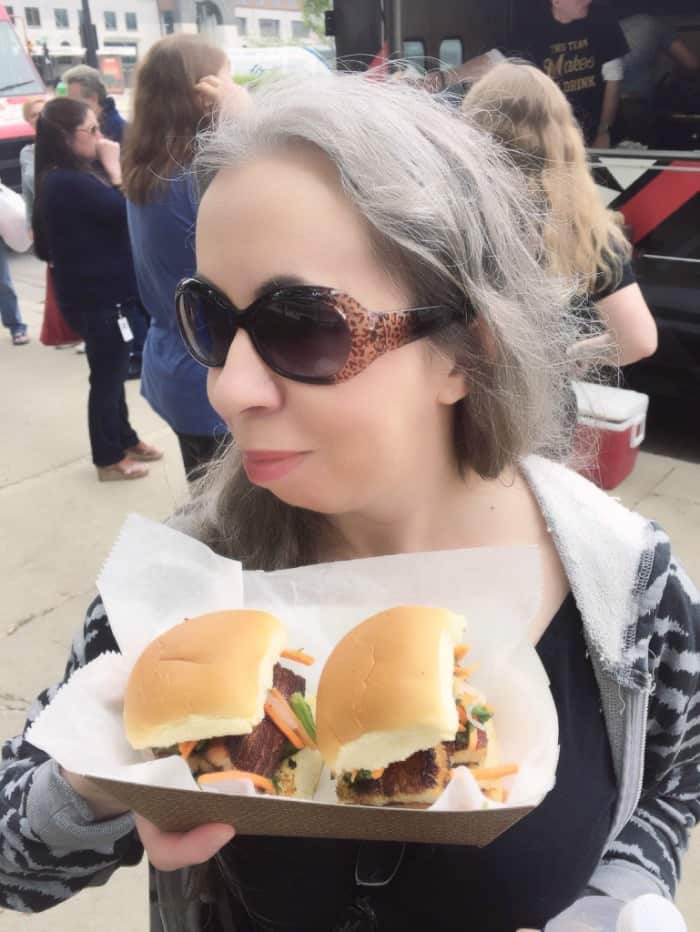 I grabbed my grub and we sat down at the park to chow down.
One of the reasons why Nick is my favorite eating buddy is because like me, he'll try almost anything.  And he has no food allergies or issues, which makes him fun to eat with.  (There is nothing worse that having a meal with someone who won't try new things or has all sorts of rules about what they can and can't eat.)
Despite his openness, he gave his burger and slider the once over and then proceeded to dig in.
Not me – I dove right the hell in and demolished those bad boys!  And I am here to tell you that these goodies were oh-my-god delicious.  Best burger I've had in years. And the sliders?  Just the right amount of salt 'n spice 'n vinegar to rock my taste buds.  Hot damn!  SCORE.
That's the fun thing about food – to try new things, go in with gusto,  lustily enjoy the good and endure the not-so-great… it's a Wheel that's always turning and churning, much like our appetites.
As food continues to change and evolve, the way we eat and are served will continue to shift too. And that's a very lucky thing for all of us.
How America Became A Food Truck Nation
A Complete History of American Food Trucks
Find and book the best food trucks: Roaming Hunger
Bon appetit!
Theresa and Kyle
© Theresa Reed | The Tarot Lady 2015
photos from personal collection and Jessica Kaminski
Hungry for more? Click here to explore the entire Tarot by the Mouthful series, from the very first card… right up to our latest installment. Bon appetit!