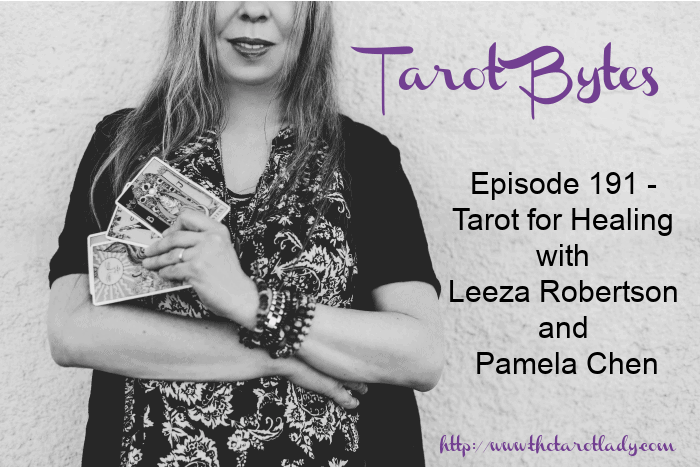 Tarot Bytes: The Podcast
Bite-sized lessons for Tarot beginners
Created by Theresa Reed, The Tarot Lady
Welcome to Tarot Bytes – the tarot podcast for people who want to learn tarot…but don't have all day. Short, bite-sized tarot lessons.
Episode 191 – Tarot for Healing with Leeza Robertson and Pamela Chen
I've said this again and again: tarot is not just for divination. It can be used in many ways. In this episode of Tarot Bytes, my favorite dynamic duo, Leeza Robertson and Pamela Chen teaches how tarot can be a wonderful tool for healing. We talk about chakras, tarot, Emotional Freedom Technique (tapping), and more. If you're curious about how tarot might be able to assist your healing journey, you'll love this episode.
About Leeza and Pamela:
Leeza Robertson and Pamela Chen are a magical duo. They have worked with hundreds of students and VIP clients helping them align with their heart's desires and achieve real tangible results in their lives and businesses. Together they are coaches for creative Intuitives, Magical Mentors for Spiritual Entrepreneurs who are ready to create a heart-centered business leading with a soul-aligned strategy so that they can stand out and sell out.
Leeza is the author of Tarot Healer, Pathworking the Tarot and so much more amazing books. She also is the creator of the Mermaid Tarot and the Animal Totem Tarot.
Pamela is the creator of the Crystal Unicorn Tarot, soon to be released Witchling Academy Tarot, Owl Tarot, and an upcoming crystal magic book with Llewelyn Worldwide.
When they are not teaching class, they both love to read a good book, practice Kundalini, and eat delicious cake.
You can connect with their magic here:
Instagram.com/pamelaunicorn
Instagram.com/spellspotionsbookstarot
Facebook group: bit.ly/enchantme
For those you of you that would like to go deeper to expand your success container and level up your spiritual business. Check out High Magic Practitioner Certification and Spiritual Business Course. Enrolling right now for November 2020 collective!
Grab your favorite deck, put in your earbuds, and dive in!
xo
Theresa
Subscribe in iTunes, Google Play or Stitcher – or use  the mighty fine podcast player below to listen to this track, yo:
© Theresa Reed | The Tarot Lady 2020
Check out all previous Tarot Bytes lessons here.