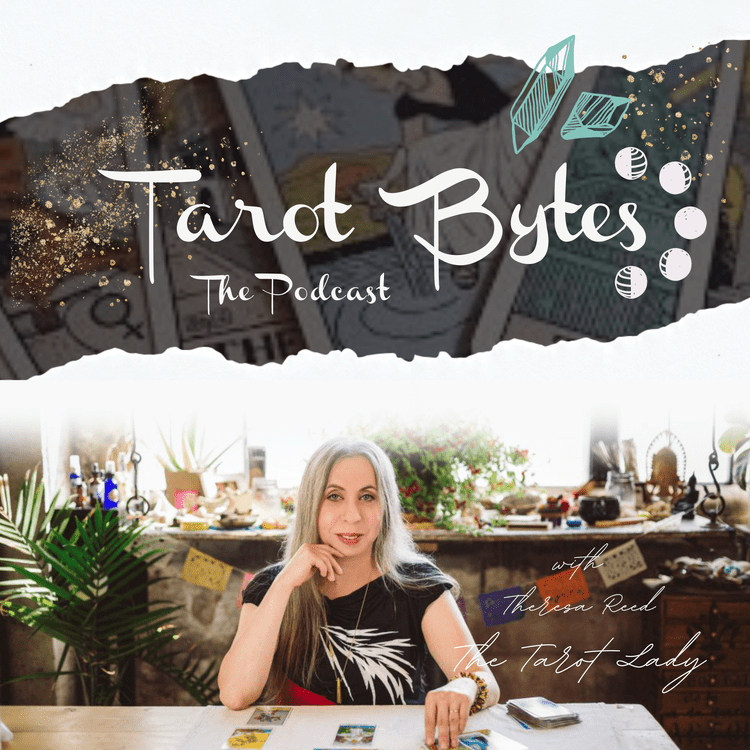 Tarot Bytes: The Podcast
Bite-sized lessons for Tarot beginners
Created by Theresa Reed, The Tarot Lady
Welcome to Tarot Bytes – the tarot podcast for people who want to learn tarot…but don't have all day. Short, bite-sized tarot lessons.
Episode 232 – Awaken the Court Cards with Thomas from Hermit's Mirror
Do you struggle to learn the Court Cards? You're not alone. Most Tarot readers feel the Courts are tricky to interpret. Thomas from Hermit's Mirror has written a workbook called Awaken the Court Cards and he's sharing some of his best tips from the book. Learn how correspondences can help you develop a stronger relationship with the members of Tarot's Court.
About Thomas:
Thomas is a divination coach helping you find your divinatory strengths so that you can turn divination into transformation. He's the author of Tarot Tableau: The Fool's Journey, a guide for using Lenormand techniques to enrich your tarot reading, and author of Awaken the Court Cards: a workbook to bring the court cards to life. He is also the creator of the Life Line Tarot and Life Line Lenoracle decks, and he has a new deck coming out soon, the Seaborn Kipper, co-created with Siolo Thompson.
Website: hermitsmirror.com
Instagram: www.Instagram.com/hermitsmirror
Interactive PDF workbook on Hermit's Mirror:
https://www.hermitsmirror.com/books-guides/awaken-the-court-cards-workbook
Printed book on Amazon:
Awaken The Court Cards
Lifeline Tarot: lifelinetarot.com
Seaborn Kipper: seabornkipper.com
Grab your favorite deck, put in your earbuds, and dive in!
xo
Theresa
Subscribe to iTunes, Google Podcasts, Spotify, Amazon Music, iHeartRadio, or Stitcher – or use  the mighty fine podcast player below to listen to this track, yo:
© Theresa Reed | The Tarot Lady 2022
Check out all previous Tarot Bytes lessons here.