Learn the Tarot card meanings with Tarot Card by Card. Fresh, modern tarot interpretations. A sucka-free approach with affirmations, journaling prompts, theme songs, and reversals. Explore the Tarot card meanings in a hip, irreverent, fun way!
Ace of Pentacles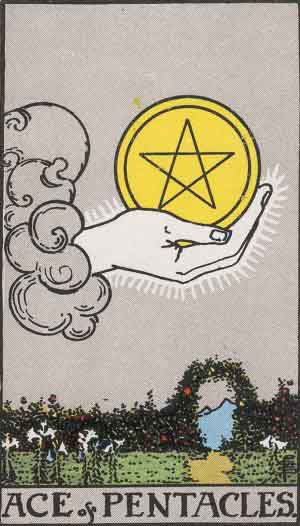 Keywords: new financial opportunity, raise, new job, windfall, wealth, new path
General meaning:  The Ace of Pentacles represents a new financial beginning. This could be a new job, promotion, windfall, or a new way of making money.  It's a sign that things are changing for the better, especially in regards to finances.  Abundance and prosperity.  Getting on the right path.  New sources of income.  This can also indicate a major purchase or investment.  Manifesting big goals.  An auspicious opportunity.  Bling.   Livin' large.
Reversed:  Feeling stressed out about money.  Greed.  Lack of generosity.  An opportunity delayed – or not as lucrative as originally thought.  Unexpected major expense.  Too much focus on material things.  Dubious ways of making a living.  Laundering money.  Promissory note.  Trying to collect from a broke ass.  Taking what doesn't belong to you.  Chump change.  A hand out.
Affirmation:  I am open to receive the very best the Universe has to offer me.
Theme song: "For the Love of Money" by The O'Jays
Journaling prompt:  What can you do to welcome more abundance into your life? Where are you blocking the flow of prosperity?  Journal that mad money stuff out, yo.
Blessings,
Theresa
© Theresa Reed | The Tarot Lady 2014