Learn the Tarot card meanings with Tarot Card by Card. Fresh, modern tarot interpretations. A sucka-free approach with affirmations, journaling prompts, theme songs, and reversals. Explore the Tarot card meanings in a hip, irreverent, fun way!
Justice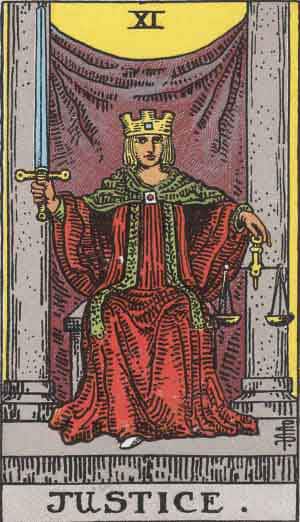 Keywords: fairness, court, justice, balance, weighing options, seeing both sides, consequences, integrity, honesty, truth, law, middle path
Attributes: Libra (Air)
General meaning:  No matter what is happening, you can be sure that the universe is playing it fair.  Justice is being done and you need to trust that you are now seeing the results of past actions.  Things are being made "right".  If you are dealing with legal issues, the outcome will be just.  Situations may call for harmony and balance.  If you are making decisions at this time, weigh all options carefully to find the middle ground.  Do the right thing.  Time to lay down the law.
Reversed:  Justice delayed is justice denied.  Unfairness.  Getting ripped off.  Feeling oppressed by the court system or "the man".  Getting caught with your hands in the cookie jar.  Not a good time to be trying to work the system.  Being treated unfairly.  Racial profiling.  Dirty court shenanigans.  Crooked lawyers.  Case delayed.  Best for you to be chilling now until things blow over.
Affirmation: "I treat others the way I want to be treated."
Theme song:  "I Fought The Law" by The Clash
Journaling prompt:  Think about a time when life felt unfair.  What was happening to you then?  How were you reacting to these events?  Get that journal out and riff on fairness/unfairness.
Rap:
Don't matter if you a dude
Or you a lady
If you riding dirty
Or be acting shady
This shiz will catch up with you
Then whatcha gonna do?
Take a tip from me and get a clue
Playas keep it real and pay their dues
Do it right and keep it tight
Then you'll be able to sleep at night
Life only gives you what you give out
That's what justice be all about.
Blessings,
Theresa
© Theresa Reed | The Tarot Lady 2013
See the whole series here.