Learn the Tarot card meanings with Tarot Card by Card. Fresh, modern tarot interpretations. A sucka-free approach with affirmations, journaling prompts, theme songs, and reversals. Explore the Tarot card meanings in a hip, irreverent, fun way!
Knight of Wands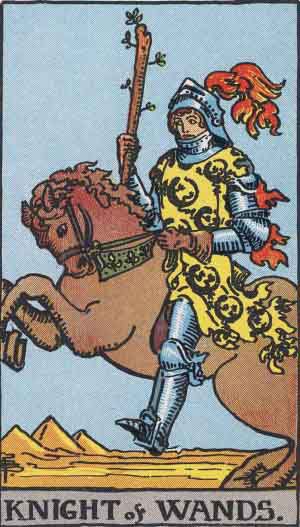 Keywords: passion, motivation, mover + shaker, enthusiasm, fire, phallic energy, lust, action
General meaning:  This fiery fellow is bound to add some real heat and action when he shows up in a tarot reading.  The Knight of Wands is all about pursuing the dream with vigor and enthusiasm.  Move forward with confidence towards your goals.  This is the time for focused and swift action.  The energy is also sexy and very phallic – a sign that your lust is about to get awakened in a big way.  Ready for some steamy nights?  It's so on, shawty.  Adventure time!
Reversed:  All heat but no real fire.  Comes on strong but fades out fast.  Erectile dysfunction.  The passion becomes anger and impulse instead.  Unrestrained lust – can be a cheater.  Thinking with the "other head".  He's not that into you. Rebelling for no damn reason at all.  Big talker with nothing to back it up.  Lack of enthusiasm.   Meh.  The fast track to dullsville.
Affirmation: I am moving towards my goals with passion and enthusiasm.
Theme song:  "I'm On Fire" by Bruce Springsteen
Journaling prompt:  What passion are you ready to ignite?
© Theresa Reed | The Tarot Lady 2014
See the whole series here.