Learn the Tarot card meanings with Tarot Card by Card. Fresh, modern tarot interpretations. A sucka-free approach with affirmations, journaling prompts, theme songs, and reversals. Explore the Tarot card meanings in a hip, irreverent, fun way!
Nine of Cups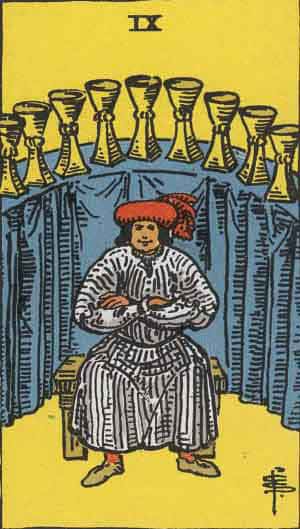 Keywords: wishes granted, indulgence, satisfaction, plenty, happiness, wealth, comfort,  security
General meaning:  The Nine of Cups is traditionally known as the "wish fulfillment" card and a good omen that you are going to get exactly what you want.  Make a wish! Of course, ever the practical sage, I like to add: be specific and careful because the Universe is listening, yo.  This card also speaks of feeling satisfied and comfortable.  You got what you need around you – and then some.  Be grateful because you are sitting oh-so-pretty at this moment.
Reversed:  The energy goes from satisfaction to over indulgence.  Suddenly, nothing is enough and you're going all Gordon Gecko greedy.  Smugness. Party animal.  Overdoing things.  Excess.  Weight gain (consequences on all that extravagance).   Wishes unfulfilled.  Or you got what you want and it turned out to be not so great.  Buyer's remorse (or wisher's remorse!). Laziness.
Affirmation:  I am grateful for the abundance that surrounds me now.
Theme song: "Damn I Wish I Was Your Lover" by Sophie B. Hawkins
Journaling prompt:  I'm a magic genie and I'm going to grant you three wishes.  What would be the most important ones for you?
Blessings,
Theresa
© Theresa Reed | The Tarot Lady 2013
See the whole series here.