Learn the Tarot card meanings with Tarot Card by Card. Fresh, modern tarot interpretations. A sucka-free approach with affirmations, journaling prompts, theme songs, and reversals. Explore the Tarot card meanings in a hip, irreverent, fun way!
Page of Cups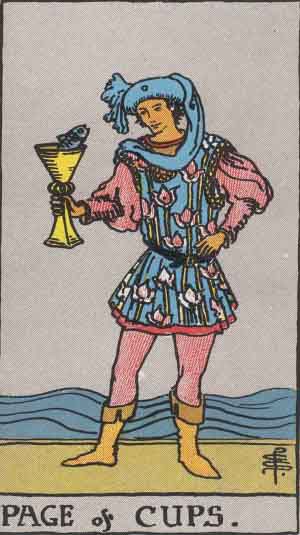 Keywords: new love, love message, message from the heart or intuition, a well-loved child, fresh emotional start, infatuation
General meaning: The Page of Cups can indicate a love message or romantic proposal may be coming your way.  Someone is ready to express their feelings openly.  Someone wants to be your boo. Reach out and touch someone.  New love.  Who's crushing on you? A much wanted and very loved child may play an important role in the situation.
Reversed:  Romance without maturity.  A flirtation that doesn't go far.  Emotionally infantile or naive.  Codependence. Getting a "Dear John" letter.  Rejection.  Let that sucka go and move on.  Experimenting with substances.  A spoiled brat.
Affirmation:  I am willing to express my feelings to my loved ones.
Theme song: "Lil Bebe" by DaniLeigh
Journaling prompt:  Write a love note to yourself.
Blessings,
Theresa
© Theresa Reed | The Tarot Lady 2013
See the whole series here.