Learn the Tarot card meanings with Tarot Card by Card. Fresh, modern tarot interpretations. A sucka-free approach with affirmations, journaling prompts, theme songs, and reversals. Explore the Tarot card meanings in a hip, irreverent, fun way!
Queen of Cups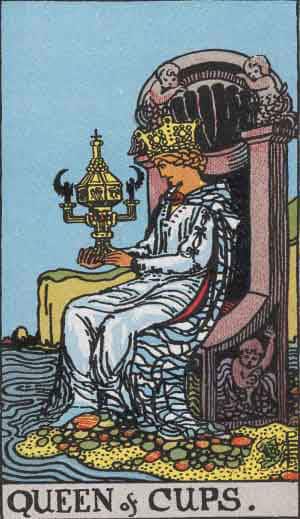 Keywords: sensitive, emotional, kind, intuitive, feminine, empathic, caring
General meaning:  The Queen of Cups is the feminine ideal – soft and sensitive, she is deeply nurturing.  She has a strong connection to her intuition and most of her decisions are made from the heart.  She can express her feelings easily – both good and bad.   A softie. This card can represent a woman in your life with those qualities or it can indicate energies that you are bringing to a situation.  Tune into your feelings and let them guide you.  Your "boo".
Reversed:  A moody, whiny beyotch.  Big time melodrama.  A hot emotional mess. Clingy and yucky.  Baby mama drama.  Being completely out of touch with your feelings or everyone else's.  Hysteria.  If you are looking for a delusional fatal attraction type, you found 'er.  Addiction issues or codependence.
Affirmation: I am in touch with my sensitivity.
Theme song: "Queen of Hearts" by Juice Newton
Journaling prompt:  When was the last time you totally trusted your heart?  Journal about a situation where you allowed your heart to make the decision.
Blessings,
Theresa
© Theresa Reed | The Tarot Lady 2013
See the whole series here.