Learn the Tarot card meanings with Tarot Card by Card. Fresh, modern tarot interpretations. A sucka-free approach with affirmations, journaling prompts, theme songs, and reversals. Explore the Tarot card meanings in a hip, irreverent, fun way!
Seven of Wands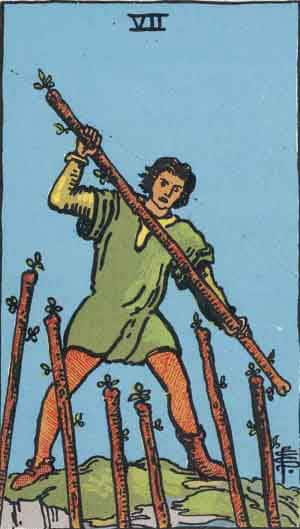 Keywords: challenge, struggle, defense, battle, stand, overwhelm, assertive, boundaries, bullies, courage, resistance
General meaning:  The Seven of Wands says it's time to take a stand.  Gather your courage muscles and stand up for what you believe in.  This is about asserting yourself, no matter what the odds may be.  Take a defensive posture.  Push back. If you want to win the battle, you must engage fully.  Keeping the wolves at bay. Fighting the good fight.  Resisting the powers that be.  Rage against the machine. Fight da man!
Reversed:  Wussing out. Giving in or giving up.  Getting a beat down.  Losing the will to fight on.  Retreat.  Being overcome by the enemy.  Strong bullies that arrive with reinforcement. Weak boundaries. Fitting in rather than standing out.  Getting in over your head. You let your enemies best your sorry ass.  Win some, lose some. Better luck next time, pal.
Affirmation:  I am willing to defend my self.
Theme song: "We're Not Gonna Take It" by Twisted Sister
Journaling prompt:  When someone challenges your beliefs, how do you react?  When have you needed to stick to your guns?  Journal about a time where you needed to assert yourself.
Blessings,
Theresa
© Theresa Reed | The Tarot Lady 2013
See the whole series here.