Learn the Tarot card meanings with Tarot Card by Card. Fresh, modern tarot interpretations. A sucka-free approach with affirmations, journaling prompts, theme songs, and reversals. Explore the Tarot card meanings in a hip, irreverent, fun way!
Six of Wands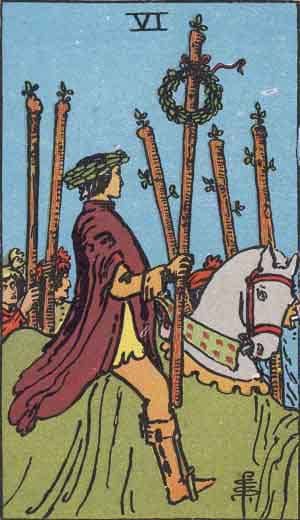 Keywords: victory, triumph, leadership, win, advancement, achievement, support, finish line
General meaning:  Victory is at hand.  You're getting ready to step into the winner's circle.  Be sure to thank all the fine supporters who helped you to achieve your goal.  A good leader never forgets their hired guns.  Getting back in the saddle again.  Bossing up.  Moving forward.  Leader of the pack.  Big wins.  You're a champion, baby – now act like one.
Reversed: Everything moves in fits and starts.  Spurting progress.  A retreat from a battle.  Epic fail.  Your support turns around and walks away.  Betrayal from your closest allies.  Plans go sideways. What seemed like an easy win turns out to be a hard-fought battle.  Abandoning ship or a cause. Trojan horse.  The Six of Wands reversed can indicate a fall from grace.
Affirmation:  I easily achieve my goals.
Theme song: "We Are The Champion"s by Queen
Journaling prompt: Where do you need to lead?  Where can you gather more support?  Where are you offering support?  Journal about your feelings regarding leadership and support.
Blessings,
Theresa
© Theresa Reed | The Tarot Lady 2013
See the whole series here.