Learn the Tarot card meanings with Tarot Card by Card. Fresh, modern tarot interpretations. A sucka-free approach with affirmations, journaling prompts, theme songs, and reversals. Explore the Tarot card meanings in a hip, irreverent, fun way!
Ten of Cups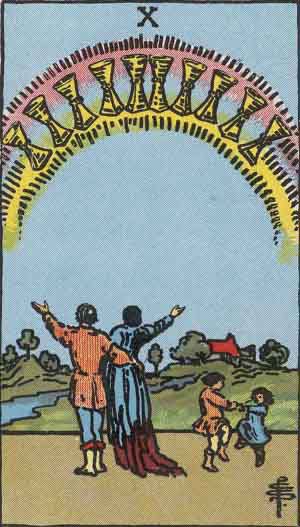 Keywords: happiness, the happy ending, completion, support, family, celebration, "the good life", home, security, unity, harmony
General meaning:  Pleasure and happiness.  This card indicates that life is looking good, particularly in domestic and family matters. There are many reasons to celebrate now – even if only the simple joy of being with your loved ones.  Support is present if you need it.  Whether this is for your home or work, the energy is "one big ole merry 'n harmonious family".  This card can also indicate a perfect wrap up to a situation.  Parties, celebrations, family reunions.  Break out the bubbly and enjoy the upbeat vibe.
Reversed:  Family troubles create a crack in the foundation.  Squabbles and disagreements make for a hellish home environment.  The end of a good situation.  Disintegration of support.  One of those icky family gatherings with the people you want to see the least.  The empty nest.  The family from hell.  Putting the fun in dysfunction.
Affirmation:  I have all the love and support I need.
Theme song: "We Are Family" by Sister Sledge
Journaling prompt: What does "family" or "home" mean to you?
Blessings,
Theresa
© Theresa Reed | The Tarot Lady 2013
See the whole series here.