Learn the Tarot card meanings with Tarot Card by Card. Fresh, modern tarot interpretations. A sucka-free approach with affirmations, journaling prompts, theme songs, and reversals. Explore the Tarot card meanings in a hip, irreverent, fun way!
The Devil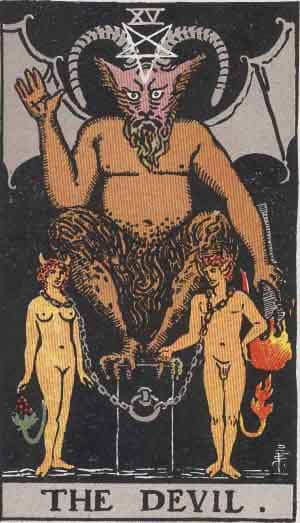 Keywords: bondage, materialism, negativity, slavery, addiction, stuck, jealousy, deviance, excess
Attributes: Capricorn (Earth)
General meaning:  When this card pops up in a reading, you can be assured that things are taking a turn towards the dark and obsessive.  The Devil is about being "stuck" and limited by a situation.  The energy is oppressive and heavy.  This card can represent addiction in the absolute worse sense.  Notice that the chains are loose on the figures – a sign that the situation can change if you want to (or find the courage muscles to let go).  It is also a reminder to check yourself before you wreck yourself – are you allowing envy, greed or negativity to taint your worldview?  Where can you let go a little more?
Reversed: A big ole release!  Bondage, schmondage – now you're free and able to move about.  The addiction no longer has a hold on you.  Recovery from a bad situation.  Leaving an abusive relationship.  This is the big shift in consciousness from victim to victor.  Liberation, baby!
Affirmation:  I find the courage to release my limitations.
Theme song: "Sympathy For the Devil" by The Rolling Stones
Journaling prompt:  Journal about what it means to be "stuck".
Blessings,
Theresa
© Theresa Reed | The Tarot Lady 2013
See the whole series here.