Learn the Tarot card meanings with Tarot Card by Card. Fresh, modern tarot interpretations. A sucka-free approach with affirmations, journaling prompts, theme songs, and reversals. Explore the Tarot card meanings in a hip, irreverent, fun way!
The Star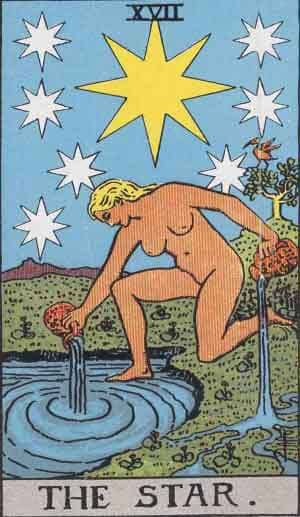 Keywords:  hope, optimism, healing, balance, spirituality, health, well being, peace, wishes, vulnerability, success, balance
Attributes: Aquarius (Air)
General meaning:  The Star card represents renewal and hope. This is the healing and peace that takes place after the storm. Optimism is restored and wishes are being fulfilled.  Things are looking up!  Positive vibes.  You can shed your inhibitions and just be authentically you.  Taking center stage. Fame: baby, you're a star!
Reversed:  Bummer time.  Debbie Downer.  Hopes diminish and fear takes over.  Depression or illness.  When the Star is reversed, the situation suddenly becomes hopeless.  Stepping back from the limelight.  Fear of being yourself.   Feeling meh…..
Affirmation:  I see the good in myself and in my situation.
Theme song: "Believe" by Cher
Journaling prompt:  What do you hope for?
Blessings,
Theresa
© Theresa Reed | The Tarot Lady 2013
See the whole series here.