Learn the Tarot card meanings with Tarot Card by Card. Fresh, modern tarot interpretations. A sucka-free approach with affirmations, journaling prompts, theme songs, and reversals. Explore the Tarot card meanings in a hip, irreverent, fun way!
The Wheel of Fortune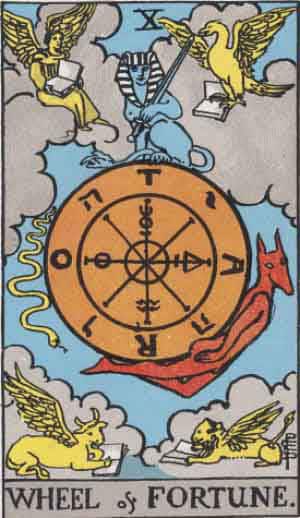 Keywords:  luck, change, a turn of events, karma, movement, shift, improvement, fate
Attributes:  Jupiter
General meaning:  A major change for the better is in the works.  If you have been toiling away, the Universe is now ready to move things in your favor.  Whether this be luck or simply the consequences of past decisions, know that everything is turning and moving.  Momentum is gathering. The Wheel of Fortune is a sign that everything is moving in divine order.
Reversed: What goes up, must come down.  A downturn.  Getting stuck in a major rut.  Hitting a big ole speed bump.  Luck runs out.  Karma comes calling.  If you've been doing shizz you're not supposed to be doing, it is time to pay your dues.  Don't gamble with your luck, dude.
Affirmation: "I create my own luck."
Theme song: "Spinning Wheel" by Blood, Sweat, and Tears
Journaling prompt: Do you believe in luck or fate?  Or do you think you create your own reality?  Get that journal out and write your thoughts down.
Blessings,
Theresa
© Theresa Reed | The Tarot Lady 2013
See the whole series here.