Learn the Tarot card meanings with Tarot Card by Card. Fresh, modern tarot interpretations. A sucka-free approach with affirmations, journaling prompts, theme songs, and reversals. Explore the Tarot card meanings in a hip, irreverent, fun way!
Three of Wands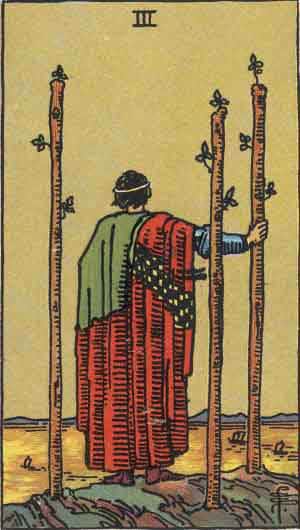 Keywords: expansion, success, support, vision, ship sailing in, opportunity coming, travel, advantageous position
General meaning:  You are now in the perfect position to begin planning your next move.  The Three of Wands signals the possibility for a major expansion. Whether this be taking your career in a new direction or taking over the world, you can begin plotting your next move.  Don't be thinking small – this card encourages big, epic visions.  The Three of Wands also can suggest an opportunity on the horizon.  That ship you were waiting on is in view.  And if you're looking to go on some sort of world tour, this card says your plans will work out brilliantly.  Hit the road, Jack!
Reversed:  Back to the drawing board, dawg. Those plans are not gelling.  It may be that you lack the vision or the support to get things off the ground.  You need to build up more street cred before you take this thang forward.  Delays and setbacks may plague a perfectly good plan or trip.  Seasickness.  Thinking small time.  Can't be a balla if you thinking like a chump.
Affirmation:  I am ready to expand my world.  My potential is unlimited.
Theme song: "I Can See Clearly Now" by Jimmy Cliff
Journaling prompt:  Write down your vision for the year ahead. Where do you see yourself?  What will you be doing?  Where are you ready to expand?
Blessings,
Theresa
© Theresa Reed | The Tarot Lady 2013
See the whole series here.