Learn the Tarot card meanings with Tarot Card by Card. Fresh, modern tarot interpretations. A sucka-free approach with affirmations, journaling prompts, theme songs, and reversals. Explore the Tarot card meanings in a hip, irreverent, fun way!
Knight of Pentacles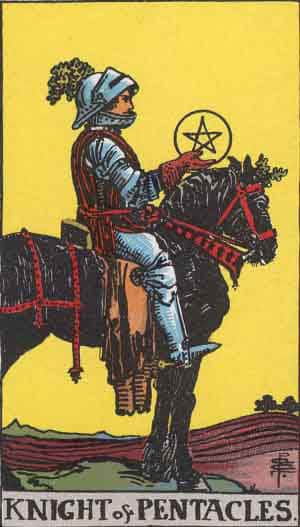 Keywords: practical, methodical, stable, offering, respect, grounded effort, financial focus
General meaning:  The Knight of Pentacles is a sturdy, hard-working fellow.  The energy behind this card is practical, methodical, and focused on reaping a reward for the effort.  Of all the Knights, this is the only one that is standing still.  He is grounded, rooted and respectful.  Committing to a goal.  Working "the land" and preparing for a big harvest.  Reliability and efficiency.  People who handle monetary affairs.  Trustworthy.  This card can also indicate taking responsibility for a project or situation.  Remaining committed to a cause.   And up 'n coming shot caller.  Boss in training. A job offer.
Reversed: Falling short.  Refusing to take responsibility.  Immaturity.  A stubborn, inflexible man or mindset.  Focus solely on the material side of things.  A materialist.  Lack of results for the efforts.  Lack of respect.  Self-centered.  "Mine, mine, mine."  A thug wannabe.  Broke ass.  Money goals falling short.  Poseur.  All flash, no cash.  Disrespect.  Unemployed or a low wage job.  Looking for a handout.
Affirmation: I commit to my goals.
Theme song: "24-7 Man" by Robert Cray Band
Journaling prompt:  What does it mean to be reliable and trustworthy?  How does that show up in your life?  Journal about that, yo.
Blessings,
Theresa
© Theresa Reed | The Tarot Lady 2014