Learn the Tarot card meanings with Tarot Card by Card. Fresh, modern tarot interpretations. A sucka-free approach with affirmations, journaling prompts, theme songs, and reversals. Explore the Tarot card meanings in a hip, irreverent, fun way!
Queen of Pentacles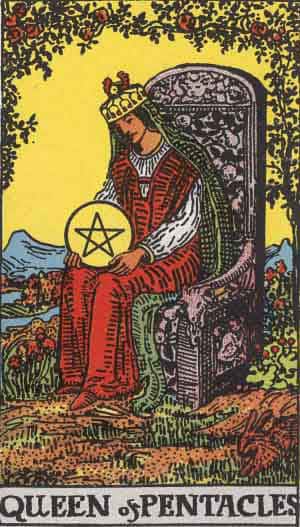 Keywords: earth mother, secure, dependable, practical, grounded, earthy
General meaning: The Queen of Pentacles is warm and down to earth.  Of all the Queens, she is also the most "motherly" of the lot.  She enjoys tending to the hearth and home.  This is the one you can count on when the chips are down. She's reliable and always ready to lend a hand to anyone in need.  She's also business savvy and knows how to create a buck out of thin air – and conserve what she has.  When this card shows up in your reading, you may be called to channel that energy.  Bringing home the bacon and frying it up in a pan.  Fertility.  The true "earth mother" of the Queens.  Self-sufficiency.  Nurturing security.  Lovin' that bling.
Reversed: The energy goes from caretaker to gold digger.  Obsessed with the material side of life, this woman will scheme to get her needs met.  Taking him for everything he has.  Too worried about keeping up with the Joneses. Greed. Financial dependence.  An inability to stand on one's own two feet financially – or an inability to provide for the family.  A lack of homemaking skills.  Extremely self-absorbed.  The moody, stubborn bitch.  Jealous hater.  Broke ass.
Affirmation:  I take care of my loved ones and myself.
Theme song:  "Rich Bitch" by Die Antwoord
Journaling prompt:  How do you show up for other people when they need you?  Journal about all the ways you are present for the people you love.
Rap:
She's got her own money
She's like Li'l Kim
She make her own bread
She sho don't need him
She's an independent woman
And she damn proud of it
He need to step up his game
Or he'll be bowed out of it
She's moving on
Working hard for that cash
Buying her own bling
And looking all flash
The right man knows
He gotta respect it
Bring something to dat table
And gotta perfect it
She won't settle for less
Why on earth should she
She deserve the best
She a Queen fo' sheezy.
Blessings,
Theresa
© Theresa Reed | The Tarot Lady 2014