Learn the Tarot card meanings with Tarot Card by Card. Fresh, modern tarot interpretations. A sucka-free approach with affirmations, journaling prompts, theme songs, and reversals. Explore the Tarot card meanings in a hip, irreverent, fun way!
Ten of Pentacles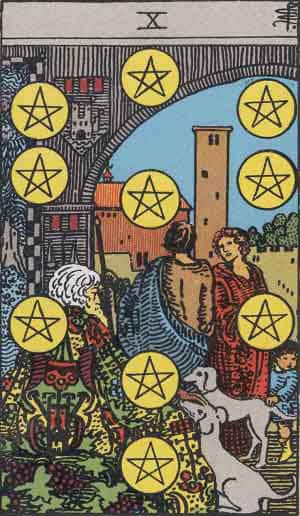 Keywords: wealth, security, family, legacy, reunion
General meaning: The Ten of Pentacles is one of the most auspicious money cards, usually signifying wealth.  It's a sign of building lasting financial security. Financial jackpot.  Inheritance.  A strong financial future.  Security for the whole family.  Coming home.  Family reunion.  Taking care of everyone.  Sticking with traditions.  Livin' large.
Reversed: A blow to financial security.  Do not borrow money to the relatives.  Family problems.  Neglecting the home or family.  Fiscal irresponsibility.  Blowing through an inheritance.  Being stuck taking care of everyone.  Family feuds.  Being written out of the will.  Losing investments.  Foreclosure.  Grey Gardens.
Affirmation:  I am creating a secure future for myself and my family.
Theme song: Billionaire by Travie McCoy ft. Bruno Mars
Journaling prompt: What does it mean to be secure?  How would you feel if you had complete security in your life?  How does your family influence your security? Journal about it!
Blessings,
Theresa
© Theresa Reed | The Tarot Lady 2014