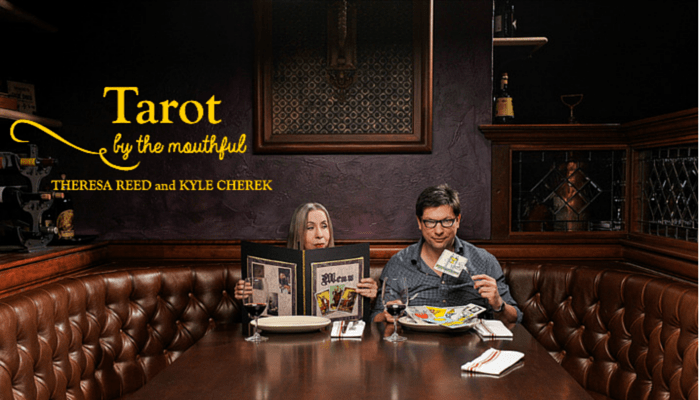 Kyle is a foodie who loves Tarot. Theresa is a Tarot reader who loves food. 
Together, we host Tarot by the Mouthful: a mouthwatering, multi-media culinary tour through the world of Tarot. 
Sublime recipes. Soulful stories. Essays, videos, interviews and delicious surprises. 
Join us every Sunday for a new installment — and get ready to sip, slurp, crunch and savor your way through the entire Tarot deck! 
This week: Ace of Pentacles
Ace of Pentacles – A new financial beginning. This could symbolize a job offer or promotion. Wealth and security. The first steps to an amazing harvest.  Financial improvement is on the way.  This is the auspicious start – a sign of good things to come. What you plant or begin now will flourish.  Everything's coming up roses.
Kyle – An auspicious start
In 1994 Ferran Adrià got an infusion of cash. He worked his way to head chef within a year of getting a job as a cook at the now famous El Bulli, but with this new found financial freedom he and his partner, Juli Soler, were able to realize their dream. This story, in the restaurant world is not uncommon. Talented chefs and operators find investors, who have both money and connections to the smart set, and the restaurant's expansion thrives.
Adrià had something more in mind. He transformed El Bulli into the number one rated restaurant in the world, and helped build a style of cuisine sometimes called molecular gastronomy on a broader international level. It received a first place listing from the incredibly influential British listing The World's 50 Best Restaurants in 2002. It dropped to second in 2005, but was again awarded the first place in 2006, and retained this title in 2007, 2008 and 2009 – a record five times in the top spot. I cannot find a better example in the culinary world of the energy of The Ace of Pentacles, representing the beginning of new growth, a fresh financial beginning, an auspicious start.
Theresa – My black thumb
Pentacles is the Earth element and the Ace of Pentacles symbolizes the beginning of the harvest.  That starts with taking the right offer or planting the right seed and watching it grow.
Coming up with a food related correspondences to this suit is so obvious that it didn't take much thought: gardening.  Duh. Even the image on this card is an in-your-face garden.  You can't miss it.
For foodies, the garden is ground zero for most meals.  Fruit on cereal, salads for lunch, starchy potatoes on the side of a nice cut of meat. Heck, even fast food restaurants have something that resembles a limp leaf of lettuce on their quarter pounders (yes, it counts). Without gardens, our diets would be pretty sad not to mention kinda deadly.
We need 'em.
My family comes from good old fashioned farm stock.  My father loved to garden. Every year, he tilled a big patch of land and planted a variety of vegetable: potatoes, carrots, onions, tomatoes, cabbage, lettuce, corn…all the veg he could think of.  We used every single bit – and what didn't get used immediately was pickled, canned, frozen or packed in dirt in the creepy root cellar. Dad had the greenest thumb I knew.
I, on the other hand, did not inherit that trait.  My thumb is a black one that kills everything I touch.  Plants don't thrive under my watch – they quiver in fear.
There may be a reason for it.  The fact is: I don't like gardening. Not one bit.  I hate digging in the dirt and I am no fan of sun or bugs. For me, being outside pulling weeds was never cathartic – it was incredibly boring. I'd rather be sitting indoors, in the old Morris chair with a book in hand.
This picture tells it all. That's Dad on his beloved tractor.  As you can see, my siblings are all over it with joy.  Like Dad, they enjoy gardening.  I'm the little creep in pink off to the side with exploded bubble gum all over my face.  I was doomed in the garden realm from the start, better suited for thinking how I might cook those veg rather than getting all up that soil.  (Note to self: what idiot wears a light pink outfit for yard work? A kid trying to get out of it, that's who!)
I think I somehow turned my hatred of gardening into some sort of karmic contract where anything green dies in my clutch. (Houseplants don't fare too well around me either.)  While I can transform even the humble beet into an exquisite bonne bouche, the planting is best left to the experts.  I may not be the one to plant the seed but I am the one who reaps the harvest – with the lucky ones who join me at the table.
"The single greatest lesson the garden teaches is that our relationship to the planet need not be zero-sum, and that as long as the sun still shines and people still can plan and plant, think and do, we can, if we bother to try, find ways to provide for ourselves without diminishing the world. " ― Michael Pollan, The Omnivore's Dilemma: A Natural History of Four Meals
Blessings,
Theresa
Bon Appetit!
Theresa and Kyle
© Theresa Reed | The Tarot Lady 2016
photos from personal collection and Jessica Kaminski
Hungry for more? Click here to explore the entire Tarot by the Mouthful series, from the very first card… right up to our latest installment. Bon appetit!