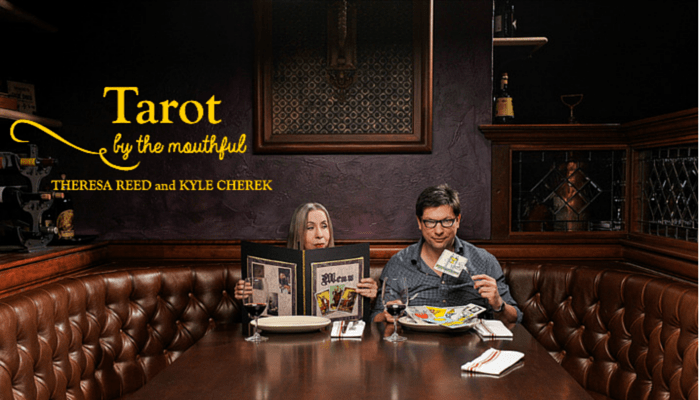 Kyle is a foodie who loves Tarot. Theresa is a Tarot reader who loves food. 
Together, we host Tarot by the Mouthful: a mouthwatering, multi-media culinary tour through the world of Tarot. 
Sublime recipes. Soulful stories. Essays, videos, interviews and delicious surprises. 
Join us every Sunday for a new installment — and get ready to sip, slurp, crunch and savor your way through the entire Tarot deck! 
This week: Five of Swords
Five of Swords – This is the victory through deceit.  A hostile takeover that leaves people hanging out to dry.  For the one committing the dirty deeds, this may feel like a conquest. But for the ones affected by the negative actions of another, this is pain, betrayal, and a feeling of complete defeat.  Taking advantage of others – or getting taken advantage of. Adversaries. Politics at work.
Kyle: Winning the battle, losing the war
In chefing, you can't get more singularly bad boy than Marco Pierre White.  Most fans of 20th century cooking lore will know his name.  In a nutshell, he is an English chef who rose to international renown as the  youngest chef to be awarded 3 Michelin stars.  His assent  in the  mid 80's to mid 90's are where most of his behavior, kitchen accomplishments, and the public's, critics, and chef culture loving or loathing of him, come from.
My descriptions of Pierre White can never come close to what has already written about him at that time  by so many others.  I prefer to quote from William Sitwell, who is in my opinion one of the most unimpeachable voices writing on food in our time.  In his book A History of Food in 100 Recipes,  Sitwell writes "But while the restaurant was a place of refined elegance and the dishes small works of art, the kitchen was a different kettle of fish."
"In Harvey's (White's first cooking job where he really garnered press and acclaim) I had found my adrenaline heaven, a pain paradise." White recalled. On a table in the center of the kitchen, he worked to bring together the dishes that started as sketches on a piece of paper. With his tousled, curly hair hanging over his face, he counted down the seconds before the component parts of each dish needed to reach him. "We were like wolves" he said, "darting round, each of us doing a bit of everything." Any mistakes were rewarded with vicious assaults, mental and physical. Miscreants got thrown in the bin, complaints that the place was too hot saw him turning off the air-conditioning, or slicing holes in his employees' clothing." Gordon Ramsey, is unsurprisingly a mentee of White's and by all accounts prospered in this environment.
For more on this path of the Five of Swords, read White Heat, Marco Pierre White's art/cookbook.  It just celebrated its 25th anniversary.  It's influence on the cookbook genre and chefs is beyond dispute.  It changed things forever.  Though he cooked like a darling, give his 3 Michelin stars back when he turned 39, having "done everything I wanted to do"  and opened the door for chefs to be  young, sexy, troubled, and talented all at once, he did so at cost. To  himself, and perhaps the chefing culture.
Here's an example of the type of ire Pierre White has inspired from London journalists, a review of sorts for a new restaurant of his published earlier this month: The new Wheeler's is the worst thing Marco Pierre White has ever done.
Theresa: The cunning cook 
The Five of Swords symbolizes the victory through deceit.  It implies cheating or treachery. So how on earth do we apply this to cooking?
This was an easy one for me.
As a home cook, I learned early on that sometimes you need to take short cuts.  You need to cheat a little in order to get the flavor right, the dish on the table, or the picky eater to stop bitching.  Sometimes you need to "omit" certain ingredients in order to protect a top-secret recipe. Yes, I'm guilty as charged on all of the above.
Is this bad?
Nope.
Because sometimes we need to take a less the less-than-honorable route in order to reach our food-loving goals.  Store-bought pizza dough becomes homemade flatbread.  Takeout fake-outs sure comes in handy when you want to impress a new lover and just don't have the time to rotisserie that bird. A picky eater?  Hide that healthy stuff in something they don't object to. Spinach-infused brownies? Don't mind if I do!  And that top secret liver pate recipe will always be top secret (dear brother: if you're wondering why yours never tastes the same, now you know).
At the end of the day, the battle to eat well (or indulgently), to make sure our loved ones are fed, to expand our food-loving ways, and to keep our cooking secrets safe is a stormy one. But a little cunning, a sleight of hand, may help us to win that battle, at least for that one meal.  And that's the honest truth.
Bon Appetit!
Theresa and Kyle
© Theresa Reed | The Tarot Lady 2016
photos from personal collection and Jessica Kaminski
Hungry for more? Click here to explore the entire Tarot by the Mouthful series, from the very first card… right up to our latest installment. Bon appetit!