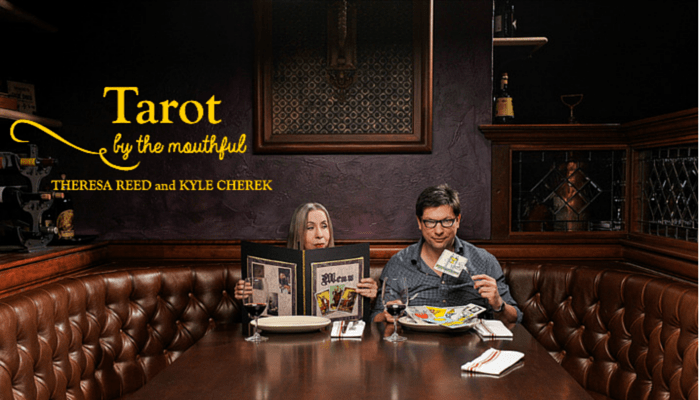 Kyle is a foodie who loves Tarot. Theresa is a Tarot reader who loves food. 
Together, we host Tarot by the Mouthful: a mouthwatering, multi-media culinary tour through the world of Tarot. 
Sublime recipes. Soulful stories. Essays, videos, interviews and delicious surprises. 
Join us every Sunday for a new installment — and get ready to sip, slurp, crunch and savor your way through the entire Tarot deck! 
This week: King of Swords
King of Swords: The mature expression of logic or the master of thought, the King of Swords maintains order in the courts.  His no-nonsense, rational, cool way of dealing with matters means his emotions never get in the way of his decision making.  He's always objective. His concern is doing the right thing, no matter what.  The energy of this card is honest, direct, and wise. Channel this vibe and you'll always be in the right, every single time.  This is your sign to speak with candor and the unvarnished truth, let the chips fall where they may.
Theresa – The Sharpest Brother of All
Every good chef knows that they need the right tools, especially when it comes to their knives.
However, even the sharpest blade needs maintenance. Repeated use dulls the edge (unlike a sharp mind – the more you use it, the more nimble it remains).  So it was one day a few years ago that I found myself grumbling with a knife that could barely slice through a tomato. Even with my little home sharpener, it just wasn't cutting it (pun intended).
I needed to take my tools to someone who knew what the heck they were doing. It was time to seek out the services of a master sharpener.  Luckily, I didn't have to look far for the Sharp Brothers trucks were a familiar sight in my neighborhood.
I left my cutlery at their drop box location in Whitefish Bay and picked it up the next day.  To say these knives were improved was an understatement.  My knives were surgical-sharp, honed to perfection, able to slice through those tomatoes without an ounce of pressure on my end.
Wow.
When I began the Tarot By The Mouthful series, I knew that I had to meet the guy behind the Sharp Brothers – he needed to be my King of Swords!  Lucky for me, he agreed to an interview.
I met founder Lee Frederick a few weeks ago at Mileager's, one of the outdoor locations where his team offers knife sharpening services.  I brought along a favorite knife – and a few questions about his craft and what home chefs might need to know about keeping their blades in tip-top condition.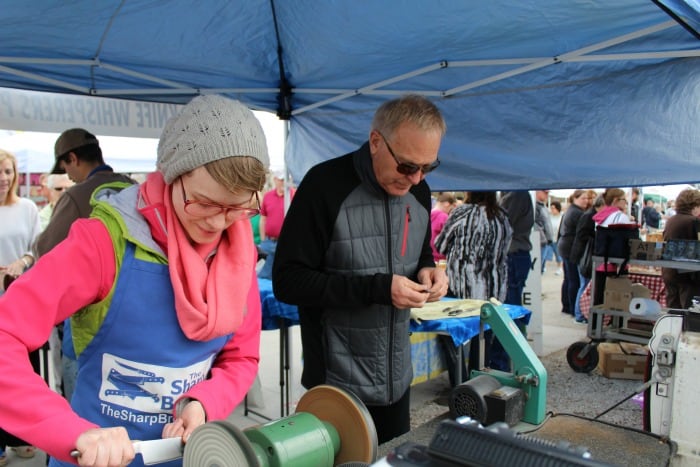 As his apprentices Alena and Tomas got to work in the background, Lee schooled me on taking care of your knives, the business, and more.
His tips on keeping your cutlery in good shape were simple: "It doesn't depend on us, it depends on you.  Here's what your knives would say: please do not put us  in the sink full of water with dirty dishes – we can't swim and we bruise easily.  Do not put us in the dishwasher – it's the cauldron of the devil.  It heats  us, cools us, soaks us.  Don't use us on a really hard surface or throw us in a drawer with other utensils. Use a magnetic knife strip instead."
After a pause, he added "You have to baby them – you have to really take care of them."
Lee explained that he started sharpening knives when he was growing up on the family farm. "I'm from the farm, that's the way it was. You didn't have everything, you had a little bit of something – you had to take care of your stuff."
He started the Sharp Brothers many years later and has been apprenticing numerous "young guns" who also want to enter the business.
Lee told me that the Sharp Brothers are "free hand sharpeners" who "don't use jigs", which can damage knives.  As the apprentice was demonstrating, he pointed out their two step process which includes removing a "burr" which is created by sanding one side of the knife, on a power wheel.
Alena held my freshly sharpened knife up and sliced a sheet of paper to test it for sharpness.  It cut quickly, cleanly, perfectly.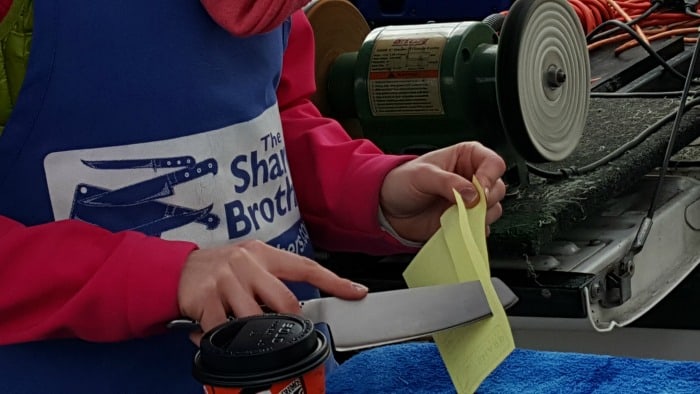 As I said goodbye and carefully put my knife away, I had newfound knowledge and respect for the craft.
Because the truth is – it is a craft, one that requires great skill, the kind that can only be developed under the watchful eye of a wise, experienced teacher. In Tarot, Kings are always that – masters of their domain, their element, their craft. They ensure that the dynasty goes on.  This is why Lee Frederick is the obvious choice for the King of Swords – he's keeping the craft alive and well.
"You're a mentor." I said to Lee.
"I'm a guider, I guide them."  he humbly replied. From what I could see, he is guiding them well and the future of knife sharpening remains in skilled, capable hands.
Learn more about The Sharp Brothers and get your knives a proper edge here: The Sharp Brothers.
Bon Appetit!
Theresa and Kyle
© Theresa Reed | The Tarot Lady 2016
photos from personal collection and Jessica Kaminski
Hungry for more? Click here to explore the entire Tarot by the Mouthful series, from the very first card… right up to our latest installment. Bon appetit!