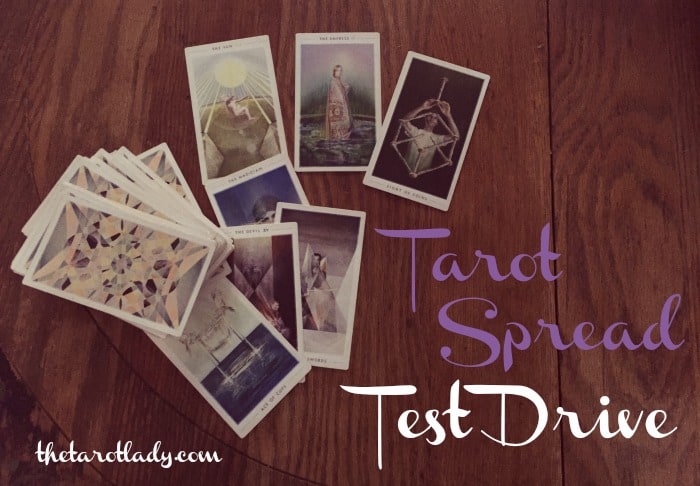 Curious about all the different tarot spreads out there? Wondering if they're a keeper – or a lemon? Me too. Let's take them for a test drive and find out!
Each month, I'll pick an interesting tarot spread (from a book or around the web) – and give it a spin. I'll look under the hood, kick the tires – and show you exactly how it works…or doesn't. No haggling necessary. Ready to roll? Let's go!
This month's tarot spread: Barbara Moore's Facing a Challenge Spread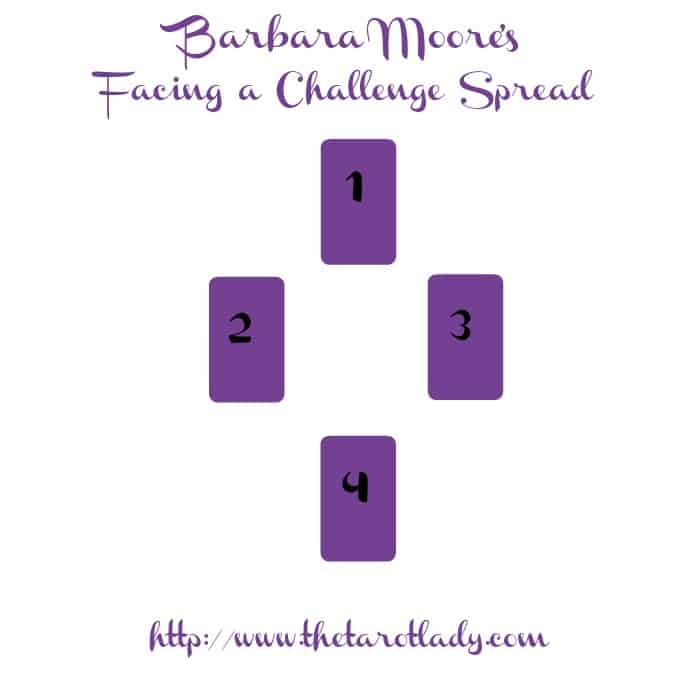 Barbara Moore is a popular and prolific tarot author. Go to the tarot section in any bookstore and you're probably going to find one of her books. My favorite is Tarot Spreads: Layouts and Techniques to Empower Your Readings, a practical tome on how to create your own layouts. It's also packed with almost seventy spreads!
It was time to test drive one of 'em.  The spread I chose was: Facing a Challenge Spread (pg 66).
My interpretation:
Barbara says that this is a good one to do when "you check your schedule for the day and realizing that you have a difficult meeting, a tight deadline, or a troublesome situation on the agenda."
Since I ALWAYS have tight deadlines, this seemed like a good spread for me to fiddle with.
Here are the positions:
Card positions:
The positions are laid out in a diamond shape starting with a card on the top, two in the middle, and one on the bottom.
Position 1: The Challenge
Position 2: Your Strength
Position 3: Your Weakness
Position 4: Advice
My cards:
The Challenge: Strength
Your Strength: Four of Pentacles
Your Weakness: Three of Pentacles
Advice: Six of Pentacles
Now the interps:
The Challenge: Strength – managing all the stuff on my agenda. Yep. Tis true. I have many balls in the air, a full calendar of clients, a big house that sorely needs to be decluttered, and creative projects begging to be finished or started. I somehow manage to do all of this every day of my life but it is NOT easy. The Strength card says "one woman show" and that's not easy to be.
Your Strength: Four of Pentacles – here, the figure has tight control of his coins. That sums me up perfectly. I am all about structure, order and control.  My family accuses me of being a "control freak."  While that title used to tick me off, I now let my control freak flag fly!  Ha ha!
Your Weakness: Three of Pentacles – interesting. This card is about collaboration. Working with other people. Although I have partnerships for some things I do, I don't invite many people in to work with me.  I don't have some big "team" to lean on.  My weakness is in my stubborn DIY persona, which doesn't like to rely on a team. I'm a lone wolf and that means: I get stuck doing most of the work myself!
Advice: Six of Pentacles – this card favors asking for help. Or paying for it!  So yeah I guess I could find some help to take some of the load off. That might create that elusive work/life balance. Perhaps toss some of the stuff I don't like doing to someone else like a virtual assistant?
While that's sound advice, it's probably not gonna happen.  Because here's the truth: I really, truly enjoy this.  So yeah, I bitch all the time about being so busy and having all these deadlines but all that pentacle energy says: this is my jam and I ain't giving the wheel to no one.  Ha ha!
My ratings:
This is a great spread – simple and to the point. Even though I won't follow the advice, I do appreciate how clear it was!  Visit Barbara's home on the web and grab a copy of  Tarot Spreads: Layouts & Techniques to Empower Your Readings. It's a useful addition to any tarot lover's library. 
I hope you enjoyed the latest Tarot Spread Test Drive. I'll be taking the tarot wheel and hittin' the road with a new spread soon. If you want to ride along with me, keep an eye on my blog. Happy tarot trails!
Blessings,
Theresa
© Theresa Reed | The Tarot Lady 2016
images from The Fountain Tarot and Radiant Rider Waite