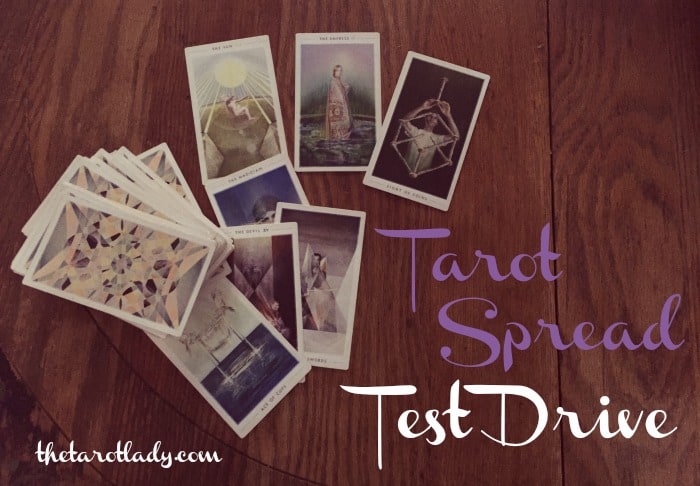 Curious about all the different tarot spreads out there? Wondering if they're a keeper – or a lemon? Me too. Let's take them for a test drive and find out!
Each month, I'll pick an interesting tarot spread (from a book or around the web) – and give it a spin. I'll look under the hood, kick the tires – and show you exactly how it works…or doesn't. No haggling necessary. Ready to roll? Let's go!
This month's tarot spread: Tarot Avenue's New Year Tarot Reading Spread
It's a new year and that means one thing: time to lay out the cards and get a feel for what 2018 is all about. Normally, I rely on a good ole Celtic Cross but this year, I wanted to try something new. I searched around and found this post by David over at Tarot Avenue: 9 Soulful Ways to Start the New Year Off with a BANG! This post contained some good tips on goal setting and tarot intentions. It also had a few tarot spreads that looked intriguing.
I decided to test drive Tarot Avenue's New Year Spread. This seemed like a meaty spread with a lot of good things to ponder. Here's the image of the spread (David was kind enough to let me use the graphic he created):
Time to shuffle up and see what the cards have to say – and how this reading feels. Here are the cards I drew: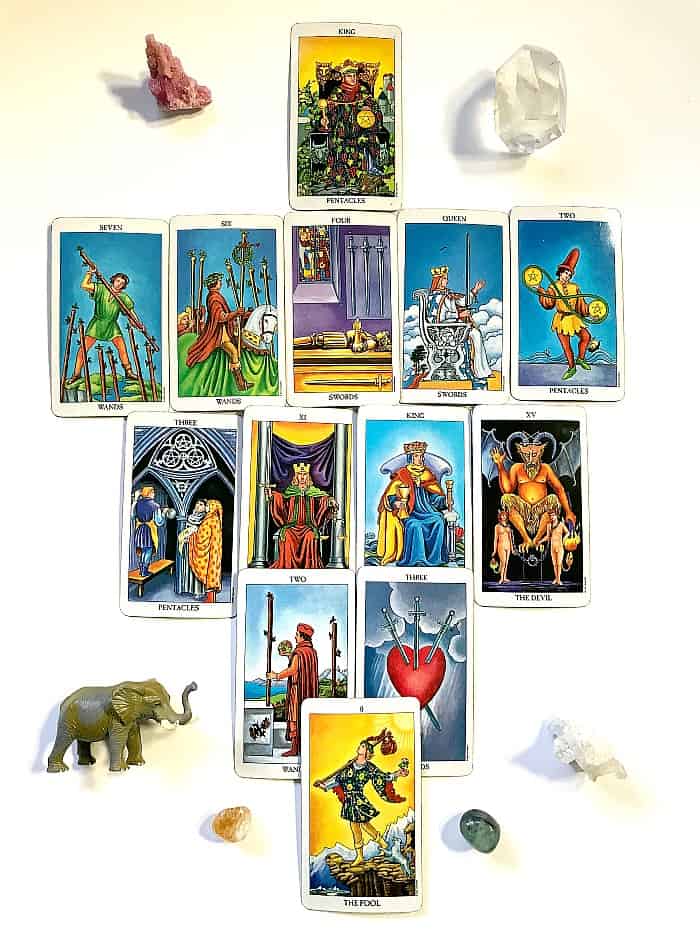 My interpretation:
Let's take a peek at what's behind me – and what's ahead:
Summary of year gone – King of Pentacles. Last year was a pretty epic year for me. Business was great. I traveled all over the country to teach tarot and talk about The Tarot Coloring Book. I've also moved closer to my main goal: paying off my house.
Career outlook – Seven of Wands. I have had too many irons in the fire. After a weekend at The CEO Retreat with Racheal Cook, I learned where I was wasting my effort. Instead of working harder in 2018, I aim to work smarter. Which means: eliminating low-vibe work.
Finances outlook – Six of Wands. This is the card of success so I assume business will continue to be strong. Better yet, that financial goal is in sights. I may hit the finish line in 2018!
Love outlook – Four of Swords. This restful card shows no major drama. Things should be quiet and peaceful on the romantic front. No surprise there – I've been with my husband for over 25 years! (PS I NEVER ask about love because I never worry about it.)
Family/Friends outlook – Queen of Swords. After last year's family drama, this card says: boundaries, boundaries, boundaries. The Queen of Swords is independent and that's pretty much how I intend to operate this year. Although this card can often be seen as a lonely widow, I see it as a woman with a lot of breathing room and no bullshit.
Spirituality outlook – Two of Pentacles. Seek balance, yo. With so many irons in the fire all at once, it's easy to neglect self-care and spirituality. This card is a reminder to put that in the mix and not let it get sidelined, no matter how busy I may be.
Jan – Mar outlook – Three of Pentacles. This is the final months of my busy season so this card makes sense to me. I'll be busy with client work as well as beginning to get my next book lined up. Business should be steady and creativity remains strong. Finances should be favorable and partnerships amiable. All in all, a productive and positive quarter.
April – Jun outlook – Justice. This card can indicate legal issues or major decisions. Perhaps I'll be signing new deals or working through an important decision. I'll need to keep my wits about me and choose wisely. Decisions made during this period could have a big impact later on. This is also a time when I will be doing a fair amount of travel so there is that balance issue.
July – Sep outlook – King of Cups. The King of Cups always advises to follow the heart. Situations may arise that require a compassionate approach. Emotions could be strong during this time but there may also be opportunities to master those feelings. Of course, I'll be traveling with my husband at this time so perhaps a second honeymoon is in there?
Oct – Dec outlook – The Devil. This is my traditional busy season with TONS of obligations. The Devil tells me that I won't have a lot of freedom at this time. I'll need to manage time well. There may also be a major negative issue that I'll need to contend with as well. If I find myself in an uncomfortable position, I'll need to look at what I did to put myself in there – and how I might find an exit.
Biggest obstacle you will face – Two of Wands. Well, this card is one of success so perhaps success might create obstacles as in too many plans. Or perhaps I might find myself getting so busy that I have no time for chill. Major ambition is my jam but I may need to seek balance between my worldly ambition and down time (always  my problem).
How to tackle that obstacle – Three of Swords. Cut things out. Be ruthless with my no. Disregard situations that add one more thing on that giant to-do list. As I learned in The CEO Retreat, I should do WAY less than what I'm doing.
Overview of the year ahead – The Fool. Ah, a fresh start. I'm in a numerological One year so this is perfect. Now is the time to test out new things, to explore fresh starts and interesting new directions. This is not the year to be weighed down too much. Travel light, take some risks, and see where they lead. Travel as much as possible. Above all, remain positive. This year offers many opportunities. With an open heart and sunny outlook, I'm sure to see which ones are worth diving into and which ones I need to pass by. A sense of adventure prevails and the new cycle ahead promises to be fabulous. Huzzah!
My ratings:
What a FABULOUS reading for the New Year! I loved it! It covers a lot of ground and is perfect for creating an intentional year. Well done and totally recommend this one. You can learn more about David and this spread over at Tarot Avenue.
I hope you enjoyed the latest Tarot Spread Test Drive. I'll be taking the tarot wheel and hittin' the road with a new spread soon. If you want to ride along with me, keep an eye on my blog. Happy tarot trails!
Blessings,
Theresa
© Theresa Reed | The Tarot Lady 2018
tarot spread image used with permission from Tarot Avenue; other image from personal collection
Check out more cool tarot spreads here.