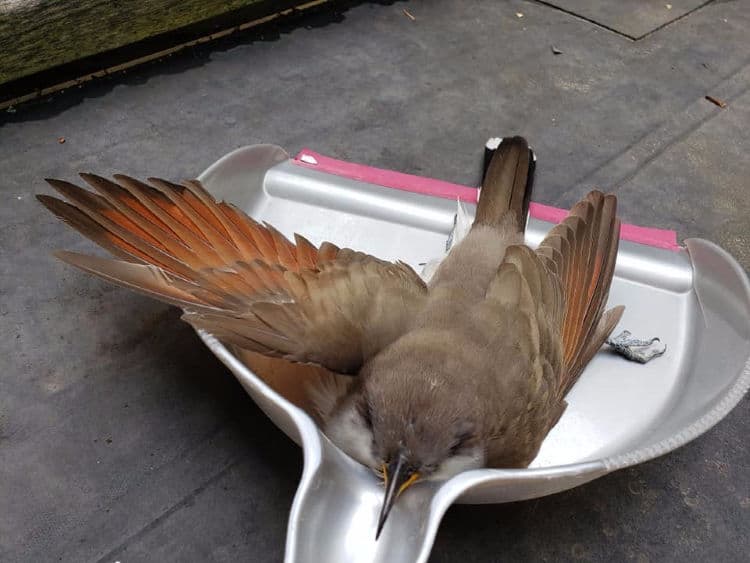 A brisk rainstorm pummeled the house and brought relief to the stale summer air. Once it eased up, I opened up the window to clear the stuffiness out of the room. There it was – a bird, splayed out on the porch, one gray and orange wing extended out the side. 
I went upstairs and informed my husband that he would need to remove it because I'm squeamish around any sort of dead animal type situation. He donned rubber gloves, gathered a dustpan, and headed off to do the deed. A few minutes later, he informed me that the bird was still very much alive – and probably had a broken wing.
Off we went to the Humane Society Wildlife Rescue with the bird in a box. By this time, we had a minute to examine him and couldn't figure out what kind of bird this was. We had never seen anything like it before in our hood. So we named him Kip Winger and dropped him off, knowing he'd have a good chance of making it in the proper hands.
Once home, I posted a pic of the bird on Twitter and learned that we had rescued a rare yellow-billed cuckoo, something that's not seen around these parts much. You can imagine how exciting this news was!
But at the same time, I found myself musing about poor Kip. All it took was a fierce storm to slam that little guy into our house and break his wing. He was vulnerable against Mother Nature – and in our hands too. 
I often think about how vulnerable we are as well. The rainy, humid weather aggravates my arthritis, making it hard to type these words. A stiff knee reminds me that I'm no longer a young chickadee. Physically, all it takes is one fall and everything changes in an instant.
Emotions are another place we humans get hurt too. This past week, I was in tears twice. Once while working with a business coach who got to the bottom of some serious stuff I needed to address. The second set of tears came when a friend and colleague I respected decided to unfriend me because she didn't like my beliefs. I didn't want that to get under my skin…but it did.
It's too easy to break our bodies and hearts. Humans are fragile like that. But even when pain comes, we must trust that there are healing and growth on the other side of it. With help, we can go on, good as new (or close enough). We can fly again.
I have left a few messages at the Humane Society, hoping to get an update on Kip. So far, nothing. I'm trusting this is a good sign and soon his broken wings will be fully mended, and he'll be flying around our neighborhood like the majestic, mysterious bird he is. 
Kip Winger on his way to the bird hospital.
Other stuff:
Marie Claire asks: What If Fertility Didn't Have a Shelf Life?
Here's What You Can Do Right Now to Demand Justice for Elijah McClain.
Yeah it did: Astrology Predicted The 2020 Revolution. Here's What's Coming Next.
Chrystul Kizer, A Teenager Sentenced For Killing Her Alleged Trafficker, Is Out Of Jail On A $400,000 Bond.
I need to get mine rebooted: How To Keep Your Quarantine Workout Habits Going Once You Go Back To Work.
I loved chatting with Melissa Cynova about reading tarot for friends and family.
From Cosmo: Neptune Retrograde in Pisces Is Bringing the Realness.
Not surprised: The FBI has a history of targeting black activists. That's still true today.
I'm a believer: Is Astrology Real? Here's What Science Says.
Good to know: Can't Imagine a World Without Police? Start Here.
So cute: Let's Bake!: A Pusheen Cookbook.
YUM: One Tin Bakes: Sweet and simple traybakes, pies, bars, and buns.
OMG, this is coming soon: The Nightmare Before Christmas Tarot Deck and Guidebook!
WANT: Tarot of the Divine: A Deck and Guidebook Inspired by Deities, Folklore, and Fairy Tales from Around the World.
On my list: Tarot Deciphered: Decoding Esoteric Symbolism in Modern Tarot.
I love Judika Iles: Daily Magic: Spells and Rituals for Making the Whole Year Magical.
A MUST READ: Holy Heathen: A Spiritual Memoir by Katherine North.
Shaheen Miro created a beautiful new deck that you're going to want: The Uncommon Tarot: A Contemporary Reimagining of an Ancient Oracle.
Tarot: No Questions Asked: Mastering the Art of Intuitive Reading is for tarot readers who want to form a deeper connection to their cards…and their intuition.
Grab your crayons or colored pencils, a tarot deck, and your copy of The Tarot Coloring Book – and have a chill night right now!
When Shaheen Miro and I wrote Tarot For Troubled Times we never anticipated how timely this book would be. The world is chaotic, messy right now. Our book can help you cope.
Wondering what the heck astrologers are referring to when they speak about retrogrades and mutual receptions?  Astrology for Real Life: A Workbook for Beginners (A No B.S. Guide for the Astro-Curious) will sort out all the astro-lingo for you in a friendly way!
Events:
August 30, 2020: Brushes and Stars. Where: online. A full-day of astrology and intuitive painting – and fun! Join me and Chris Zydel for a joyful, astrology-inspired intuitive painting experience. We begin exploring intuition, followed by examining your natal chart. From there, it's time to paint your interpretation of your chart! Group insights follow.
May 2-8, 2021: The Tuscany Tarot Intensive. Where: Italy! A full week of tarot immersion. Due to the Coronavirus, we moved the event to next year. Good news: the dates allow for a few extra seats which mean you can join us next year! Yay!
What I'm Grateful For:
Animal rescues
Birds
Helpful husbands
Tender hearts
Tanya Geisler
Time to do the little things
Soundtrack for 6/27/20:
Seventeen by Kip Winger
Blessings,
Theresa
© Theresa Reed | The Tarot Lady 2020
images from stock photography and personal collection