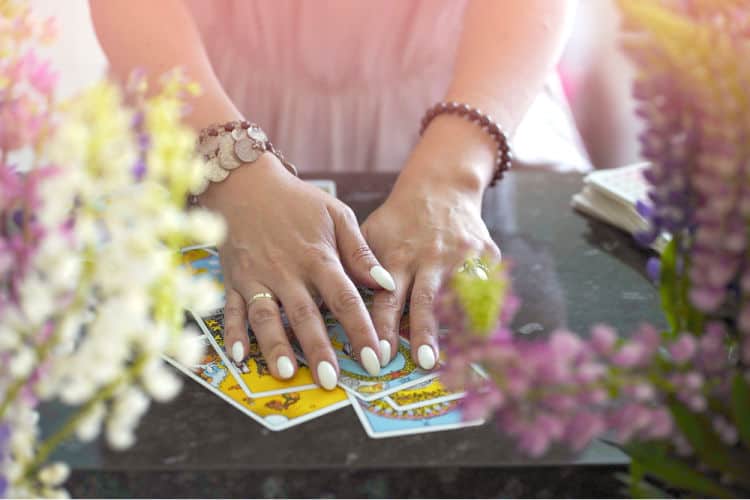 Where do professional tarot readers go when they need a reading? I get asked this question from time to time. Folks are curious about who I see when I'm in need of guidance.
Here's the truth: most of the time, I prefer to read my own cards. There are a few reasons why. Number one, fellow tarot readers are often intimidated when I hire them for a session. Most likely, they assume I'm there to "grade" them on their performance, which is SO not true. Unfortunately, this mindset can hinder their openness, and I end up with a reading that feels "censored." (Trust me, I'm boring AF so the reading doesn't have to be some sideshow, friends.) Secondly, no one knows me better than me. I'm a big fan of reading for yourself because of that. When I lay down the cards for myself, I can immediately grasp what it means for me. There is no guessing, no wondering – I know. (This is also why I love to teach folks how to read their own cards. Know yourself, people.)
I have found that I have better luck with astrologers. Maybe it's because the math part creates what I call the "Dragnet Effect," which is "just the facts, ma'am." Astrologers don't seem to care one way or another that I am fluent in astrology or tarot. They just get to work. I've had excellent astrological consults with Sam Reynolds, Mecca Woods, and The People's Oracle. Their advice has been golden and guided me brilliantly.
I only get a reading once a year. Why? It's because my life is pretty chill so there are not too many changes happening. (Plus: I can read my own.)
If you're wondering what propels me to seek the service of another metaphysical provider, that's simple: my birthday. That's when I indulge in a reading for a look at the year ahead. On rare occasions, I may get a reading if I have a situation that I am too emotionally invested in. But for the most part, my rule is once a year on the birthday.
A few other fun facts: when I get a reading, I prefer to take notes. I don't like it recorded because I know I'll never listen to it. Secondly, I always let the reader know upfront exactly what I want to focus on. I have found that this leads to a better, more helpful reading. In the past, when I didn't lay it on the line, I always ended up with readings about my love life, an area I don't really care about because it's not a problem. Being specific with my reader means I walk out with useful information.
So that's it. If you've ever wondered where the pros go, that's how I roll.
xo
Theresa
Psst…wanna learn how to read the cards like the High Priestess and become your own best tarot reader? Check out Tarot – No Questions Asked: Mastering the Art of Intuitive Reading.
© Theresa Reed | The Tarot Lady 2020
image from stock photography