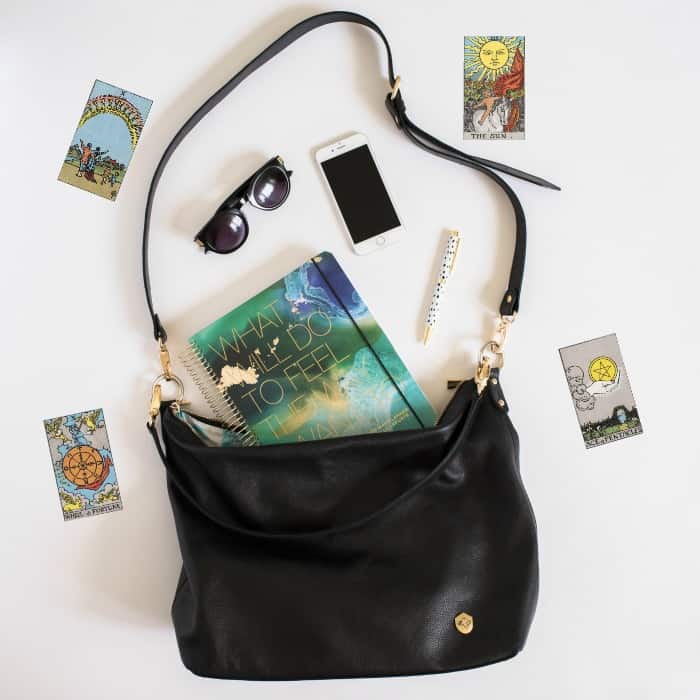 If you've been in my world long enough, you know that I LOVE to plan. It's one of the reasons why I adore tarot + astrology so much: having an idea of what's ahead allows me to plan accordingly.
I'm also a huge fan of planners. My Filofax keeps my client appointments nice 'n neat. But my secret sauce for getting things done is my Desire Map Planner. I've been using it for two years now – and I gotta say: it helps me to be ten times more productive and MINDFUL.
Here's what it's all about:
This planner puts your desires on the map, and helps you plan your days and weeks according to how you most want to feel. The way it should be. Where most day planner systems are straight dates and to do's, this planner is so much more…
Based on the wildly popular book by Danielle LaPorte, The Desire Map, this planner system incorporates your soul and your to-do list; your gratitude and your goals; your deepest desires with your day-to-day.
When you're clear on how you want to feel, decisions come to you more easily, you'll know when to say "No" and when to say "Hell, YES!" And then you can put it in writing. That's what this planner does for me.
Oh…and the astrology dates in this book? Yours truly helped to map 'em out.
Wanna win one? You can with the 2018 Desire Map Tarot Contest!
I've got a 2018 Desire Map Daily Planner with the gorgeous green cover in my possession – and I'm giving it away with a cool contest! Heck…let me sweeten that deal: the winner will get the 2018 Desire Map Daily Planner PLUS one of my coveted Tarotcasts, a 12-month tarot-spired forecast for 2018!
My Tarotcasts are a hot commodity – I only offer five a month and they sell out in two minutes flat. Some people wait months before getting a chance to nab one – but now, you, lucky winner, will get your chance to get one for FREE along with the 2018 Desire Map Daily Planner!
Here's how to win:
Take a minute to set an intention for 2018. What do you want to manifest? How do you want to feel? What is your biggest desire?
Now, pick a tarot card that beautifully illustrates your goal for 2018.
Take a picture of your card and put it on Instagram  – and tag me! (My handle: @thetarotlady). Be sure to describe your intention – and add the hashtags: #tarot2018 #DesireMapPlanner (Ex: using the Star card as your image: My desire for 2018 is radiant good health. #tarot2018 #DesireMapPlanner)
On September 30th, I will randomly draw a winner + announce it on Instagram.
Winner will receive the 2018 Desire Map Daily Planner + a Tarotcast of their choice (life or business). This prize package is worth almost $200!
HEADS UP: RULES MUST BE FOLLOWED TO THE LETTER. If you forget to tag me or add the hashtags, your entry will be disqualified.
You can enter DAILY. Heck, the more times you enter, the more chances to win!
Ready? Get on it and let's get your 2018 tarot-rifficly planned out!  Wheeee!!!!
PS about the planner: The DAILY planner is for the highly scheduled, detailed thinkers, and awesome A-types who love keeping track of all the big and little things. This planner takes you through the year day by day, with unique soul prompts, scheduling space, #truthbombs, a Stop Doing list (because saying no is revolutionary) and a super condensed list called 3 Things so you can get your most important to-dos done. (See pic below to get a glimpse.) Learn more about Desire Map Planners and other cool stuff here. (This link is an affiliate link, btw.)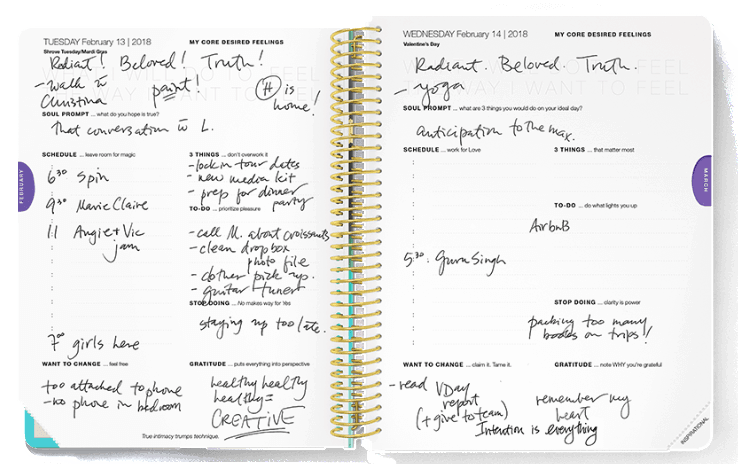 Good luck,
Theresa