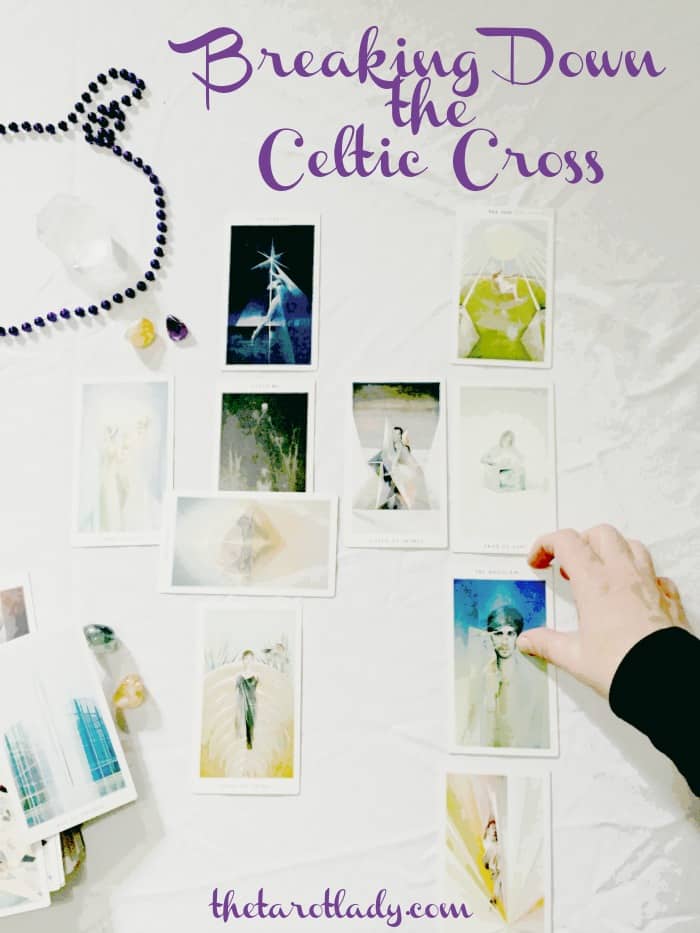 The Celtic Cross is one of the most famous tarot spreads.  Many readers use it…yet many more are intimidated by it.
The Celtic Cross can give a wealth of information about a particular situation but it also lends well to general outlooks or closing spreads, which is why I think it's particularly brilliant.
This series is intended to help take the fear out of it – and help you discover tips 'n tweaks so that you can get the hang of it once and for all.  Stay tuned as I continue to add tutorials to this series once a month.
Karmic Patterns with the Major Arcana
After you've laid out the Celtic Cross, it's important to scan and count. We covered that in a previous lesson.
In this lesson, we're going to talk about a cool method for examining the karmic patterns when there are four or more Majors in a reading. Four or more Majors is an alert that a bigger force or theme is at play. It screams: pay attention – there is a huge lesson here, yo!
I've created a little formula based on one of Eileen Connolly's books, Tarot A Handbook for the Master. She has a different approach than the one I use – she has some extra shuffling involved. I find that it's not necessary to add in any extra steps. Instead, I work with the cards that show up in the Celtic Cross, nothing more.
Here's what I do: if four or more Majors show up in a reading, I take them out and put them in the order which they landed.
This forms a mini reading:
Card One: The Lesson
Card Two: The Current Position on the Karmic Path
Card Three: The Direction Ahead on the Karmic Path
Card Four (and any additional cards): Reflection
Let's use our example from the previous lessons. We've decided that our querent is ready to move on after her divorce – and wants to know what's in store for love. Let's count 'em up!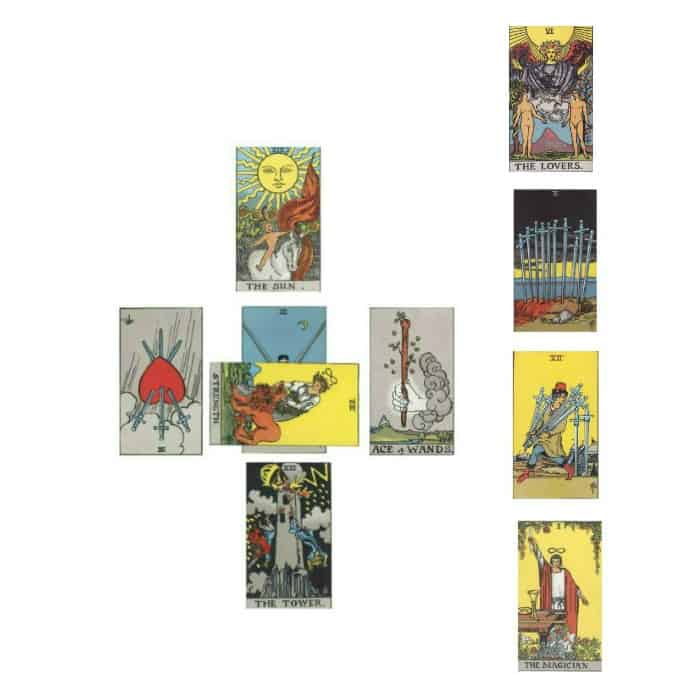 We have five Majors so there will be two reflection cards:
Card One: The Lesson – Strength. Her lesson is to find her own strength, to not depend so much on relationships. She is learning how to stand on her own two feet and trust her own wisdom + power. Perhaps in her previous relationship, she gave away her power to her mate.
Card Two: The Current Position on the Karmic Path – The Tower. She's currently going through a major change. The old structures that support her are being torn down. It's scary but blowing up the old way is the only way for her to liberate herself and find her own power. She is becoming enlightened through the process of her divorce.
Card Three: The Direction Ahead on the Karmic Path – The Sun. Bliss and abundance. Rebirth. Ahead, she passes the test and becomes a new person. Her life changes in the best way possible.
Card Four (and any additional cards): Reflection – The Magician and The Lovers. The two areas to reflect on are power and love. How can you remain in your own power as an individual while being in a relationship? How can you welcome love into your life without losing yourself in the process? What does it mean to be your own person while margining with another? These might be good questions for reflection.
Homework:
Your turn!
Once again, grab your tarot journal and your favorite deck.
Lay out a Celtic Cross and if there are four or more Majors, pull 'em out and study them. Journal your findings.
Next month, we're going to pick apart our sample reading. Until then, keep shuffling!
Blessings,
Theresa
© Theresa Reed | The Tarot Lady 2017
deck featured in the header image is the fabulous Fountain Tarot ; other cards are from the Rider Waite deck.