A few weeks ago, I was at the annual Readers Studio tarot conference. It's the biggest tarot shindig – and the one event I NEVER miss. There are many reasons to go: I learn new things, hang out with my tarot family, and get to check out the vendor booths. Every year, I come home with something cool.
This year, I found myself lingering at the booth of Carrie Paris and Andrew McGregor, two of my absolute tarot faves. As we chatted, my eyes lingered to the Charming Dead Oracles. "What's that?" I asked. Carrie explained that this was a charm kit to talk to the dead.
I asked her to show me how it works. She tossed a few charms on the skeleton casting cloth and said: "What do you see?" I started instinctively divining about the spirit that was trying to come through. Carrie looked up at me and replied: "You're a natural at this." I was SOLD.
It shouldn't be a surprise that this was such an easy sell for me. I'm all about that mediumship stuff! (I don't talk much about this but I get lots of messages from the other side. One day, I'll write about this in depth.) Secondly, I am a sucker for kits! I'm serious about that. If you put anything in a kit, I'm DOWN. (My husband laughs about this.) I couldn't wait to inspect this bad boy closer and play around with it. Of course, I wasn't sure entirely how to make this thing work but luckily for me and other attendees, Andrew and Carrie were hosting a free intro class that night!
I sat next to my friend Jurg (a brilliant Lenormand reader)  who was somewhat hesitant about buying this kit because a) he's more cautious than I am and b) he needed to see it in action. Before class began, we spread the cloth out and pulled out a few charms.
The first one was a candelabra. "There's going to be a fire," I said.
The next one was a grenade. "Something is going to explode."
The last one was a little tower. I looked at Jurg and said "A tower will burn. Maybe Trump Tower will burn."
We put the charms away because class began (plus Jurg spilled my wine – I didn't see that coming in the charms!). Andrew and Carrie gave us some tips on how to work with the kit and then we had time to practice. I won't go into all the details here but in a nutshell, you lay out the cloth, toss a few charms, and use that to intuit what the dead has to say. You can also use the dice, cards, and pendulum to get more detail. Jurg and I were getting some clear messages that made us believers (and convinced him to get the kit!).
The next morning, I received a text from Jurg. The former Trump Tower in Azerbaijan was engulfed in fire. Naturally, we were both completely freaked out! But that's not the end of the story. A few days later, our tenant was smoking on the porch at the back of our building. She put out her cigarette in a plastic cup and went to bed. The plastic cup melted and the porch caught fire. Thankfully, it was raining out so the fire didn't do too much damage (the porch needs to be redone, unfortunately) but if it wasn't raining, our house would have burned down and we might have all died. SCARY. This kit is NOT FOOLING AROUND.
Recently, I have begun using this with a few of my clients – and we've been getting intriguing results. Suffice it to say: we're connecting with the dearly departed but also with spirits that are inhabiting homes. This is a great way to determine what supernatural beings are lingering around your lair! If you've ever felt a "presence" that you can't explain, The Charming Dead Oracles may help you figure out what's going bump in the night!
In short: this works. If you're open to the experience and trust your intuition, you're going to get the signs you need to connect with the deceased in a pretty profound way. If you're a reader or medium, this may be another tool that you'll want to explore. It could be an excellent way to help grieving clients connect with their loved ones on the other side.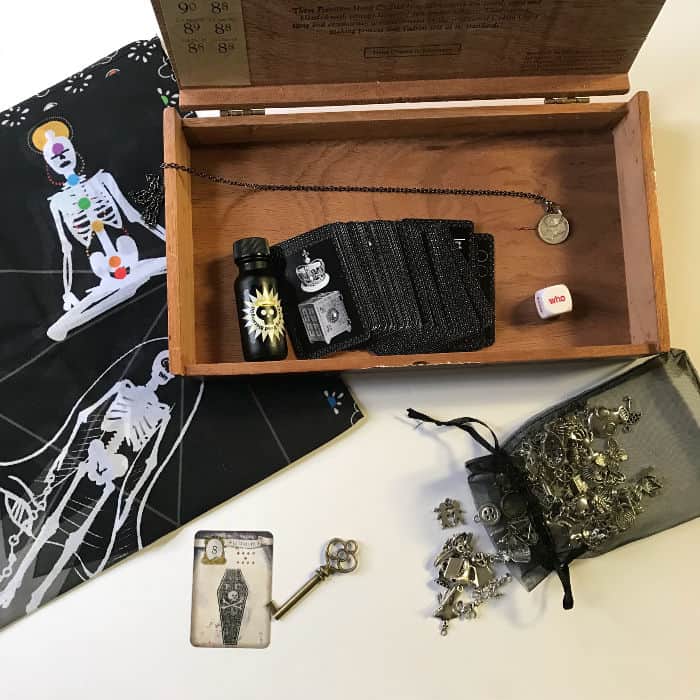 The kit includes:
A casting cloth with ten archetypes,  bag of charms,  divining deck, Mercury coin pendulum, blessing oil, key, and bakers string, all lovingly packed in a wooden cigar box. If you're interested in this kit, you can purchase it right here. Once they are sold out, they are gone.
Andrew and Carrie are also offering a class on how to use the Charming Dead Oracles. Doors close soon so get in while you still can.
I really don't do product reviews any longer unless something completely blows me away. I'm dead serious when I say that The Charming Dead Oracles did just that.
"The dead could only speak through the mouths of those left behind, and through the signs they left scattered behind them." ~ Robert Galbraith
Blessings,
Theresa
© Theresa Reed | The Tarot Lady 2018
images from personal collection