The Full Moon in Cancer 2022 lights up the night sky on January 17th at 6:48 PM EST. Because Cancer is sensitive, emotions will run high all day. That means everyone will be in their feelings – and it could get uncomfortable at times. You'll need to elevate your self-care and be tender with others. Keep in mind that Full Moons are for endings and letting go. If you feel like having a good cry, get out your hanky and let those tears flow. This will be good for you.
One thing to watch out for: it's too easy to take things personally around this lunation. One wrong word (ahem…Mercury retrograde) and you're ready to roll every head. If you feel triggered by anything anyone says or does, step back and give yourself time to process those feelings before reacting. This will give you the space to see if you were really offended…or not.
Cancer is associated with family and home, which also makes this Full Moon ideal for cleaning up your space – and clearing the air with your loved ones. Do keep in mind Mercury and Venus are retrograde plus Pluto opposes the Moon shortly before it's full – in my opinion, this sets the perfect stage for a purge…and a power struggle. You'll want to be mindful of your family member's feelings when you're addressing issues. You can find a way to speak what's in your heart without causing harm.
Lastly, this Full Moon in Cancer is ideal for examining what makes you feel secure. Do you have enough emotional support? Is your job safe – or tenuous? What about your living situation? Are you content with how much money you're making? Do you have enough on hand just in case? If you don't feel stable in any of these areas, it might be time to create a new plan or ask for help.
And here's some mini Full Moon in Cancer 2022 mini Tarot readings with the Guardian Angel Messages Tarot!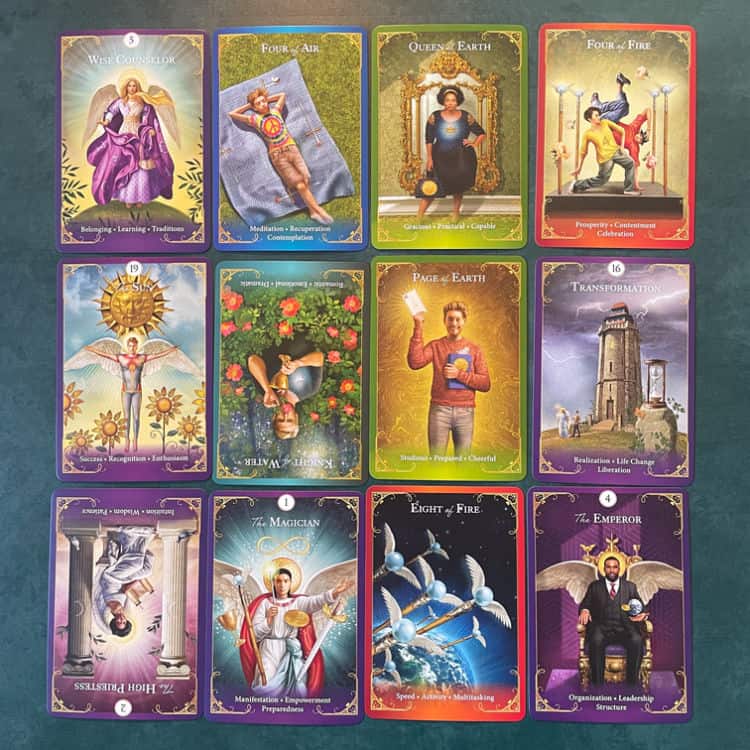 Aries: Wise Counselor – Seek guidance from a trusted source – and be ready to apply the wisdom.
Taurus: Four of Air – Take a time out to dream, meditate, and rest. It will do you good.
Gemini: Queen of Earth – You have everything you need to achieve your goals. Believe in yourself!
Cancer: Four of Fire – Today is a celebration of YOU. Be proud of the person you're becoming!
Leo: The Sun – Success is yours for the taking! Everything is golden (and so are you)!
Virgo: Knight of Water reversed – Your imagination is overflowing. Watch that it doesn't create drama.
Libra: Page of Earth – This is the perfect time to sign up for classes. What do you want to learn?
Scorpio: Transformation – You are finally free. Let go of the old and don't look back.
Sagittarius: The High Priestess reversed – Don't ignore your instincts, no matter how weird they may seem. Your guides know what's up!
Capricorn: The Magician – This is your moment to shine. You're about to show everyone how powerful you really are.
Aquarius: Eight of Fire – You're entering a busy time – and it feels good. Momentum is gathering!
Pisces: The Emperor – You are in charge of your life. Take command of situations…and yourself.
Blessings,
Theresa
Got a business? Wanna learn how to rock the cosmos for your best business year ever? Subscribe to the Astro-Biz Digest, my exclusive weekly forecast for entrepreneurs who want to make sure their biz timing is impeccable. Because in business: timing is EVERYTHING. Get your subscription popping here at The Astro-Biz Digest.
Learn how to read tarot like the High Priestess with Tarot: No Questions Asked – Mastering the Art of Intuitive Reading. Get your astro-lingo down pat with Astrology For Real Life: A No B.S. Guide for the AstroCurious.
© Theresa Reed | The Tarot Lady 2022
images from stock photography and personal collection