Although I like my Crayola Colored Pencils just fine, I was intrigued by Prismacolor Colored Pencils. I've seen them in craft stores and on television. The effects looked amazing! In fact, it seemed that these might blend a bit nicer than my good ole Crayolas. A few weeks ago, I decided to splurge and get a set along with Art Stix (woodless colored pencils) and a few other goodies.
Now to test 'em out on The Tarot Coloring Book!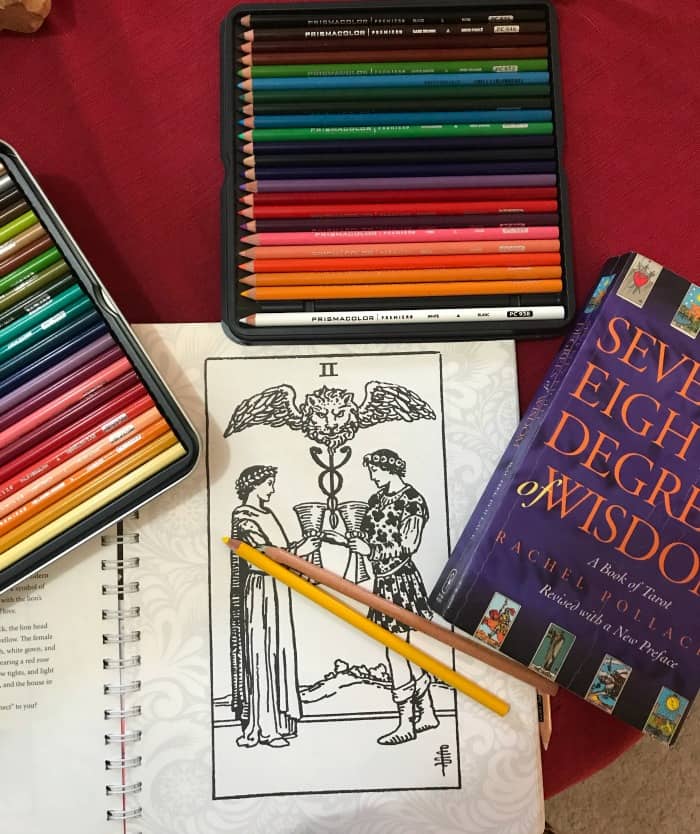 I decided to work with the Two of Cups and Three of Cups. The yellow was bright – and, as promised, the colors went on smooth. That's because Prismacolor Colored Pencils have a "soft core" which leads to a  creamy finish. Niiiiccccceeeee……..
That creamy finish makes it easy to blend more than one color. Here, I'm adding a touch of orange to the red sleeves in The Three of Cups – and using the blender pencil to blur the edges.
The blender pencil is nice for smoothing out my mistakes. I can be a bit sloppy so this helped me to neaten things up on my Two of Cups guy. Again, the creamy consistency makes it a dream to blend!
Next, I tried out the Art Stix. These are fab for covering big surfaces – fast. The colors require a bit more effort if you want to get the same depth as the pencils.
I decided to make it look like the sky was full of "rain" with this sky blue Art Stix. You can create neat textures with them.
Done! These work GREAT! I love the feel of them on the paper, the blendability, and the wide selection of colors. For adult coloring, you can't go wrong with these pencils. They are seriously fun!
Side note: the other day when I was using them to color in the Ace of Cups, I noticed that there were three little bells on the Cup. I never noticed this before!  According to Ruth Ann and Wald Amberstone "the tiny bells on the cup make the sounds of the angels and could signal news of a wedding, or the birth of a girl." Cool!
Here's what to do:
Get the Prismacolor Pencils, Art Stix, and blender pencils. (You can get a kit with the pencils, blending pencils and a sharpener.)
Grab your copy of The Tarot Coloring Book – and get coloring your tarot cards! Blend, baby, blend! See what you discover as you look closer.
Happy coloring!
Blessings,
Theresa
Check out the whole How To Bling The Tarot Coloring Book series for other ideas 'n tutorials. (More to come!)
© Theresa Reed | The Tarot Lady 2017
images from personal collection