How to Bling The Tarot Coloring Book! A fun new series for crafty tarot peeps.
The Tarot Coloring Book: part tarot manual, part coloring book – and so much more!
If you're looking to enhance your tarot education in an artsy way, walk this way.
The Tarot Coloring Book is ideal for journaling, scrapbooking, cross referencing and all sorts o' crafty things! With clear images to color, sturdy paper that holds up to many mediums, and generous space for writing in the margins or adding scrapbooking flair, this book is versatile and playful.
In this series, How to Bling The Tarot Coloring Book, I'll be teaching you lots of creative ways to max out your Tarot Coloring Book and enhance your learning.
Because face it, many of us learn best in an experiential way.
I'm one of those people.  Put me a boring lecture and my brain will soon be drifting off to the latest episode of Ink Master.  But give me creative tools and hands-on projects – and I excel (psst…learning should be fun too).
Over the weeks and months ahead, I'll be sharing lots of cool ideas as well as books I recommend for cross-referencing, different art supplies that might make your images pop, and scrapbooking techniques that will take your Tarot Coloring Book to Liberace-level! Because this book begs to be dressed up and used up.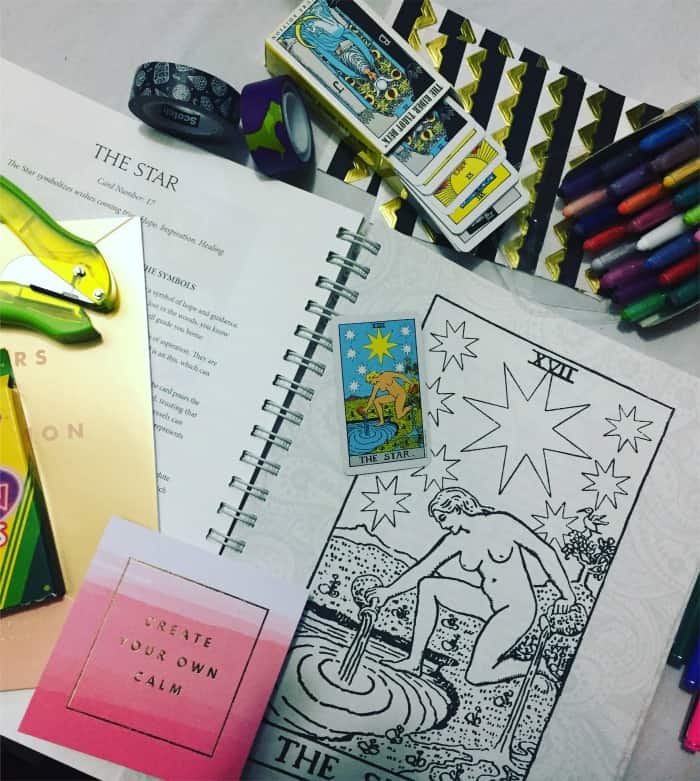 Idea One: Scrapbooking Flair – use corner photo mounts to add some mini Rider Waite cards to your pages.
Idea Two: Inktense Pencils – these cool products will add intense, vibrant effects to your pages!
Idea Three: Adorn the Spiral Binding – the spiral binding is perfect for adding a little somethin' somethin'.
Idea Four: Washi tape – this versatile tape can add some colorful accents to the borders and more!
Idea Five: Sticker love – cause stickers are fun as can be!
Idea Six: Colored Gel Pens – gel pens are great for fine line detail work. The scented glitter pens are my fave!
Idea Seven: Prismacolor Colored Pencils – time to ditch the crayons and elevate your coloring with these soft, blendable pencils.
Idea Eight: Use the Margins – those lovely margins are ideal for note-taking and journaling!
Don't just let your Tarot Coloring Book sit on the shelf. Bling it out!
Blessings,
Theresa
Psst: show me your blinged out Tarot Coloring Book + creative ideas on social media!  I wanna see it! Use this hashtag:  #tarotcoloringbookbling
©  Theresa Reed | The Tarot Lady 2017