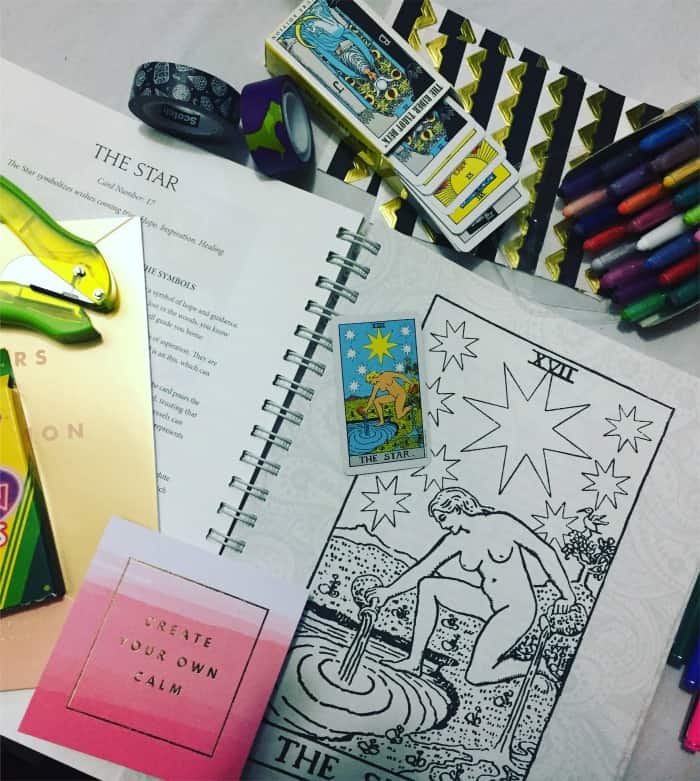 How to Bling The Tarot Coloring Book! A fun series for crafty tarot peeps.
The Tarot Coloring Book is ideal for journaling, scrapbooking, cross referencing and all sorts o' crafty things! With clear images to color, sturdy paper that holds up to many mediums, and generous space for writing in the margins or adding scrapbooking flair, this book is versatile and playful.
If you're looking to enhance your tarot education in an artsy way, walk this way.
In this lesson, we're getting into some scrapbooking techniques.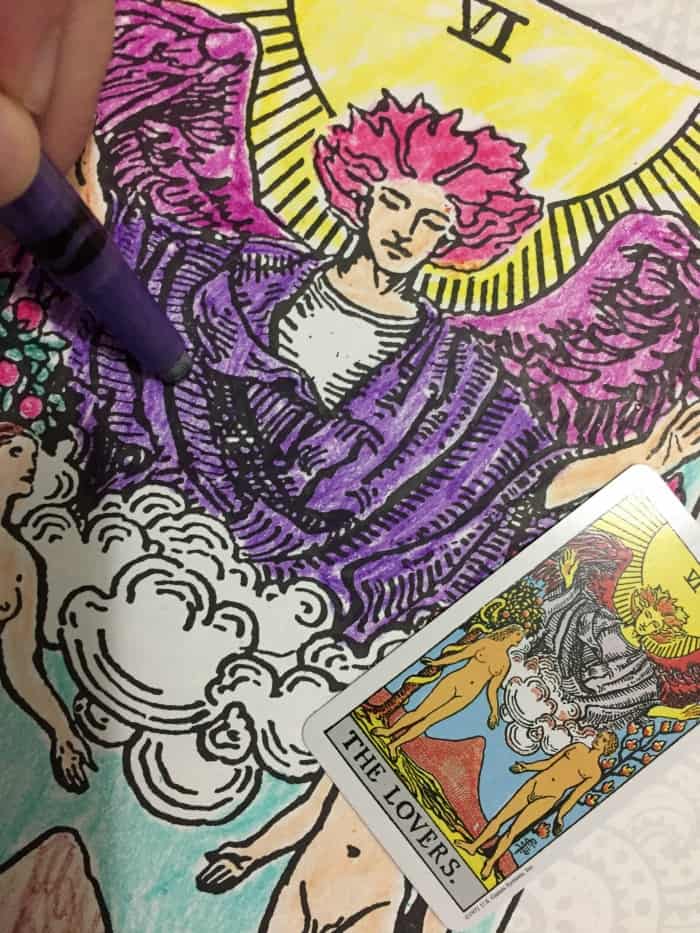 I like having my tarot deck handy when I'm coloring the cards.  It serves as a nice guide while I work on detailing the images to my tastes.
As I was coloring the Fool, I thought it might be nice to have a tarot card as an embellishment.  A little scrapbooking flair was in order.
I headed to the craft store and purchased some cool gold foil corner tabs (there are other colors available but I like the regal look of the gold ones). These are used in scrapbooks to affix pictures to the pages.  They are sticky little buggers and they hold the images well.
Next, I grabbed a mini Rider Waite Tarot deck. The size is ideal for blinging out The Tarot Coloring Book.
I added the corners to the picture first and then pasted the tarot card in the book.  Trés simple – and adorable!  Here are some sample pics of me working with the Empress – and my cat TaoZen getting involved in the action:
Other suggestions:
You may prefer a different deck. That's totally fine – in fact, it may give you a whole 'nother reference point to study.
You might want to add cards from more than one deck. There is plenty of room to do that in The Tarot Coloring Book.  For example, you can put them in the margins on the coloring page if you desire.
There are even smaller decks out there.  If you want to affix a teeny one to any spot in the book, use double-sided mounting squares instead of the photo corners. Put one or two sticky squares on the back of the card and voila – you're ready to stick it in your book!
I do NOT recommend glue.  Glue is bulky and can warp the pages.  The double-sided mounting squares or corner tabs work much better.
I hope this post inspires you to get all crafty 'n stuff with your Tarot Coloring Book.  Don't let it sit on your shelf – bling it out!
Til next time: keep shuffling and keep coloring!
Blessings,
Theresa
See the entire How To Bling The Tarot Coloring Book series of tutorials.
Psst: show me your blinged out Tarot Coloring Book + creative ideas on social media!  I wanna see it! Use this hashtag:  #tarotcoloringbookbling
©  Theresa Reed | The Tarot Lady 2016