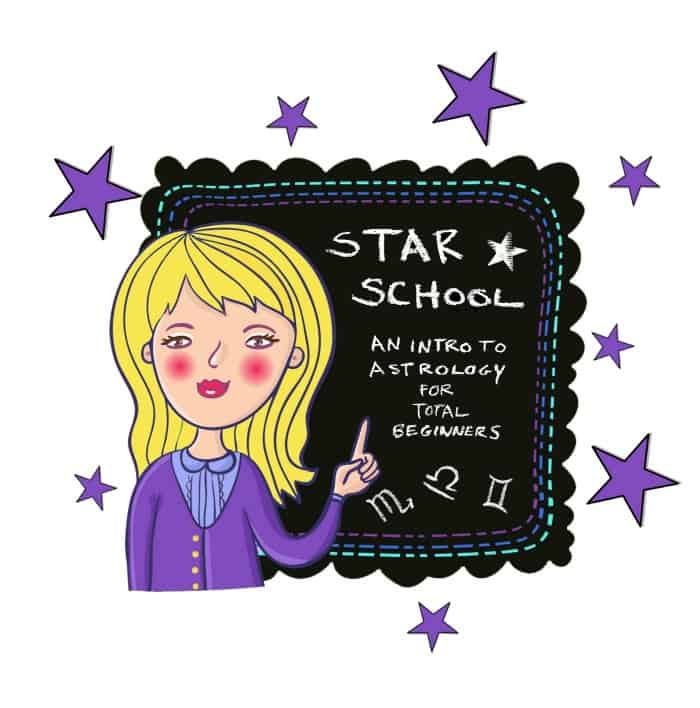 STAR SCHOOL – An intro to astrology for total beginners. 
Coming soon….Star School.
What is Star School, you ask?
Star School is a brand new educational blog series that I am kicking off as of… today!
Once a month – right here on my blog – I will post a Star School lesson on astrology, geared towards total beginners.
Each Star School lesson is super straightforward, with explanations written in plain English. No esoteric cosmic gobbledegook or bewildering diagrams that twist your brain into a knot. I promise: I'll make astrology feel as simple as possible… and I won't make you feel like the classroom dunce! 😉
So if you're curious about astrology… if you want to learn how to read star charts for guidance, for life and business planning, or just for fun… if you want to learn more about star signs, retrogrades, ascendants, arcs, and all that cool stuff so that you can impress your friends with your astro-smarts… you are gonna love Star School.
Pull up a chair. Sharpen your pencils. Gaze up at the heavens. School is officially in session!
Nothing to sign up for.  Just watch this blog every month.
First lesson arrives: January 13th.
Blessings,
Theresa
© Theresa Reed | The Tarot Lady 2015
image from taoxproductions