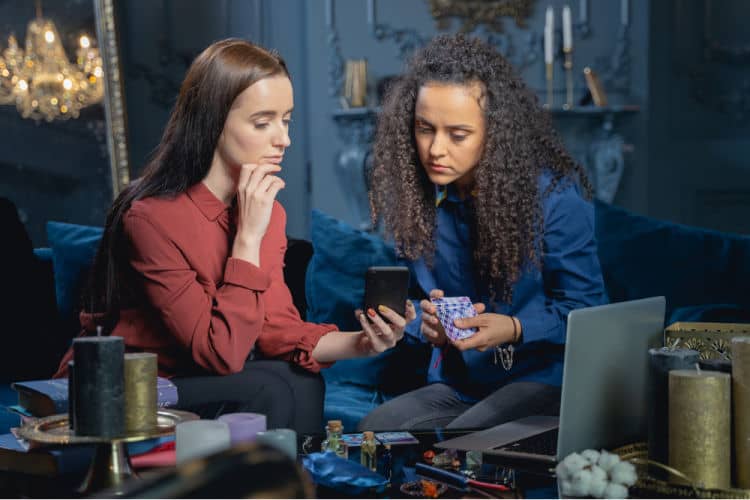 When you get your first tarot deck, you might pore over the cards, studying the images, and pondering what they mean. Perhaps you're thumbing through that little white book that came with them, wondering how on earth you're going to remember 78 different meanings (double that if you consider reversals). Do you have to memorize what the tarot cards mean? Or can you just chuck the book and say whatever comes to mind?
Here's the deal:
Memorizing the tarot cards isn't totally necessary. Really. You don't to "know" what every card "means." But you also don't want to just "wing it" either. Instead, you want a firm foundation rooted in the traditional meanings along with an open mind that allows you to find your own, unique interpretations.
Here's why:
Having a grasp on the traditional meanings allows you to build confidence. It's also handy to have a clue on what those cards may mean for those times when your intuition gets stuck. Imagine pulling the Six of Swords and suddenly, the image says nothing to you. You're sweating, stressing, and scrambling to find the manual…or you're simply making shit up. That's no good. But if you have the basic knowledge, you know that this card means "transition," and that simple keyword can get your sixth sense roaring back to life.
Tossing the little white book and "just describing what you see" can create blank "deer in the headlights readings" while having a solid understanding of the traditional meanings will keep you reading like a pro.
But here's where it gets tricky. If you bombard your brain with memorized tarot card meanings, you risk sounding like a tarot automaton, with scripted interpretations. That leads to a wooden, uninspired reading. You never want to memorize someone else's interpretations to the point where you lose your own tarot voice. Heck, I love Rachel Pollack and Mary K Greer, but I still want to sound like me. 
My tip: learn a few keywords for each card, including reversals. This forms the structure of your tarot reading, much like the foundation of a house. Your intuition is the interior designer, adding flavor and color to your interpretations. Having a strong base of tarot knowledge along with your own personal style leads to readings that are fluid, unique, and authentic to you.
Let's give an example!
Say someone is sitting at your table and they want to know about love. You pull the Seven of Pentacles, a card that shows a man leaning on a garden tool. If you have no idea what that card means, you might think "you're going to meet a dude in a garden" or "this guy is a hoe!" Um. Or something like that. Now, let's say that you know a few keywords and phrases: hard work, patience, slow growth, rewards. While that may not sound romantic, your intuition will help you connect the tarot dots: "It's going to take time to find your right person. There are options but not everyone will be right for you. You'll need to weed them out carefully, taking it slow. Eventually, you'll find the gold in the weeds. All that work and patience? It will be worth it." See how that works? Have a bit of knowledge, consider the question, and let your sixth sense add in all the pretty details! BAM!
xo
Theresa
© Theresa Reed | The Tarot Lady 2020
My new book, Tarot: No Questions Asked – Mastering the Art of Intuitive Readings, will give you the full Monty: a strong foundation with traditional meanings and knowledge plus tips on how to read intuitively. If you want to learn how to read like the High Priestess, this is for you.
October 1st, 8th, 15th, and 22nd 2020: Tarot For Beginners – a live video workshop for total tarot newbies! These classes are live-streaming videos. You can watch online from anywhere in the world. Each class runs for 1 hour. For the first half, you'll watch as I explain and demonstrate a Tarot concept. For the second half, you'll practice using your deck and try out the concept you just learned. Give it a whirl!  $149 Early Bird tuition–good through Sept 1!* $199 Regular tuition–from Sept 2 through course start. Use this tuition coupon code for $50 off: TAROTLADY
Join my Patreon Community!  I am serving up extended card of the day interpretations, astrological tidbits, community tarot practice, political astrology, early sneak peeks to horoscopes….and more. Higher tiers get access to live classes, replays of previous classes, mentoring, and more.
image from stock photography