Learn the Tarot card meanings with Tarot Card by Card. Fresh, modern tarot interpretations. A sucka-free approach with affirmations, journaling prompts, theme songs, and reversals. Explore the Tarot card meanings in a hip, irreverent, fun way!
The Hermit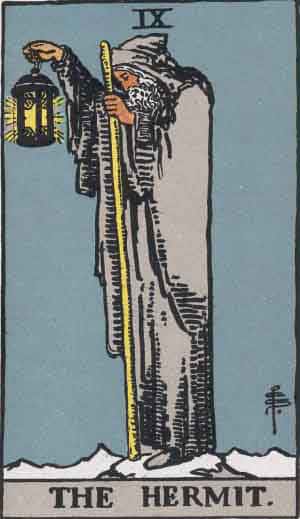 Keywords: inner wisdom, solitude, withdrawal, quiet, teacher or guru, research, seeker
Attributes: Virgo (Earth)
General meaning:  In order to get the answers you seek, it may be time to turn inward.  Shut out your distractions so that you may discover the wisdom within.  Answers are rarely found in another – everything you need is within yourself.  This card can also indicate a need to withdraw from circumstances in order to get a better perspective.  Sometimes a player needs a break from the grind.
Reversed:  Repeating your past mistakes.  Not learning.  This can indicate a lack of wisdom. Doing things without thinking of the consequences.  It can also indicate the extremes of solitude – like being some sort of creepy recluse.  Don't lock yourself away.  It gets mighty lonely on that mountain top.
Affirmation: "Everything I need is within me.  I don't need to look outside myself for answers."
Theme song:  "All By Myself" by Eric Carmen
Journaling prompt:  Spend a day alone without speaking or connecting with anyone (that means no social media!).  How does it feel to unplug?  Journal about this experience.
Blessings,
Theresa
© Theresa Reed | The Tarot Lady 2013
See the whole series here.